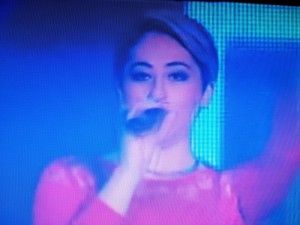 Onanta Spahiu is back with a brand new dance song called My Love. She is currently competing with her song in the Top Fest 11 festival in Albania. This is her come back single after Me Mungon from 2013. Onanta took part in the Festivali i Këngës competition for Eurovision in 2009 and 2010.
Onanta Spahiu is becoming increasingly popular in Albania with several hit songs since participating at the Festivali i Këngës. In 2009 she performed Dashurise i erdhi vjeshta and she returned in 2010 to sing a duet with Ernis Cili, Fam.
Onanta's biggest hit so far was the 2012 summer dance hit, Touch Me. This was produced by the hit making Romanian act, Deep System. A colourful and energetic promotional video was made that encaptured the mood of the song.
Now Onanta returns with another dancefloor smash that is expected to be a big summer hit this year in Albania. My Love begins in the Albanian language and then Onanta sings English. The song has a happy vibe and has a strong production and makes you want to dance. She is also competing in the popular Albanian music competition, Top Fest 11 with this song.
You can see Onanta perform My Love below.
You may also like to read –