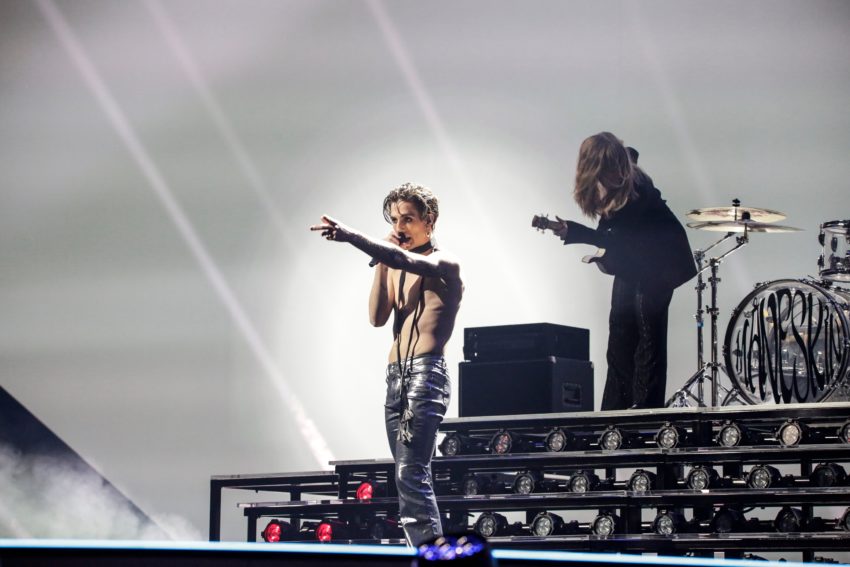 The time is almost here! In a few hours, we will know who has won Eurovision 2022. The contest is so much more than the winner however. Having watched all three dress rehearsals, this is what we can share about the Grand Final coming from Turin's PalaOlimpico tonight – will Måneskin be performing as intended?
The 2022 semi finals have offered performances by 35 competing countries. They have also provided 20 finalists that, together with the Big-5 of France, Italy, Spain, Germany and the United Kingdom, make up the lineup of countries competing for the chance to win the 2022 Eurovision Song Contest tonight.
The two shows have also offered exciting moments of entertainment however. This has included beautiful performances by Il Volo and Diodato as well a medley duet by hosts Laura Pausini and Mika. It has included the spectacular opening on Tuesday and host Alessandro's fun dance on Thursday. The 'Offical Voice of Eurovision' mock-documentaries, too, have been adding to the cheerfulness, not to mention enriching our knowledge of 'alternative Eurovision facts.'
But what about Eurovision 2022's big night itself? Here at EuroVisionary, we have watched all three dress rehearsals, which included the Jury Final last night (this means that 50% of the vote has been already cast indeed). Show details can change of course, but, from what we have seen so far, this is what you should expect from Turin and PalaOlimpico tonight!
The opening
Reflecting the international political situation, this year's Eurovision Song Contest Grand Final starts by sending a poignant message. After the Te Deum and EBU logo on our screens, we are transported to the streets of host city Turin.
At night, people are appearing from everywhere to the sound of drums. They are all heading for Turin's Piazza San Carlo. Once there, there is a full-blown concert taking place as this is in fact Rockin' 1000, a large-scale rock group consisting of over 1000 musicians. The primarily Italian group performs John Lennon's 1969 song Give Peace A Chance.
We then enter this year's venue, PalaOlimpico. Our two male hosts, international pop star Mika and Italian presenter Alessandro Cattelan, throw their arms in the air and transfer the clapping in the streets of Turin to the audience present in PalaOlimpico's hall.
In amongst the warmed-up audience, the camera moves to the stage and the opening act for the evening. This is no other than Laura Pausini, the Italian singer who has been serving as the third host in Eurovision 2022:
The medley performance starts with Laura's 2011 Italian number one hit Benvenuto ('Welcome'). Tangerine is the colour for the outfits of the dancers and the singer herself. To great applause – and a quick frock change into white –  there comes another Italian chart topper for Laura, I Canto ('I Sing'), and, originally, a 1979 hit for Riccardo Cocciante.
These are followed by Italian standard La Solitudine ('The Solitude'). The song had won her the newcomers' section of Sanremo 1993, thus kick-starting her career at just 19. The colour for the outfits and stage has now turned into blue. Le Cose Che Vivi ('The Things That You Live Through') is the fourth song in the medley. The Spanish version of the song had managed to top the Billboard Latin Pop Airplay in the USA back in 1997. Everything has turned yellow here.
Laura's performance comes to a close with Scatola ('Box'), which was released earlier this year. This part sees Laura in a black vinyl jacket surrounded by dancers in black outfits and red long gloves.
The performance is swiftly succeeded by the recent Eurovision tradition of the flag parade, with every of the 25 countries competing tonight, starting with the Czech Republic and finishing with Estonia, briefly appearing on stage. This is accompanied by a choreography with professional dancers using illuminated batons.
With his characteristic tone of dramatic theatricality, the 'Official Voice of Eurovision' subseqently proclaims:
'Live from Turin, Italy, this is the grand final of the Eurovision Song Contest 2022!

Please, clap your hands and stamp your feet for our finalists!

And here are your hosts for this evening: Laura Pausini, Alessandro Cattelan and Mika!'
By the end of the parade, all three presenters enter the stage:
'Torino… Europe… Australia… we are here! Siete bellisimi, ragazzi! ('You are beautiful, guys!') Ciao a tutti e buonasera! (Hello everyone and good evening!) Make some noise, Torino!

This is the night of the grand final that we make Eurovision history! Tonight, the Sound of Beauty triumphs in Torino! Like last year, when Måneskin triumphed in Rotterdam.'
A casual question by Laura soon results in a competition as to who is filled with the most excitement tonight:
Alessandro: 'I've never been more excited in my whole life!'

Mika: 'I… I've never been more excited in my life and also in all my previous lives!'

Laura: 'Erm… relax! This isn't a competition and, anyway, I'm more excited than the two of you put together!'

Mika: 'But we are not even the ones competing. The 25 finalists and their songs are.'

Alessandro: 'And there is going to be only one winner tonight!'
As with the semi-finals, Mika will be providing the part of the presentation in French tonight.
Once practical information and voting rules are set out in English, too, the presenters turn once again to the crowd:
'Europe, Australia, Torino, are you ready? Let the Eurovision Song Contest 2022 begin!
The competing countries
True to Eurovision tradition, each entry will be introduced by a 'postcard' video. This year's mascot, Leo the drone, will be taking us on a 'journey of beauty' around Italy.
The running order of the 25 competing countries is as follows:
01 🇨🇿 Czech Republic: We Are Domi – Lights Off
14 🇱🇹 Lithuania: Monika Liu – Sentimentai
02 🇷🇴 Romania: WRS –

Llámame

15 🇦🇿 Azerbaijan: Nadir Rustamli – Fade To Black
03 🇵🇹 Portugal: MARO – Saudade, Saudade
16 🇧🇪 Belgium: Jérémie Makiese – Miss You
04  🇫🇮 Finland: The Rasmus – Jezebel
'commercial' break
05 🇨🇭 Switzerland: Marius Bear – Boys Do Cry
17 🇬🇷 Greece: Amanda Georgiadi Tenfjord – Die Together
short break (filling-in)
18 🇮🇸 Iceland: Systur:

Með Hækkandi Sól

06 🇫🇷 France: Alvan & Ahez – Fulenn
19 🇲🇩 Moldova: Zdob și Zdub and Advahov Brothers – T

renulețul

07 🇳🇴 Norway: Subwoolfer – Give That Wolf A Banana
20 🇸🇪 Sweden: Cornelia Jakobs – Hold Me Closer
short break (filling-in)
short break (filling-in)
08 🇦🇲 Armenia: Rosa Linn – Snap
21 🇦🇺 Australia: Sheldon Riley – Not The Same
'commercial' break
short break (filling-in)
09 🇮🇹 Italy: Mahmood & Blanco – Brividi
22 🇬🇧 United Kingdom: Sam Ryder – SPACE MAN
10 🇪🇸 Spain: Chanel – SloMo
short break (filling-in)
11 🇳🇱 Nehterlands: S10 – De Diepte
23 🇵🇱 Poland: Ochman – River
12 🇺🇦 Ukraine: Kalush Orchestra – Stefania
24 🇷🇸 Serbia: Konstrakta – In Corpore Sano
short break (filling-in)
25 🇪🇪 Estonia: Stefan – Hope
13 🇩🇪 Germany: Malik Harris – Rockstars
The show rundown
The first short break takes place after Switzerland. Mika and Alessandro are in this year's Green Room and comment on the profusion of plants in it this year.
Mika: 'We are in this beautiful green room, which looks like an Italian garden, but, right now, there are more plants in it than there are contestants because they haven't quite arrived.'
Mika gets inspired to share some of his favourite plant- based jokes, with Alessandro getting increasingly concerned at to how far this is going:
'The Green Room is over-growing with tension!

The nerves that started out as little buds are now really taking roots!

Soon, the contestants will be turning greener than the plants due to fear!'
The filling-in content has been used a bit arbritrarily during subsequent short breaks. Nevertheless, Mika's 'green room jokes' are consistently used here for the three dress rehearsals.
When France is ready onstage, there is no need for more jokes (to Mika's relief as has been running short of them by this time – Alessandro has already left in pretend exasperation).
The second short break occurs to allow time for Armenia's elaborate set to be put together onstage. Mika turns to greet the countries that, by now, have started filling up the green room after he shares Eurovision memories his own:
'Eurovision is very special to me. When I was a kid, it was the only moment of the year that we could move the television… from the living room… into the kitchen…'
The entrants share Eurovision memories of their own, too. During the Jury Final performance last night, Romania's WRS said that his first recollection of the contest was Ruslana's victory for Ukraine back in 2004 when he was 11.
The first 'commercial' break occurs after Armenia has performed (not all countries will be broadcasting commercials however). Laura enthuses about this year's Eurovision having reached its grand final, with Mika reminding:
'It's not just about the destination, it's also about the journey!'
There follows the first video of two tonight with 'heart-warming' highlights from the Eurovision 'journey' so far. The first video contains some memorable moments from the first semi final on Tuesday.
Subsequently, we find all three presenters on stage. Soon, Alessandro and Laura are teaching Mika Italian hand gestures, some cheekier than others.
From the green room, the three presenters address once again the increasing number of delegations present and animate the crowd, before announcing the following country to perform host-nation Italy.
A third 'filler' break is needed for the preparation of Germany's staging, too. Continuing with the comical banter, Mika is giving professionalism lessons to Alessandro, which include not showing preferences or emotions and keeping a straight-face 'Lady Gaga-style'. Naturally, Alessandro fails not to let his enthusiasm show through (when asked what he thinks of the Serbian entry).
The second 'commercial' break of the night occurs after Germany have performed. Mika is comically interrupted by Laura (for some rehearsals, Alessandro was also taking part in this section). When it's time for their lines to be delivered on the other hand, she appears distracted and stay silent, with Mika acting annoyed.
There is a reminder of this year's Eurovision compilation album before the second semi-final highlights video. During the Jury Final, Mika appeared to be a true follower of the tradition:
'The Eurovision CD and DVD! I've been collecting these for 66 years, great tradition, love them!'
Australia's demanding staging requires yet another, fourth 'filler' break before the performance is ready to go ahead. Mika's childhood Eurovision memories filler is sometimes used here.
Australia also requires a swift fifth 'filler' break in quick succession – the set for the UK appears to pose a back-to-back staging challenge in this respect. During some dress rehearsals, Mika and Alessandro grab to the opportunity to quickly interview some of the artists in the green room.
Laura, on the other hand, pays a tribute to Italian music. Singing a cappella, she gives an impromptu rendition of Domenico Modugno's 1958 Sanremo winner (and Eurovision third place that year) Nel Blu Dipinto Di Blu (Volare). During the Jury Final, the crowd joins in singing.
In turn, while the UK's set requires taking down, we are found again in the green room. This is thus the final 'filler' break of the night, with Alessandro and Mika interviewing artists representing different countries. For the Jury Final, some of the countries selected to speak to was Italy (to the home crowd's delight), Portugal and Romania.
After all countries have performed, the presenters ask the crowd to go loud so they can be heard all around the world 'from Europe to Australia.' The moment we have been waiting for has come:
'Europe and Australia, start voting now!'
The first recap of all 25 countries shows up on screen.
The interval act
During the Jury Final last night, the first recap was succeeded by a full-blown dancer choreography, following the Italian gestures theme and showcasing how one can dance by just using them. This was followed by a more touching moment, when the presenters asked the crowd in the hall to join them in carrying out a few messages using sign language.
The time for a much-anticipated moment in tonight's show soon arrives. After an introductory highlights video, last year's Eurovision winners in Rotterdam, Måneskin, will be performing on stage, thus debuting their brand-new single Supermodel. This is to be followed by If I Could Dream, a cover of Elvis Presley's 1968 song.
Only… there were only stand-in performers for all three rehearsals… In other words, not a sight of Måneskin on the Eurovision stage until tonight's Grand Final show (fingers crossed). Quite disconcertingly, injury problems were cited for their absence. Interestingly, during interviews with the stand-in artists, it became clear that Måneskin's music will be part of the soundtrack of an upcoming film.
Also part of the interval act is Gigliola Cinquetti, Italy's first-ever Eurovision winner, who sings her 1964 winning entry Non Ho L'età. The singer had also co-hosted the 1991 Eurovision Song Contest in Rome last time the event was held in Italy. To great applause, she gets introduced by Laura:
'And now the time has come to introduce you to a singer who is a symbol of the history of Italian Eurovision. While still only a teenager, she was the first Italian winner of Eurovision in 1964, bringing the contest to Italy for the first time one year later. In 1974, she returned to the contest, finishing second only to Abba. And now, on the Eurovision stage, the one and only, Italy's Queen of Eurovision: Gigliola Cinquetti!'
Cinquetti cuts a very elegant figure as she stands alone onstage. Her rendition is gentle and understated, rather than showy. At some point, Gigliola's eyes appeared discreetly moist during the Jury Final last night. This is a beautiful and, for super-fans, historic moment in tonight's show.
The theme to Mika's own medley performance appears to be love. Red hearts are used as a motif for the backdrop, outfits, as well as, at some point, large white flags that Mika and his dancers wave across the stage and runways later on. Accordingly, the performance starts with 2007's Love Today.
The artist's debut single Grace Kelly from the same year follows, with the stage changing colours according to the lyrics. Mika's number continues with his latest single, Yo Yo, which was only released on Thursday. For this, Mika is singing on a rising platform. His performance closes with Happing Ending, the stage lit in the colours of the rainbow with a beautiful big heart coming back as part of the backdrop.
The third recap is introduced by Alessandro after this, appropriately waving white flags with red hearts on them.
Special Features
After the second recap, Alessandro appears to be in intergalactic space, with shining stars around him. Once more, Eurovision-related social media and voting platforms are promoted. All the while, his outfit appears to miraculously be changing colour. He sounds mesmerizingly confident in his appeal to viewers:
I know that you've been watching Eurovision, phone in hand, and that's our fault… because we keep asking you to comment on what your favourite performance is using the official hashtags…  by posting on social media… going on twitter…

And I can see you know…  checking who that cute host with the puffy nose is on TikTok. It's me… it's me!
We later come to realize that Alessandro is actually standing in front of a green screen wearing a green bodysuit.
Gigliogla's performance is followed by a fashion-related Eurovision Confidential video – yes, the Official Voice of Eurovision is back!. The footage and tone here is fairly predictable – nothing that has not been done as a comical take on Eurovision fashion before – but pleasant enough nevertheless.
While the voting is going on, Alessandro gets to speak to Chanel from Spain and France's Alvan and Ahez.
Filling in time, the Official Voice of Eurovision subsequently can be heard in yet another compilation video. There is footage of emotionally-tense moments where artists from different years are shown anxiously awaiting Eurovision results. The tongue-in-cheek commentary goes:
'There is a moment in every Eurovision Song Contest that puts the artists and the fans to the ultimate test. It all begins when the hosts are about to announce the votes' (footage of twelve points being given out)…

'The heart rate reaches 120 beats per minute, the brain synapses fire away furiously in their complex calculation of the results. And everyone holds their nerve: you are either one step away from victory or defeat. Then, the fateful coveted number is declared' (footage of total scores being announced)…

'Some leave with joy, while others collapse in desperation. Some embrace whoever is nearest whereas others burst into tears. Some stare out into space, others lower their eyes. The most humble Eurovision ritual is about to repeat itself:  we are only a few minutes away from the 2022 edition… of the Eurovision Stress Contest!'
Just before the voting closes, there is a pre-recorded message from the International Space Station. We get the chance to see the Eurovision flag in space as Italian astronaut Samantha Cristoforetti sends her greetings toTurin:
'Hello, Eurovision! Ciao, Torino! This is the International Space Station calling! (…) As the European Agency Astronaut of Italian nationality, I am thrilled that Italy is hosting the Eurovision Song Contest this year when I am up here in space! My crewmate and I wish you a fantastic evening of music and friendship and we can't wait to discover this year's winner! Ciao!'
After the fourth recap, the presenters urge the audience to vote for the last few moments remaining, before giving out the iconic:
Europe, Australia, stop voting now!
The voting
This part of the show starts with the presenters (including a flirty Laura) asking executive producer Martin Österdahl whether the voting has gone according to plan.
Some of the spokerspersons announcing the 12 points awarded by each country are as follows:
 Albania – Andri Xhahu (radio and television presenter)
 Australia – Courtney Act (drag queen, singer and television personality)
 Austria – Philipp Hansa (radio presenter and actor)
 Azerbaijan – Narmin Salmanova (news presenter)
 Belgium – David Jeanmotte (stylist and TV personality)
 Bulgaria – Janan Dural (journalist and presenter)
 Croatia – Monika Lelas Halambek (radio host)
 Czech Republic – Taťána Kuchařová (model and beauty queen, Miss World 2006)
 Estonia – Tanel Padar (Eurovision 2001 winner)
 Finland – Aksel (Finland 2020)
 France – Élodie Gossuin (model, presenter, columnist and regional politician)
 Georgia – Helen Kalandadze (Junior Eurovision Song Contest 2017 host)
 Germany – Barbara Schöneberger (presenter, actress and singer)
 Greece – Stefania (Greece 2020 & 2021)
 Iceland – Árný Fjóla Ásmundsdóttir (Daði & Gagnamagnið frontman, Iceland 2020 & 2021)
 Ireland – Linda Martin (Ireland 1988 and Eurovision 1992 winner)
 Israel – Daniel Styopin
 Italy – Carolina Di Domenico (television presenter)
 Lithuania – Vaidotas Valiukevičius (The Roop lead vocalist, Lithuania 2020 & 2021)
 Montenegro – Andrijana Vešović (also known as Zombijana Bones, visual artist)
 Netherlands – Jeangu Macrooy (the Netherlands 2020 & 2021)
 North Macedonia – Jana Burčeska (North Macedonia 2017)
 Portugal – Pedro Tatanka (The Black Mamba, Portugal 2021)
 Slovenia – Lorella Flego (television presenter)
 Spain – Nieves Álvarez (moderl and television presenter)
 Sweden – Dotter (Melodifestivalen 2020)
  Switzerland – Julie Berthollet (violinist)
 Ukraine – Kateryna Pavlenko (Go_A lead vocalist, Ukraine 2020 & 2021)
 United Kingdom – AJ Odudu (television presenter)
During Thursday's jury show, it is worth noting that quite a few spokespersons – San Marino, Albania, Norway, Austria and Italy spring to mind as examples – refferred, either explicitly or implicitly (e.g. with messages of peace), to the war going on in Ukraine right now.
Before announcing where her country's 12 points go to, Kateryna Pavlenko, the lead singer of last year's Ukrainian representatives Go_A, sends her own message:
'Thank you to all the people for their support! (…) I wish peace and love to everyone.'
The winner
No, we do not know tonight's winner – that would be the million-dollar (or million-euro perhaps) question. Not for sure, that is, as Ukraine remains the clear favourite according to the bookmakers. Whether the (currently suffering) country will manage to lift the Eurovision trophy for a third time is something we will all have to wait and find out in a few hours' time.
What we can reveal however are the countries that had the 'honour' of being announced as mock-winners during rehearsals. These were as follows:
| | |
| --- | --- |
| Rehearsal | Mock-winner |
| Thursday afternoon | UK |
| Thursday evening (Jury Final) | Norway |
| Friday afternoon (Family Show) | Serbia |