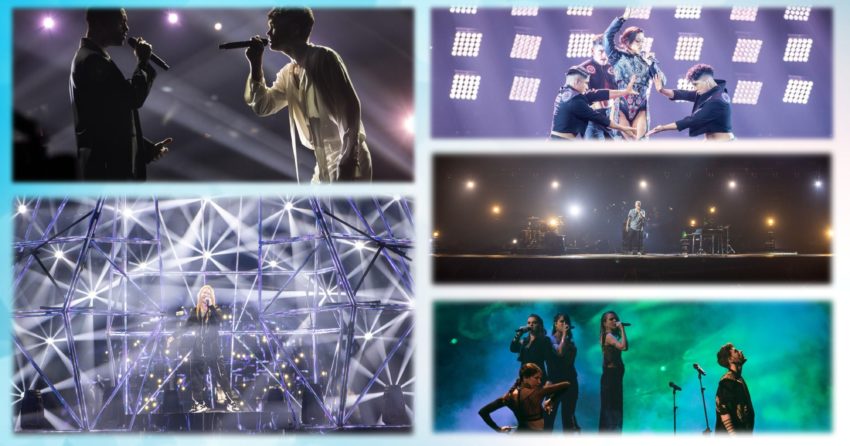 On this Saturday, it was time to finish the individual rehearsals for this Eurovision Song Contest. The pre-qualified entries, the socalled Big 5, nicely closed it all. With several of them tipped a top result, attention was high.
Since Last Saturday, all semi-finalists have rehearsed twice on the stage here in Turin. Italy, Spain, Germany, France and United Kingdom however only rehearsed once. With all first rehearsals closed to the press, it wasn't until today, the press were invited to follow the rehearsals from these five countries that are automatically qualified for the final.
It's rare that we see that two countries from Big 5 are among the top favourites to win, but that's the case with both host country Italy, and the United Kingdom.
Below you can read our impressions from the rehearsals from Big 5.
All opinions are from Eurovision journalists who watched the rehearsals, either in Turin or with online accredtiation.
France: Alvan & Ahez – Fulenn
🇩🇰 Charlotte: I like the colours and the background used for this performance, but there's something not working for me. Camerawise there's still quite some work to, and the choreography of the act appears a bit chaotic to me. The fireplaces are a really nice addition though. They add something which really brings this one up.
🇨🇿 Josef: France brings green to the contest, which is obvious when it's a song about a girl who dances with the devil around a campfire in the forest. This girl is represented by one female dancer, who joins Alvan & Ahez on the stage. Alvan plays his guitar and drums and dances on one spot, while girls from Ahez are slowly moving across the stage. The overall show has a very good effect and will definitely stand out among other entries this year.
🇹🇷 Günec: First thing I wanna say is that Alvan is the most handsome guy this year. I liked this song from the begining. As per their performance, they satisfied my expectations. The pastoral image of the green stage, the group's ethnic costumes were very good. I was concerned about the vocals given their promotion tour performances but the girls nailed it today. A top 10 from me. Bravo France.
🇳🇱 🇩🇰 Wouter: I totally dig the medieval-meets-techno vibe France brings to the stage. The predominantly green colour scheme fits well with the theme. Just a pity the camerawork is still a bit of a mess, but I'm sure they'll figure that out before the final.
Italy: Mahmood & BLANCO – Brividi
🇩🇰 Charlotte: One of the top favourites to win again this year. This is a great song. Performance wise, there's not much to work on. It's quite simple, but it works, more than that – it's beautiful and fits the song. There's a few places where the vocals weren't completely good today, but we know they can sing so that is a minor thing in a rehearsal.
🇨🇿 Josef: Italy plays a lot with lights this year. Mahmood & Blanco are dressed in black & white – Mahmood in black and Blanco in white, which fits his name. There is also a piano on the stage where Blanco sits during second verse, similar to the music video. Lights are in a shade from white to light purple, but looks very appropriate to the song itself. We also see white projections in the LED background and the light wall sliding down in front of the kinetic sun. It's the same wall of lights that was used few times during semifinals, one of the examples was Israel. Overall it's a very nice performance, but I am not sure if we will see Italy win again on their homeground.
🇹🇷 Günec: The Italian duo was accompanied by a pianist. Mahmood wore a black costume while Blanco was in a white costume. They (especially Blanco) seem out of control with their live vocals. They seem not to concentrate on their performance. Hope they fix it until the grand final. I like the song anyway.
🇳🇱 🇩🇰 Wouter: The staging of this beautiful song appears a bit boring and uninspired to me. Especially compared to the official video. But maybe that's what it takes to fully put the song in focus.
United Kingdom: Sam Ryder – SPACE MAN
🇩🇰 Charlotte: From zero to hero, that will likely be the story of UK's Eurovision 2022 journey. Last year, they recieved zero points. This year, they are looking to get one of their best results in a very long time. Sam is a fantastic ambassador for Eurovision in the country, and just what they needed at this time. And finally, I am able to say that the UK didn't mess it up by destroying a good song with a silly staging. They have done that way to often, but not this year. It's not disburbing this year, and it fits the song well. There's a bit of camerawork to be fixed, but it's less than what we have seen for many others. I am so happy to see that the man who blew us all away at his Meet & Greet the other day is the same we see on stage. He is genuine happy to be there. Well done UK. This has winner potential, and I will be happy to give Sam that victory. UK gets my 12 points.
🇨🇿 Josef: I am completely speechless right now. This performance shouts WINNER ALERT. It is the first second rehearsal this year (and probably also the last one as there are only 2 more countries left) that made me literally cry. It is sung with so much power and so gently at the same time but what's important – without any mistakes. Sam has black overall covered with white sewed images on it and he stands in the middle of a metal construction that reminds me of a Space shuttle. It plays a lot with the lights as it really looks like he is in the space. In the last part Sam also plays his electric guitar while the construction opens like a blossoming flower. This is what I call a perfect top-class Eurovision performance!
🇹🇷 Günec: Sam is on stage with his amazing hair, glittery costume and his incredible vocals. He has full control of the stage from the beginning till the end of the performance. The space ship concept of the stage is brilliant. I love the coming out of spaceship concept in the middle of the performance. UK seems to break a leg this year and will be placed top 5 this year.
🇳🇱 🇩🇰 Wouter: Sam is charged with electricity, or at least his hair pointed in all directions from a slight static charge. But puns aside, he truly is filled with positive energy. The song's quality stands unchanged, and the staging is the best I've seen from the United Kingdom in a very long time. If this doesn't bring them to the left side of the scoreboard, I don't know what will.
Spain: Chanel – SloMo
🇩🇰 Charlotte: A nice little song with a matching dance performance, which plays quite a lot on sex, and as such match the lyrics. There's not much to lift it up aside from that one of the male dancers is quite good looking ;-). It's well performed and I don't mind watching it, but when it's over, I am ready to focus on next song. I have a hard time seeing this finish in the best half of the scoreboard. Sorry, Spain.
🇨🇿 Josef: Spain is everything we expect Spain to be, sensual, energetic, and is all based on the fiery dance. The performance is perfect in every possible way, especially when they added golden rain and other pyro effects. This will be one of the best Spanish results in decades I dare to say. Well done, Spain.
🇹🇷 Günec: Cuban beauty Chanel is a strong contender to win this year according to comments from many fans. She can dance and sing at the same time. The main thing about the performance is the choreography. They've added a Mexican tune intro to the song. Chanel and her five dancers ( three male two female) has showed a very energetic performance with their sexy outfits and Chanel's vocals were flawless. The stage was designed to match the strong choreography with lightning games. A strong contender to win indeed.
🇳🇱 🇩🇰 Wouter: Song, performance, staging, outfits, choreography – everything about this is as cliché as it gets. But at least it's done well…
Germany: Malik Harris – Rockstars
🇩🇰 Charlotte: I am not a fan of this song, but it's very well performed. Staging is good too – if just someone would turn the light on. It's a bit too dark for me. Malik is a good performer though, and he sings it well too, but I can't get myself into the song, and damn, I miss some lights.
🇨🇿 Josef: Germany keeps it very intimate and almost the same as the performance in their national final. Malik uses looper so he plays the piano, drums and also a guitar on his own. Simple and nice, maybe a good thing among all those big shows to calm down.
🇹🇷 Günec: Young Malik brought his studio on stage. I find this song firm yet emotional and I like it a lot. Malik's style reminds me of Eminem during the rap part of this song. I'd love to see Germany on the left side of the scoreboard from the bottom of my heart.
🇳🇱 🇩🇰 Wouter: Sorry, I just don't get this…It does nothing for me.
This reflection article is based on the author's own personal experience. Views expressed belongs to him or her, and are to be seen as unrelated to EuroVisionary.com.