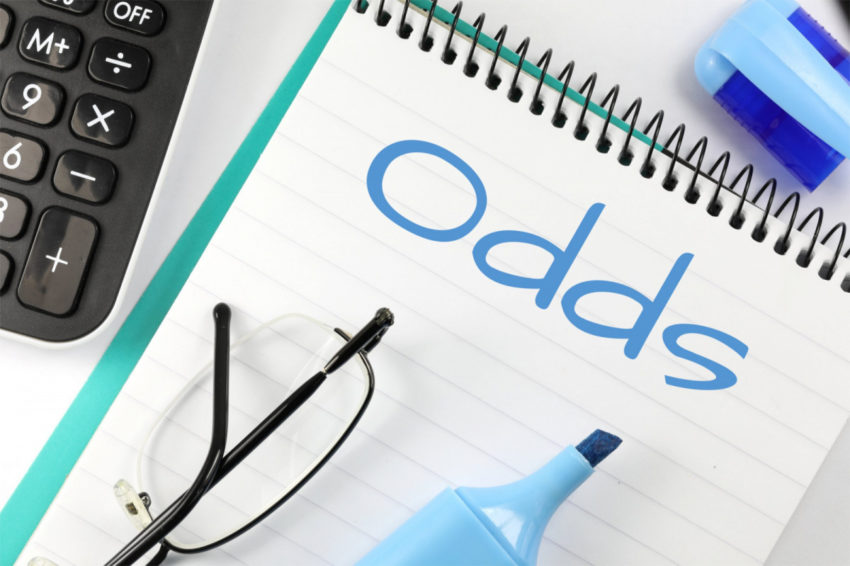 If you ask the bookmakers, it's pretty clear who will win the 2022 Eurovision Song Contest. Ukraine is topping with a 32% predicted chance of winning. They are followed by host country Italy along with Sweden battling for second and third place.
Whether it's due to lots of expected sympathy votes or not, it's hard to overlook that Ukraine currently is the biggest favourite to win the Eurovision Song Contest. At time of writing, Ukraine is a warzone after having been invaded by neighbouring country Russia. Millions of Ukrainians have managed to flee, and most of Europe is welcoming them with open arms, but even more people are left behind unable to get out or to provide for themselves. Entire cities have been destroyed. Their president, Volodymyr Zelenskyj, stands for most of the world as a true hero leading his country through a terrible war started by everyone's enemy #1 at the moment, Vladimir Putin from Russia.
In such a situation, its hard to imagine Ukraine even taking part at the 2022 Eurovision Song Contest in Turin, Italy, in just a few weeks. The band aim to be in Turin for the two Eurovision weeks, but if that won't be possible, they have permission to participate using a recorded performance. Should they indeed win Europe's favourite TV show, they also gain the right to host the Contest next year. With millions of Ukrainians fighting for their own and their fellow countrymen's lives at the moment, a Eurovision in Ukraine in 2023 seems particularly hard to imagine. And yet, that is what the bookmakers currently predict will happen.
Odds on winning Eurovision Song Contest 2022
With 32% chance of winning, Ukraine is a clear top favourite. Italy and Sweden follow with 17 and 13%. United Kingdom is looking to get their best Eurovision result in a long time. At the moment, they are 4th in the odds with a 5% chance of winning.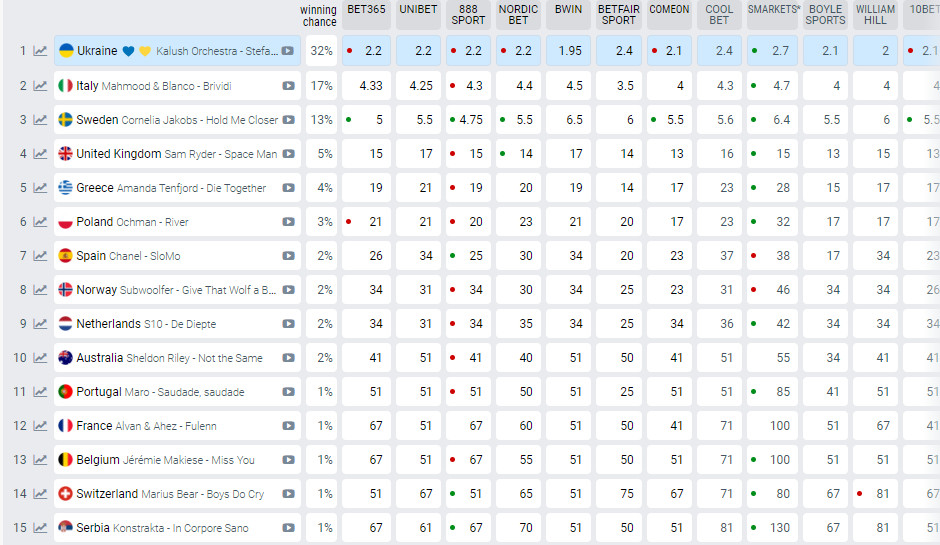 Odds on qualifying from semi-final 1
With Ukraine taking part in this semi-final, naturally they are also topping the odds list when it comes to qualifying from the first semi-final. Last year's host country the Netherlands is second. According to the bookmakers these two countries will be accompanied by Norway, Greece, Albania, Portugal, Armenia, Austria and Switzerland. The 10th and last qualifying spot is currently predicted to go to Moldova, but with the same chance of qualifying as Lithuania.
Bulgaria and Slovenia are predicted last in this semi-final.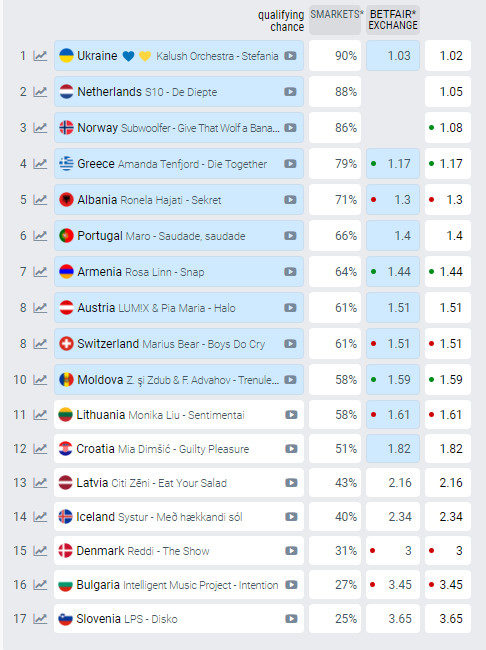 Odds on qualifying from semi-final 2
Sweden and Poland are the top two favourites to qualify from semi-final 2. They are closely followed by Belgium,  Australia, Estonia and Serbia. According to the bookmakers it will be Finland, Czech Republic, Cyprus and Romania taking the last four spots in this semi-final.
Poor Ireland's Brooke Scullion is tipped last in this semi-final. It seems up hill for the once so proud Eurovision nation if they are to take their 8th victory this year.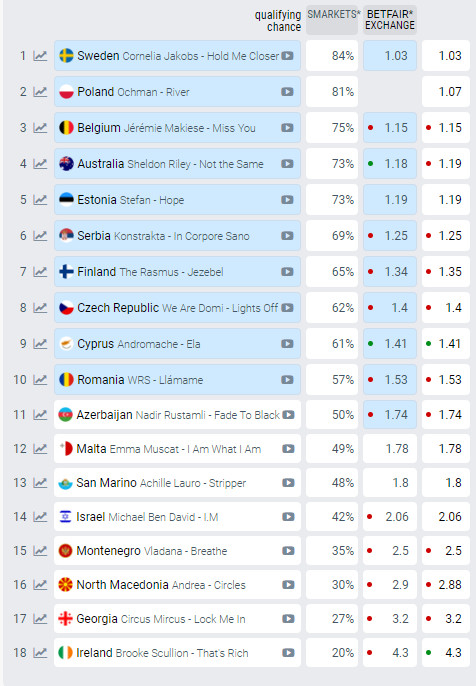 All odds are from Eurovisionworld.com