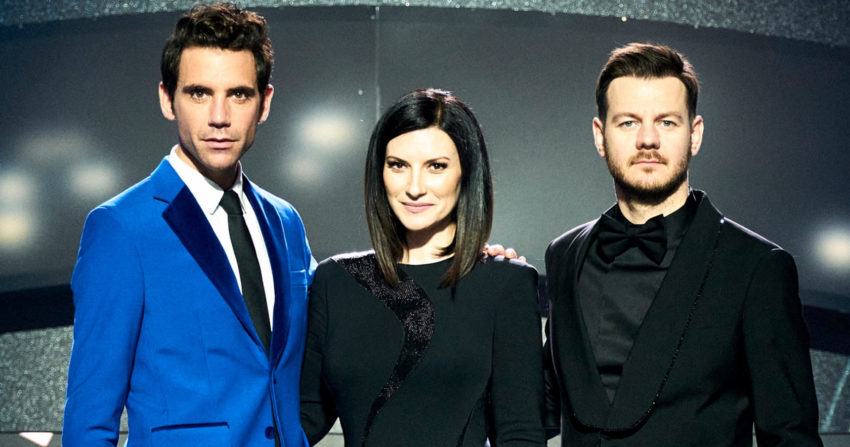 In a few hours, viewers will have the chance to watch the first semi-final show for this year's Eurovision. Rehearsals have given us an idea about the performances of the 17 competing countries but what about the rest of the show? Here is what you should expect to see from Turin's PalaOlimpico later tonight!
The third dress rehearsal for Semi-Final 1 ("Family Show") finished just a few moments ago. There had been two more such shows yesterday, one of which was the Jury Rehearsal (this means that, yes, the jury vote for tonight's performances has already been cast).
Based on what we saw during these three dress rehearsals, we would now like to share with you what to expect from the show tonight.
The opening
The evening starts with a light-hearted introductory video, albeit full of subtle references to Italian culture. In a scene reminiscent of Italian fairytale character Gepetto working on Pinocchio, we are transported into an inventor's studio were Nessun Dorma is audible in the background.
Here, the inventor is putting together what later proves to be a flying device. This could also be a nod to Italian artist, inventor and polymath Leonardo Da Vinci and his conceputalizations of flight.
In our video, the inventor's efforts are not that succesful to start with until the device turns into a drone and springs to life. Humming a spirited Vincerò ('I will win') from Puccini's 1920s opera Turandot, the drone cheerfully flies over Turin and, with it, we enter the venue for Eurovision 2022, PalaOlimpico.
Once inside the hall, the show kicks off onstage. To start with, we are treated to an atmosperic, sub-lit stage, save for blue beams seemingly used by dancers as harp strings. The musical line they're playing is, again, Vincerò from Turandot aria Nessun Dorma. 
The tone soon shifts. Surrounded by a changing choreography, a female guitarist performs a solo reminiscent of last year's winner, Zitti E Buoni by Måneskin. She is succeeded by a female vocalist singing The Sound Of Beauty, the song's signature line being the motto for this year's contest. A high note brings this part of the show to a strong end.
By this time, we have been introduced to the technical potential offered by this year's stage. There has been a succession of lighting configurations and moods, complete with features like pyros and steam jets. The choregraphy, too, makes full use of the performance space available, including the walkways around the front part of the stage.
The hosts and their guests
This year's hosts, singer Laura Pausini, television presenter Alessandro Cattelan and Lebanese-British-American singer Mika, are announced (with a 'Ciao, Torino, let me hear your voice, here are your presenters for the night') as they appear on stage to welcome the audience:
Good evening, Europe! Good morning, Australia! Ciao, Italia!
Laura Pausini's frock changes remain in piercing pink, matching her eye shadow. Alessandro, too, consistently remains in black. Mika, on the other hand, goes through a sequence of suits that, during dress rehearsals, have ranged from black, to maroon, to mint blue.
Throughout the night, the presenters appear alone, in pairs or all three together.
They start by mentioning Turin succeeding Naples and Rome as former Italian Eurovision hosts (1965 and 1991 respectively) and thank Rotterdam for last year's contest. It soon becomes clear that it will be Mika doing the bits in French tonight.
Their main introductory comment is about music having the power to unite, break down barriers and bring people closer. The messages of the competing songs tonight are seen as conducive to bringing people together. To highlight the point, the presenters share a three-way big hug.
After practical information, e.g. about the voting system and the Eurovision app, the presenters kick off this year's first semi final by stacking and then raising their hands in the air.
Laura and Mika introduce the first break after Ukraine (this will be one of the commercial breaks for many countries broadcasting the show). They ask each other whether they interacted with (danced with or even kissed) the people around them during the performances so far – Mika does in fact kiss Laura on the cheek. They mention how the energy inside the hall is electric.
In time for introducing Bulgaria, all three presenters ask the crowd about who they think is going to win. The names of different countries can be heard from the crowd as a result.
After Portugal, Laura and Alessandro word-play on the 'Sound of Beauty' motto, telling each other how beautiful they look – after a few adjustments to Allessandro's appearance made by Laura that is.
They also make reference to the interval act coming up later in the night, mentioning that its theme will be the way Italian music has influenced the international music scene since the 1970s.
Another 'commercial' break is introduced after Denmark with Mika in the green room. The green room itself lives up to its name this year, as there green plants decorating the room in between the seats for the delegations.
Mika mentions that he was asked recently what the Eurovision Song Contest means for him and that, for him, the answer is diversity regarding both the music, frocks and the audience itself:
There are no barriers as to who we are and who we can become (…) A glorious medley of beautiful voices – that's what Eurovision means to me!
All three presenters subsequently appear to remind audiences about the Eurovision app and the ability for viewers from home to 'clap' for their favourite song via it. The following country to compete, Austria, is then introduced.
Just before Armenia performs – and to allow time for the country's elaborate set to be arranged onstage one would assume – Alessandro and Mika appear on our screens. Alessandro explains that the Italian custom of tossing a coin into a fountain when you wish to return back to a place where you have had a beautiful time.
Emulating Gregory Peck and Audrey Hepdurn and a scene from 1953 film Roman Holiday, they throw a coin each into the water feature, which forms part of this year's set design. They evidently had a lovely evening so far and none of them wants to leave the place!
After all 17 countries have performed, all three presenters return to explain the voting rules and kick-start the voting.
They then introduce the interval act the intention being to turn the Eurovision stage into 'the largest discoteque in the world.'
After the interval act, Laura pays tribute to popular Italian entertainer Raffaella Carrà, who sadly passed away last year. A few bars from Carrà's 1977 hit Fiesta can be heard with Laura cheerfully dancing to it.
The presenters subsequently remind audiences of the Eurovision compilation album – available also in vinyl and cassette this year – before the characteristic 'Europe, stop voting now!'.
After the interval act, Alessandro carries out a short interview with the current Eurovision Junior winner, Maléna from Armenia.
Mika presents the French entrants Alvan and Ahez whereas Laura and Alessandro present Mahmood and Blanco. Being in the Big-5, the acts will not be performing live tonight and this will be just an opportunity to introduce them to TV audiences as both countries will be voting in tonight's semi final.
Mahmood reveals that achieving a good performance is his number one priority regarding the contest. Regarding their lyrics being in Breton and not French, Alvan and Ahez on the other hand reveal that they intentionally sought an ethnic sound and that it actually only took a few minutes to write the lyrics.
Before the results are announced, the three presenters turn to the (Swedish) executive supervisor Martin Österdahl and ask if everything has gone to plan and whether, indeed, we have got a result. The ten qualifier countries are then announced one by one in random order.
The show closes with the qualifying artists joining the presenters onstage. Mika wishes them to 'break a leg' as, according to his own words, he never wishes good luck on such occasions.
The night closes with the presenters arranging to go for pizzas right after the show – they will apparently be on Mika!
The running order
Just to remind you, the running order of the competing countries tonight will be as follows. As indicated within brackets below, the entries will be introduced by 'postcard' videos showing aspects of an Italian city or place of interst.
1 – 🇦🇱

Albania: Ronela Hajati, Sekret (Barumini)

10 – 🇵🇹

Portugal: Maro, Saudade, Saudade (Genoa)

2 – 🇱🇻

Latvia: Citi Zēni, Eat Your Salad (Merano)

11 – 🇭🇷

Croatia: Mia Dimšić, Guilty Pleasure (Grinzane Cavour)

3 – 🇱🇹

Lithuania: Monika Liu, Sentimentai (Bergamo)

12 – 🇩🇰

Denmark: Reddi, The Show (Procida)

4 – 🇨🇭

Switzerland: Marius Bear, Boys Do Cry (Termoli)
commercial break

5 – 🇸🇮

Slovenia: LPS, Disko (Civita di Bagnoregio)
 

13 – 🇦🇹

Austria: Lumix feat. Pia Maria, Halo (Miramare Castle)

6 – 🇺🇦

Ukraine: Kalush Orchestra, Stefania (Florence)

14 – 🇮🇸

Iceland: Systur, Með Hækkandi Sól (Cortina d'Ampezzo)

commercial break

15 – 🇬🇷 Greece: Amanda Georgiadi Tenfjord, Die Together (Selinunte)

7 – 🇧🇬

Bulgaria: Intelligent Music Project, Intention (Castel Del Monte)

16 – 🇳🇴

Norway: Subwoolfer, Give That Wold A Banana (Scanno Lake)

8 – 🇳🇱

Netherlands: S10, De Diepte (Ravenna)
short break

9 – 🇲🇩

Moldova: Zdob și Zdub and Advahov Brothers, Trenulețul (Urbino)

17 – 🇦🇲

Armenia: Rosa Linn, Snap (Marmore Falls)

short break
The interval act
The main interval act, the Dance of Beauty, is a tribute to the influence of Italian music on the international dance scene and includes a piano performance by Italian songwriter and producer Dardust, who had also co-written 2019's Soldi (Sanremo winner and Eurovision runner-up) for Mahmood.
He is joined on stage by flutist Sylvia Catasta as well as Italian DJ Benny Benassi. Benassi performs a medley of dance tracks that includes his 2002 summer club hit Satisfaction.
English group Sophie and the Giants, an act who themselves have been influenced by the Italo Disco musical genre, close this part of the interval act with a rendition of their 2021 hit Golden Nights.
What would have been Italy's 2020 Eurovision entrant, Diodato, was also part of the interval. The competition part of that event was of course cancelled due to the Covid-19 pandemic, with Diodato performing his song in an empty Arena di Verona at the time.
His performance for tonight's show start at his piano, with people randomly appearing in the camera shot, sometimes just walking, sometimes stopping and hugging. Diodato later leaves his piano and performs onstage surrounded by numerous dancers. His vocal performance is exceptional. This is a large-scale, polished production that leaves Fai Rumore's feeling like a performance of last year's Eurovision winner entry.
Extra highlights
A mock-history video forms part of the first 'commercial' break. In it, Turin's history and (a great deal of) fiction come together (in a tongue-in-cheek way) to explain how historical providence, from the city's founding as a city 2000 years ago, to Italy's more recent industrial history, conspired for this year's Eurovision Song Contest to be held in Turin.
Poignantly, a historical inaccuracy is corrected: Julius Ceasar's famous line has been passed down history incorrectly it transpires. On a moment of profound historical intuition, it seems tha Julius Ceasar's actual words had been:
Veni, vidi, Euro-vici!
During the second 'commercial' break, there is a video with highlights from this year's opening ceremony and the entrants' appearances on the turquoise carpet.
A comical highlights video with recurrent themes in former Eurovision entries features acts like Norway 2021 (Tix and Fallen Angel) against Cyprus last year (Elena Tsagkrinou and El Diablo) in a heaven-and-hell juxtaposition.
Current Eurovision Junior winner Maléna mentions the kind people, the delicious food and the opportunity to visit intersting ancient sites as three of the best things about her native Yerevan. A highlights video of the city is subsequently shown as, after her win last December, the Armenian capital will be hosting the next edition of the Junior version of the contest next year.
Recorded excerpts from the Italian and French entries for this Saturday's Grand Final are shown during the voting count.
During the Jury Rehearsal last night, the mock announcement of countries qualifying consisted of Latvia, Portugal, Lithuania, Norway, Denmark, Greece, Armenia, Switzerland, Austria and the Netherlands.