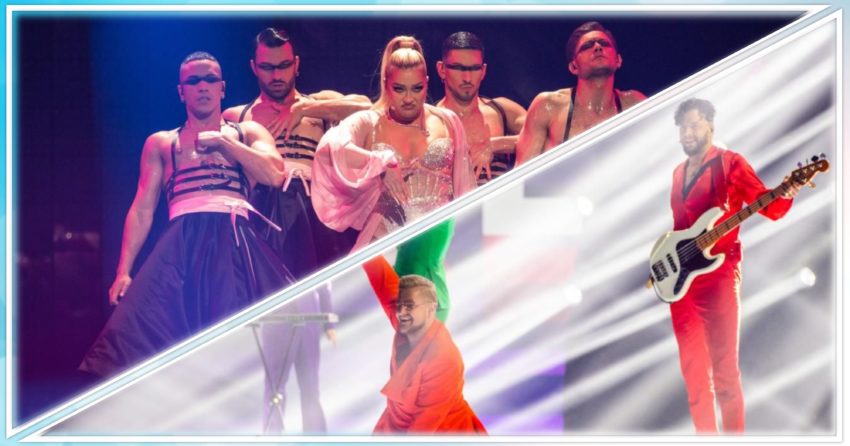 Today, the first countries from semi-final 1 took the stage for their last rehearsal before the dress rehearsals for the shows start. It was also the first time that we as press got to see the full performance as it's planned. Who has what it takes to make a great result?
The first set of rehearsal a few days ago were closed to press and fans. Only a few seconds from each were released on Tik-Tok. With the second rehearsal today, the curtain was lifted, and we were invited to watch it all.
Below you can read our impressions from the rehearsals from 14 countries in semi-final: Albania, Latvia, Lithuania, Switzerland, Slovenia, Ukraine, Bulgaria, Netherlands, Moldova, Portugal, Croatia, Denmark, Austria and Greece.
Albania: Ronela Hajati – Sekret
(Note: stream wasn't turned on in the online press centre, so we only have Josef's opinion as he was watching the rehearsal in Turin)
🇨🇿 Josef: To be honest, this song has a good vibe and so does Ronela. She is a damn good performer. There is a lot of dance in this performance, as well as a lot of touching and dance moves which may someone see as inappropriate. I would say it's a good opening of the first semifinal. The pink colour somehow doesn't fit to the song, but I would say that as Ronela added some more fabric to her performance it's good. Even though for someone she is still not cover enough. Vocally she was on point, but I expect her to put more energy to it during the live shows.
Latvia: Citi Zēni – Eat Your Salad
🇩🇰 Charlotte: This isn't working for me. I like the staging, the colours and the lovely saxophone solo, but I keep getting distracted. I don't know where to focus, and that's really a problem for me. I would need the camerawork to help me with that, but unfortunately it doesn't. The walking towards the camera is pretty much the only time, my eyes are calm. Of course that fits the song, for some, but for me, it's not good.
🇬🇷 🇬🇧 Theo: Latvia's performance is exuberant. The group wear suits in block colours and seem to really enjoy themselves on stage. The stage itself is very flashy and colourful with pop art motifs showing up here and there. I liked the stage getting flooded in white spotlights for the saxophone solo, too (in a moment full of tongue-in-cheek drama). I find that the performance elevates the song. It will probably get the vote of people who will go for 'feel-good' vibes this year (not to mention vegans) – will that be enough for a place in the final?
🇹🇷 Günec: The guys are full of energy to go with the uptempo song. Their colorful outfits fit the stage well. The vocalist guy looks much better without glases. I like the melody and energy of the song. That certain part of the lyrics is cencored but I'd prefer them to change it. Anyway, it's the character of the song. I always like a saxophone solo, as the one in Eat Your Salad. In total, Latvia promises an energetic stage presence.
🇨🇿 Josef: Latvia is a technicolour experience. White, purple, green, yellow, red and orange are the colours of Citi Zeni's suits and it suits them pretty well. It's fun and it's clearly visible that they are enjoying their own performance. They probably intended to use the LED side of the "non-kinetic" sun, because they use furits and veggies in the background, but at least in one part of the song, they use the front of stage part which has LED floor, so you can see some lips and cherries there. I am not a fan of this funky entry, but even though, I feel entertained, so Latvia probably did a good job.
🇳🇱 🇩🇰 Wouter: The studio version was great fun, as was their national final performance. Based solely on the rehearsal performance, the fun is over. Hopefully all they need is an audience to dance, clap, and sing along to pick things up again. And maybe this same audience can sing the 8th word of the original lyrics, which they – rather obviously – had to drop for Eurovision.
Lithuania: Monika Liu – Sentimentai
🇩🇰 Charlotte: I love the opening shot, love the simple and yet powerful staging, and honestly, love that this song isn't in French, which would be too obvious. She is spot on vocally, and she captures me quite quickly. This is great, and I am all onboard. Will love to see Lithuania get a top 10 result in the final for this, and maybe even higher than that.
🇬🇷 🇬🇧 Theo: I like the Lithuanian song this year. To me, it sounds as if retro electronic pop – Moloko springs to mind – meets Portuguese Fado. I also like Monika's style, both visually and vocally. Visually, she looks sharp in her trademark pageboy haircut and moves elegantly to the rhythm. Vocally, her delivery is velvety and cool in a nonchalant kind of way. Regarding the staging, I would have expected something a bit edgier – to go with the overall quirkiness of the song and Monika herself. There are mirror images of Monika on screen and shimmering spotlights in the background, the latter complementing Monika's sequin gown. However, there could be some more imaginative directorial tricks to lift the performance visually while still keeping it mellow and cool, I think – the entry would lend itself to such an approach in my opinion.
🇹🇷 Günec: Monika took the stage with the exact same outfit she wore for the national finals. The song is a descent, nice, midtempo pop ballad. I like the 70's disco sound used in Sentimentai. The stage is very minimal which fits perfect with the naive song. Monika looks comfortable on stage knowing what she's doing and looks very elegant. Her Mireille Mathieu style haircut looks very classy.
🇨🇿 Josef: Monika Liu's song is called Sentimentai and that's exactly how her perfomance looks and feels like – very sentimental and retro. And after crazy Latvian show, this calming and a little bit hypnotical performance may be something that will appeal to the Eurovision audience. Monika definitely deserve plus points for not relying on any dancers.
🇬🇧 🇦🇺 William: An almost cut and paste from the National Final. Monika is a true professional, each run through sees her give her all to the performance. It's static and honestly, it adds to the whole performance. Her voice is impeccable, while it's not a definite qualifier, from the rehearsals she deserves a spot in the Grand Final.
🇳🇱 🇩🇰 Wouter: I'm not sure if this song really gets better for every time I hear it, of if it's just as great as it always has been. The performance adds nor subtract anything. Maybe I could have hoped for something a bit more different from the video, but then again; why change something that's not broken.
Switzerland: Marius Bear – Boys Do Cry
🇩🇰 Charlotte: I am sorry, Switzerland and Marius, but this is too boring for me. The song does nothing for me, and if I was hoping for the staging to lift it a bit, I am left disappointed. I love the broken hearts on his chin as well as the floor, but it gets too dark for me. Give Marius a guitar, and I would love to hear that version anyday, though.
🇬🇷 🇬🇧 Theo: The stage is sub-lit with discreet white graphics showing on occasion in the background as well as Marius' face (sketched lines resembling tears on his face for the finale). The presentation thus cleverly allows Marius' singing to take centre-stage. And his vocal performance is generally solid: emotional and impactful yet, at the same time, relaxed (I had just 'solid' to start with but I think I detected an unfortunate coarse wobble during the second run). One gets the feeling that Marius really feels every line he's singing, too – which is just right for his poignant lyrics.
🇹🇷 Günec: It must be a lot of pressure for Marius to be representing Switzerland after Gjon and his massive success. This emotional song reminds me of Victoria's Growing Up Is Getting Old. Marius standing on a broken heart on stage is a nice touching detail. Marius is very good at reflecting the emotion of the song in my opinion though. A very minimal performance in total, and I somehow don't see it in the final.
🇨🇿 Josef: Switzerland has very intimate song and their performance is very similar too. Marius is there alone in his black leather jacket with some sewed images on it and also some small things can be seen on your TV screen only, like rain, which is projected on Marius' face so it looks like he's crying. We can see also a broken heart sign projected on his face and he has the same image in his jacket. This is a very sad performance, but accompanied by good live vocals, which will definitely escalate this higher. As this dreamy melancholic style is quite popular nowdays, I think that Marius Bear can be a surprise qualifier from the first semi-final.
🇬🇧 🇦🇺 William: A classy staging, very simple for the song and works well visually. The lack of any real track gives the song an almost an acapella feel. Marius' voice is raspy and interesting. Some vocals need a little tuning, but all in all, this has gone up in my estimation.
Slovenia: LPS – Disko
🇩🇰 Charlotte: I actually love the staging done for this one, but camerawork doesn't quite do it for me. There's something not right for this song. Performance wise they don't quite use the potential of the staging either, or maybe I am just seeing potential where there isn't much, not sure. I would love to see a total re-think of their perfomance and the camerawork. I still have an idea that this could be improved because the song isn't actually that bad.
🇬🇷 🇬🇧 Theo: I like the Slovenian song's retro vibes, including the quirky changes of tempo. Staging-wise, I like the large disco- (or should I say 'disko-') ball in the centre of the stage. The lead singer is standing in front of it, the keyboards and guitarist on either side of it, and the drummer with his kit appearing to be standing… well, on it… I like the golden hues for the lighting as well. Yet, somehow, the performance never really lifts for me: again, I would ideally have liked some more eccentric camera work (there is some already) to go with the character of the song, and, perhaps, the lead singer being more animated: he looks relaxed (so far so good) to the point of indifference (not so good). Playing a bit more to the camera, even accentuating a bit his relaxed stance, would have made the performance come across as more polished, I think.
🇹🇷 Günec: These boys are nothing but cool. Their classy music despite their youth is admirable. They have the same sphere concept on stage as their national final performance. The boys' outfits match with the class of the song. I just love the song, how retro it is. Young Filip shows his talent with this song. I see him as the young Frank Sinatra ❤️
🇨🇿 Josef: Slovenia is just a little bit fun, but that's all. I think that this proves that LPS don't have any big experience with performing as it looked and sounded quite amateurish. I don't like to say this, but maybe it was the worst out of the first five performances. Plus points can be given for the fact that they sing in Slovene and also that they are quite cute, but that's all. Sorry, Slovenia. 😞
🇬🇧 🇦🇺 William: This is fun and retro, which is never a bad thing in my eyes. Yet it's not impactful enough in its current iteration to do anything major in the contest. A great experience for the young band, I hope they continue after the contest and even come back at some point. We all want that Last Pizza Slice, after all!
Ukraine: Kalush Orchestra – Stefania
🇩🇰 Charlotte: This song does have something good going for it. I really love the chorus, but I have to be honest here, and I really don't like the rap parts. Performance wise it works better than I had feared, though. The staging is done right, and there's quite some really good camerawork here. And let me just add, that this song has the best opening shot, I have seen so far, and probably also best staging. All my love and support to Ukraine, and if this is the winner, you won't hear me complain about it, but it's not a song, I would vote for myself. The cameraman however, so far, he gets my 12 points.
🇬🇷 🇬🇧 Theo: The song has grown on me. Growing on you might be one of its characteristic features, I guess. Even as I was listening to it for the first time, it had grown from an initial 5/10 to a 7/10 by the closing few bars; right now, it is probably an 8/10. Staging-wise, I liked the opening shot with the water feature on the front edge of the stage. The 'sun' feature on this year's stage, lit in white, warm yellow and orange hues really looks like a sun on occasion. I also like the effect where colourful moving figures resembling the performers' shadows appear on the stage floor. Other than that, this looks a bit all over the place to me. Certain interesting presentational ideas, like the impression of two open palms on the dance floor appearing to be nurturing the group look a bit disparate as part of the whole (yes, that's even when 'disparate' – as manifested by the quirky colourful outfits, too – appears to be the intended concept). The break-dancer misses the centre of the rippling light effect on the stage floor, too. Vocally, verging on the off-key on occasion. Still, infectious – in an earworm sort of way – chorus-wise.
🇹🇷 Günec: I know many people think that Ukraine will only get sympathy votes and that's not fair. I strongly disagree. The Kalush boys have this energy and charisma and all they aim is to make their country proud. I honestly love the song as a whole. The colorful stage, the rap session and the ethnic flute are the highlights of the performance. The boys look very charismatic in their colorful ethnic outfits. Tymofii has a good lead on the group with his vocals. They have changed the stage concept of their national final. Matruchka mothers, hands on stage and the dance routine, all a plus for me. I wouldn't mind if they win the whole thing.
🇨🇿 Josef: Ukraine is a clear favourite (at least according to the odds) and their performance looks good. One would expect that in such situation where Ukraine is right now, they would have limited resources or whatever, but to me it is maybe the best staging we have seen so far today. All those camera angles and usage of LED floor in the front of stage is impressive.
🇬🇧 🇦🇺 William: With or without the situation in Ukraine, there perfect qualification was not in jeopardy with this entry. Ethnic hi-hop is something that can only be accessible through Eurovision, and Kalush Orchestra perform this with such ease and confidence. A great performance and without doubt will be in the top 10 come the Grand Final.
🇳🇱 🇩🇰 Wouter: In any previous year, this probably would have been considered an interesting and fun song without much potential. I would have liked it just the same, because of as well as despite it's quirkiness. But maybe I wouldn't have given it as much thought as I have specifically this year. Their performance is perfectly in line with what we've seen a the national final and other performances, so unfortunately not much new there.
Bulgaria: Intelligent Music Project – Intention
🇩🇰 Charlotte: And now to something completely different. I really love this song, and staging is done just like a rock song should be. It has the concert vibe to it, and not so much a TV show – aside from the usual Eurovision fire, which however we haven't had much of until now. There's places here and there where the camerawork isn't right, in my opinion though, and that does count down in my book, but there's still time to fix that, so I am still hoping to see Bulgaria in the final. Of the rehearsals we have seen today, this is so far my 12 points 🙂
🇬🇷 🇬🇧 Theo: It would be a hard task for any country to appear after Ukraine and, thus, when many of the audience might still be commenting one way or another about the latter country. Nevertheless, as far as I am concerned, Bulgaria starts as a pleasant surprise presentation-wise. For most of the performance, the stage is lit with strong white spotlights, matched by white rings on the central 'sun' feature. There follow accents in red and warm orange hues towards the end. Visually, the stage looks more impactful in white is my impression. Both in terms of presentation and vocal performance, Bulgaria remains consistent and solid. The lead singer, all dressed in black including – to start with – a black hat, cuts a suitably sharp figure for a rocker. I find the song itself pleasant enough in its rock sound though that's as far as it goes for me.
🇹🇷 Günec: Apart from the charisma of the front man, the song does not promise much in my point of view. Very mediocre rock song. I'd listen to it while driving or so but this is not a song to compete in the biggest TV show of Europe. The black & white staging concept with gold and fire details is fits the song.
🇨🇿 Josef: Bulgaria is typical retro rock, which is something I was never a fan of. But the staging doesn't look that bad. To me this is not something that should still appeal to people in the 21st century. It's colourful, sung without any bigger problems, but that's all.
🇬🇧 🇦🇺 William: a typical rock song presentation. Great lighting and stage presence from Intelligent Music Project. Yet it simply isn't gripping for audiences at home. It's not lacklustre, yet it had no real reason to have people pick up the phone and vote. I applaud there experience and performance ability, but it is not Bulgaria's year.
Netherlands S10 – De Diepte
🇩🇰 Charlotte: This is the kind of song, which is difficult for me to comment on. It's a nice enough song, she sings it well, camerawork is ok too… only problem is just that it somehow does not capture me as much as I would like it too. Not much to dislike here, but I am missing just a little bit of drama or edge to spice this performance up.
🇬🇷 🇬🇧 Theo: The opening shot, a sub-lit stage with S10 cutting an elegant, slender figure surrounded by a diamond of vertical lighting –a toned-down version of Sweden 2014 and Sanna Nielsen's spotlights -, really raised my expectations (it was a 'that's it' moment for me). Unfortunately, as the performance progressed, I was left with the impression that there is some room for improvement. Vocally, for example, the characteristic 'ooh-ooh, 'ah-ah' parts of the chorus were not always delivered firmly (the singer's voice is otherwise beautiful). S10 does not always look in command of the stage either – I think I even detected a nervous gulp during one of the early runs (who can blame her of course). With a few tweaks, this could become one of my favourites for the first semi final: classy and atmospheric in an understated kind of way. The native language works here for me, too.
🇹🇷 Günec: S10 has this very unique image and voice. She's a pretty girl with a pretty voice. The song is extremely minimal, plain and simple. The black highlighted staging just supports the character of the song. I doubt this one catches up with Duncan's Arcade but we'll see next week.
🇨🇿 Josef: S10 is one of those artists, that can captivate the audience only with their song. And especially in this case when it's sung in Dutch language – welcome back to Eurovision! As there is nobody else on the stage but S10, all attention goes to her, standing on a small platform in the middle of the stage. The rest is on cameras and lights, but the overall feeling is very positive.
🇬🇧 🇦🇺 William: S10 is such an arresting performer, her clear and fragile vocals are perfect for this song, and live they are just as good as the studio version. The staging is simple and dark with the correct amount of lighting accents to bring the dynamics of the music into a visual realm. At this moment in time, this is the song I'm most sure will be a finalist.
🇳🇱 🇩🇰 Wouter: Oh my gosh it's been a while that I've liked the Dutch entry as much as I do this year. And oh my gosh again it's been a while since the Dutch staging has been so extremely boring. Maybe there's a correlation?
Moldova: Zdob şi Zdub & Advahov Brothers – Trenulețul
🇩🇰 Charlotte: Welcome back to Eurovision to Zdob şi Zdub. It's probably not fair to compare to their two previous entries, but I can't help thinking that this is missing the edge, they earlier had. It's too mainstream to a degree where I can't look aside that vocally, this wasn't really good. Good performance, I acknowledge that, but unfortunately, to me, it becomes silly.
🇬🇷 🇬🇧 Theo: A rhythmic song with traditional elements – violin in this case – and a colourful, all over the place presentation. These are features making me draw parallels with Ukraine and, furthermore, tempting me to make connections between the similarities of their entries and the fact that both countries are currently, to put it mildly, under threat politically (maybe I'm reading too much into it though). That's where the similarities end, too. Whereas one detects poignancy – undercurrent of pain even – in the Ukrainian entry, the Moldovan entry is all about throwaway fun and abandon. An energetic performance, though I detected strain on the face of the main singer. Not sure that this is a point of the show when the running order is working – I assume the idea was that there should be musical variety however, provided they run back to back and there is not a break in between, Moldova clashes in an unfortunate way with the Netherlands, I find.
🇹🇷 Günec: The liveliest show today thanks to Zdob şi Zdub and Fratii Advahov. Pheww I woke up 😁. I love the typical, energetic and positive Balkan vibe of this song. The groups energy on stage was not as firm as I predicted. However, Roman stole the show as usual. I only hope for a ticket to the final…
🇨🇿 Josef: When I thought there can be nothing more colourful than today's Latvia, here comes Moldova. It has almost every possible colour of the scheme and the overall look is just happy. While Zdob si Zdub are colourfully clothed, Advahov brothers have black and white suits. Moldova also uses colourful lights on the waterfall on the edge of stage so the water looks colourful as well. In the end we can see the lead singer with the two Advahov brothers on the B stage, where the side LED screens are unfold so another dimension is added to this performance. I wouldn't be surprised seeing this qualifying on Tuesday evening.
🇳🇱 🇩🇰 Wouter: Can I state, without blinking, that this is a high quality original song? No, probably not. The music is derivative at best, and a blatant copy of well known Romanian folk music at worst. Their vocals aren't all that great either. But none of that matters, I love the energy, the colours, and the music. Every year needs a song like this.
🇬🇧 🇦🇺 William: It's great to see Zdob si Zdub back at Eurovision. Always bringing energy to the stage and giving people the ethnic dance tracks we always want to be part of the contest. Nothing can beat the cone wearing unicyclists of 2011, yet they still bring such life to the stage. Definitely can see this qualifying with ease. Not a winner, but definitely a finalist.
Croatia: Mia Dimšić – Guilty Pleasure
🇩🇰 Charlotte: I have missed this, a few dancers that tells the story of the song. They really compliment it, and I am feeling this song much more than I think I would with just Mia alone on stage. A really good performance, despite technical sound issues. When Mia switches to Croatian, the song is lifted even more. It's not impossible we'll see this in the final as surely, I can't be the only one feeling this one.
🇬🇷 🇬🇧 Theo: This is a cute little gem of a song as far as I am concerned. Unfortunately, there were quite a few technical problems, especially during the first run. I am pretty sure I saw Mia taking her earpiece off at some point – there followed audible discussions as to how bad her feed had been. Probably as a result, she was not on the beat and thus not synchronized with the backing vocals. Her voice is beautiful though. For the opening shot, the stage is supposed to be dark and back-lit in blue, only… it was not – not in time anyway – for the first run. Elsewhere, Mia missed her camera (or was it the camera missing Mia?) Pink and blue are the colours for the stage, complementing Mia's pink gown. There are dancers doing interpretative movements, with Mia joining in on occasion. I would have preferred it if the camera had turned away as her guitar was taken off Mia's shoulders as it looked a bit untidy as a shot. My feeling is that, even if everything had worked fine, this would still have not been the most contemporary-looking of entries. I would have preferred the entry sung in the one language, too (either fully in English or fully in Croatian). Having said that, there is camera framing in there that is really beautiful. At its best, Croatia is coming across really sweet (so long as one does not pay close attention to the cheeky lyrics of course…)
🇹🇷 Günec: The dance session is the main highlight of the performance. During the first appearance I guess because of technical sound problems, Mia had a hard time synchronizing her voice with the music. She had a talk with the technical team about the issue sayın sonething was wrong with her earphones. It was fixed later. At the end of the second appearance, she complicated about the technical problems. As per the song, it's a cute little catchy ballad which I personally don't think has much chance of a high placement. Mia looked cute though in her pink Princess dress.
🇨🇿 Josef: Croatia is one of today's positive surprises for me. I love how Mia is walking through the stage and directing or interfering with her dancers. Her pink-red dress is very nice, maybe an unusual combination with the guitar. After her problems with in-ear monitoring during her first run through, the other attempts were flawless and I give Croatia plus points for changing part of the lyrics to Croatian because I love this song in its Croatian version.
🇬🇧 🇦🇺 William: This is a beautiful song and Mia is a fantastic singer, with great stage presence. The technical difficulties are definitely causing this to not have as much of an impact as it could. I hope they can get this working better, as Mia deserves a fighting chance.
Denmark: Reddi – The Show
🇩🇰 Charlotte: Can we please change the camerawork in the beginning? The idea is good, but that needs to be done much more smooth in my eyes, and it gives such a bad start. Unfortunately, there are several places where I would want to change the camerawork. Vocally, second and third run-through was better than the first one, so I won't complain about that. These girls are sweet, and they seem to really enjoy this Eurovision journey they are on – and as much as I, as a Dane, would like them to qualify, unfortunately, I am not sure they will. But what might just save it is Ihan Haydar on drums. She totally owns that stage – welcome back to Eurovision, Ihan.
🇬🇷 🇬🇧 Theo: I like the initial camera sequence when the lead singer's face and upper body are reflected on her piano. As soon as the song enters its rockier part, there is a succession of block colours (yellow, red, green and blue) on the stage floor and backdrop. I am afraid I would have preferred something with more depth for the presentation however. Despite the bright colours, their succession is so predictably repetitive that, somehow, the result is not as interesting visually as it could have been. In general, I would expect a female rock group to be more memorable amongst more frequently seen musical line-ups. The unfulfilled promise of excitement out of a rock number (a female one for that matter, which could potentially have been even cooler as a rock offering due to its relative rarity) is my major objection.
🇹🇷 Günec: There you go, my favourite this year, Denmark. I love the ballad intro, I love the hyper rock session, I love the message of the song and I love the energy of the girls which reminds me of one of my favourite bands, The Bangles. This song doesn't need a fancy stage though the changing colors on stage surely match with the gils' colorful image.
🇨🇿 Josef: Denmark is a nice example that you don't have to choose between ballad and a rock song – you can have both in one entry. As the first balladic part starts at the piano, it quickly evolves in a pop-rock song and switching red, yellow, green and blue colours everywhere. The girls are dressed in a retro clothes which fits the song and there is the name of the group on the LED floor. Vocally it's on point, so as I like this song, I cannot be happier.
Austria:LUM!X feat. Pia Maria – Halo
🇩🇰 Charlotte: And again, to something completely different. Honestly, I miss Denmark now… this song from Austria is not doing anything at all for me. They seem to have fun on stage, but that's about it. The song, the vocals, the staging… I am sorry, Austria, but this is too much Junior Eurovision for me. Staging wise, there is a resemblance to Romania's Paula and Ovi, but somehow, this song makes me think about Ireland's Donna and Joe from 2005, and that's not a good sign. And then, for some reason, I end up singing Aida's Mayday Mayday from the Danish final in 2000. Am I the only one? 😉
🇬🇷 🇬🇧 Theo: Austria has one of the catchiest dance/pop numbers this year. Yet, the performance does not appear tightly brought together to me – not yet at least. The vocal balance did not always sound fine-tuned to me either. The main presentation prop is a large metal ring within which the duo are performing. This is made up of smaller ring-shaped lights. Though the setup is visually exciting to start with, it ends up feeling a bit static and, despite the flashing lights, ultimately restricting for the duo's performance onstage. There is some camera work trying to alleviate this but I am not sure it fully succeeds in doing so. Having said that, Lumix and Pia Maria look very happy during their performance. Pia Maria, in her red long braids, has a very vivid, youthful look. Somehow however, all in all, the presentation does not look as professional as it could have been for me, I fear.
🇹🇷 Günec: This year, Austria has sent this young duo performing a powerful dance track. Young Pia has a great stage charisma despite her age. However, sadly, I can't say the same about her vocal abilities. She has to work on her vocals, in my humble opinion. Lumix has a very good energy and he communicates with the audience, which I think is a good thing. I like how catchy the song is and hope they see the final.
🇨🇿 Josef: Austria is my number 2 in my TOP 40 this year and I love the song. But there is small problem when it comes to the live performance. Either she's keeping her best for jury show and live show or she just can't make it on pitch with her back vocal (not sure if prerecorded or offstage). It makes it sound like she's a little bit out of tune, but I hope that probably in the TV it will sound better. The performance is quite minimalistic, they are in the middle of the big ring of stage lights that changed red and white, the colours of Austrian flag.
🇬🇧 🇦🇺 William: This was the sleeper hit for me the Eurovision season, didn't rate it at first and then fell in love with it. The staging for this is more than a little inspired by Paula and Ovi's circular piano, although Austria have allowed for a little more floor space to get that DJ booth in. Pia Maria is a great performer, unfortunately the vocals just aren't strong enough. I've anything disqualifies this, it will be the vocals.
Greece: Amanda Georgiadi Tenfjord – Die Together
🇩🇰 Charlotte: She sings it well, and staging wise, it looks good too. It has the bit of drama, I missed from the Netherlands.
🇬🇷 🇬🇧 Theo: Very pleased. The vocal performance is good and the artistic direction succeeds in lifting the song. The stage is lit in blue with lots of white spotlights animating it – dramatically flooding it in white light at key moments of the presentation. I seem to remember Fokas Evangelinos, the artistic director of the entry, saying during an interview that the chairs, upturned and scattered across the stage, will be used to convey essences like absence, loss and decay within a relationship. Based on stills from the first rehearsal, I was a bit ambivalent about them but, having seen the last run of the Greek rehearsal, I think that they do work as intended. On the backdrop at the far end of the stage, there are two silhouetted dancing figures – this adds to the sense of movement as well as to the sense of depth of the stage. I also like Amanda's shiny white dress by Celia Kritharioti, the same designer as Stefania's outfit last year. I find it in keeping with the romantic tone of the presentation. There are parallels with the Netherlands in the sense of achieving – albeit in different ways – a classy, atmospheric effect.
🇹🇷 Günec: Amanda offers a fairy tale concept in an image of a white Angel. And she has this angelique voice. Greece loves to use blue concept on staging and it looks brilliant. I really like whay my neighbours sent to Turin and am confident that we'll see them on the left side of the scoreboard on the grand final night.
🇨🇿 Josef: Greece can be a big surprise of this year's Eurovision, maybe the so-called dark horse. Perfect vocals and interesting staging with flipped chairs all over the stage. Dressed all in white, Amanda delivers an impressive performance also as she stands up from her chair and goes to the front, it may look like she wants to jump from the waterfall at the end of the stage.
Portugal: Maro – Saudade, Saudade
A member of the Portuguese delegation was tested positive for Covid-19. As a result, the rehearsal was re-scheduled from earlier today.
🇩🇰 Charlotte: I am sorry, Portugal, but now it really gets too boring for me. It's a nice singing exercise, and it would probably have worked as fine background to a calm massage, but on a Eurovision stage, unfortunately, this is close to making me fall asleep.
🇹🇷 Günec: Maro sang her slow tempo song this time with a white trouser blouse suite. Her hairstyle is all the same. I can't say if this naive song will make it to the final or not but most probably it will.
🇨🇿 Josef: Portugal is a musical pasterpiece, being only focused on Maro and her other 4 backing vocalist. They are all in the front B-stage and that's all. During the shots zooming out from them, we can see the words SAUDADE on the back LED screen, similar to what Maro used during Festival da Cancao. I hope that this will easily qualify as from the professional point of view, it really is something mystical which deserves attention.
This reflection article is based on the author's own personal experience. Views expressed belongs to him or her, and are to be seen as unrelated to EuroVisionary.com.