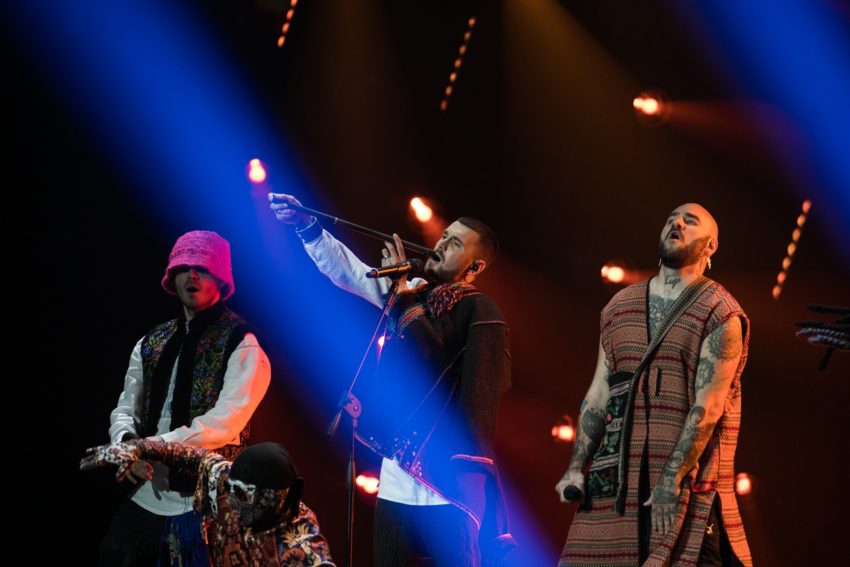 Just as bookmakers and most others had predicted, Kalush Orchestra will be able to return to their war damaged country, Ukraine with a Eurovision trophy in their hand. This year's final ended with United Kingdom coming second, and Spain third.
It doesn't come as a surprise to many that Ukraine would win the 2022 Eurovision Song Contest. The song do has its fans yes, but sympathy votes and Ukrainian refugees spread all over Europe most likely played a significant part in the victory.
For nearly three months, Ukraine has been invaded by neighbouring country Russia, and millions have had to flee their home. Other millions lives under extremely unhealthy conditions, every day not knowing if they will survive. There are reports about lots of mass murders, if not genocide, by Russian soldiers. The whole world is feeling Ukraine's pain – and tonight, the showed that by awarding the country this year's Eurovision victory.
With the victory, Ukraine officially have the right to host the 2023 Eurovision Song Contest, but at the moment, it looks very unlikely that they will be able to do so. Several countries have already offered that they would like to host the contest instead. We'll have to follow official news from the EBU, the European Broadcasting Union, to see what's happening.
Tonight's show featured greatest hits permances from two of the hosts; Laura Pausini and Mika. We also saw performances from two former Italian Eurovision winners; Gigliola Cinquetti from 1964 and of course last year's winner Måneskin. To read more about what happened in the show, check out our 'What to expect article" written based on full rehearsals of the grand final.
I ask all of you, please help Ukraine, help Mariupol, Help Azovstal, right now.

Leadsinger of Kalush Orchestra, right after their performance.

(It's not allowed to come with a political statement in that situation. If EBU were to take this as a political statement, the country face a disqualification. This however will be accepted under the circumstances.)

You must really understand the grief Ukraine is going through at the moment to understand why these things were said. Had the price been a disqualification, I was ready to pay the price. 

Leadsinger of Kalush Orchestra, at the winners press conference when asked if he had thought of a disqualification when he said those things.
Eurovision 2022 result
Top 3 jury result:
United Kingdom 283 points
Sweden 258 points
Spain 231 points
25. Germany 0 points
Top 3 TV viewers:
Ukraine 439 points
Moldova 239 points
Spain 228 points
25. Switzerland 0 points
With the full result published after the contest, we can see that Ukraine got 12 points from TV viewers in 28 countries. The lowest they received were 7 points from Serbia.
Combined top 3:
Ukraine 631 points
United Kingdom 466
Spain 459 points
25. Germany 6 points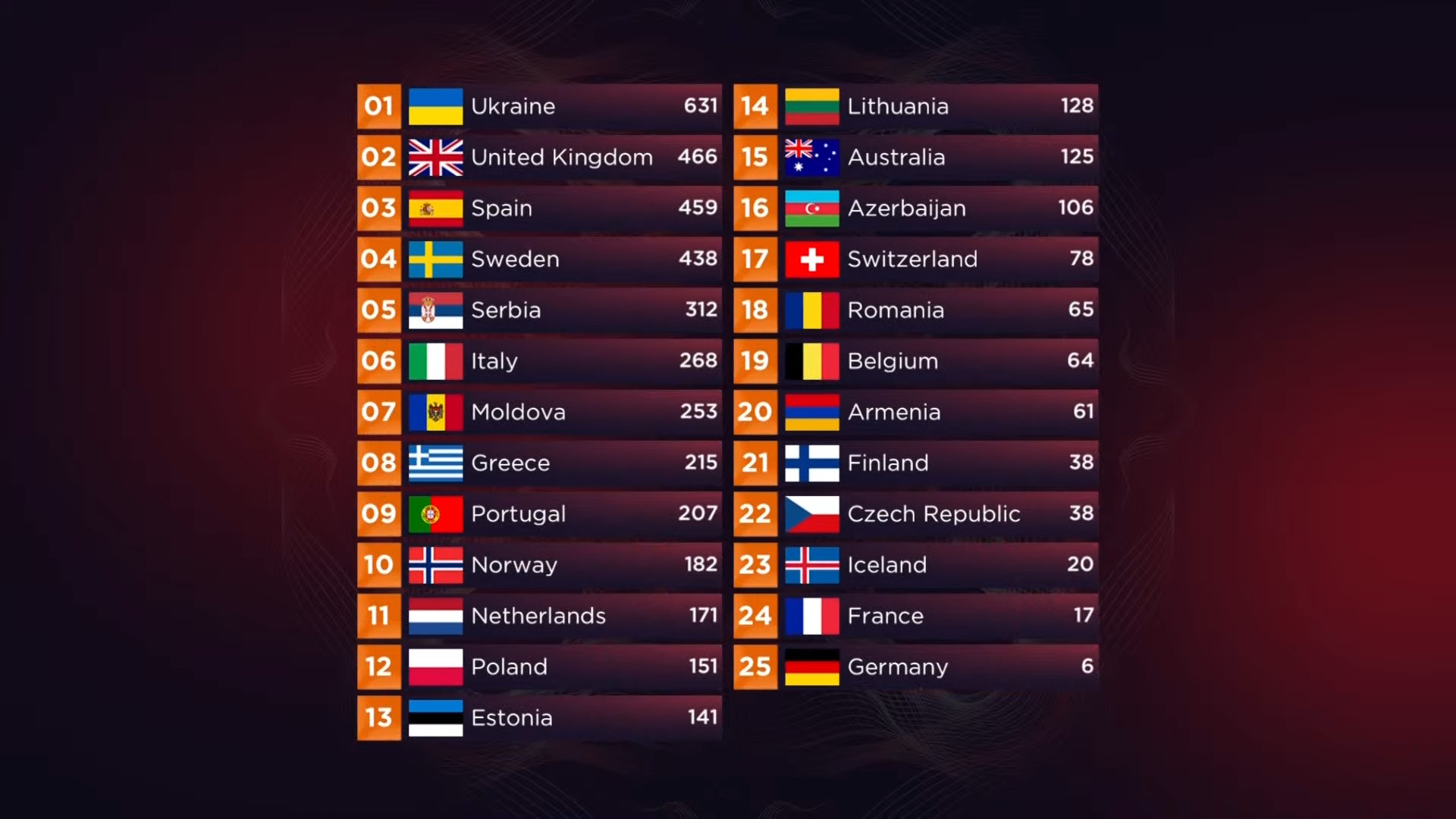 Statement from EBU
In the analysis of jury voting by the European Broadcasting Union's (EBU) pan-European voting partner after the Second Dress Rehearsal of the Second Semi-Final of the 2022 Eurovision Song Contest, certain irregular voting patterns were identified in the results of six countries.
In order to comply with the Contest's Voting Instructions, the EBU worked with its voting partner to calculate a substitute aggregated result for each country concerned for both the Second-Semi Final and the Grand Final (calculated based on the results of other countries with similar voting records).
This process was acknowledged by the Independent Voting Monitor.
The EBU takes any suspected attempts to manipulate the voting at the Eurovision Song Contest extremely seriously and has the right to remove such votes in accordance with the Official Voting Instructions, irrespective of whether or not such votes are likely to influence the results and/or outcome of the voting.
ESC Communications