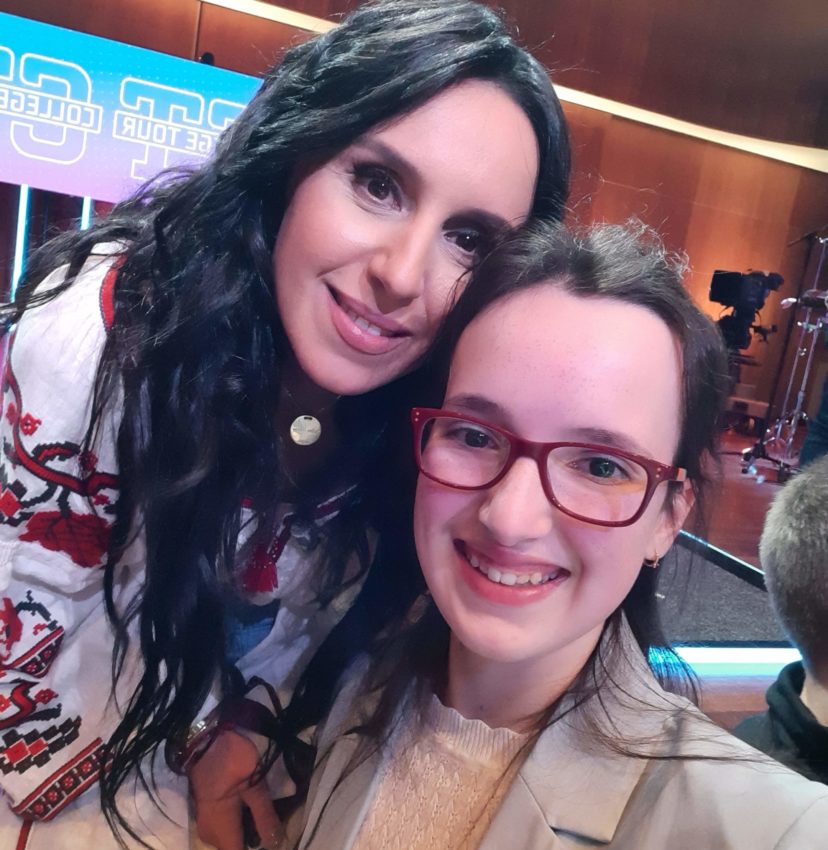 Sunday, an episode of the Dutch program 'College Tour' was broadcasted with 2016 Eurovision winner Jamala as guest. In the program, she was interviewed by the host Twan Huys, students, and Ukrainian refugees in the audience.
When I saw that Jamala was a guest at 'College Tour', I just knew that I had to sign up to be in the audience. Not only for myself, but also for Ukraine. My mom is from Ukraine, and my family was forced to leave their home in Kyiv and fled to the west of Ukraine. In the first weeks of the war I was in total shock. Jamala's music and performances all over the world helped me to find my strength and hope again. Afterwards, I thanked her in person for giving me that strength. 
The interview was mostly about the war in Ukraine. Jamala told stories with tears in her eyes about raped children and that people are murdered by Russian soldiers. Jamala is traveling all over the world to draw attention to this war and to everything that happens in Ukraine. Jamala thanked The Netherlands, but she also made clear that we need to continue providing weapons and that Ukraine needs more to win this war. Not only to win for Ukraine, but for the whole world. 
After the interview, Jamala sang her song 1944. Jamala's song is about the deportation from her family in 1944. But after the invasion the first sentences changed in perspective. 'When I sing "When strangers are coming, they come to your house. They kill you all and say were no guilty", it's like it is about 2022 and that makes it very sad', Jamala said at College Tour. 
One of the students asked Jamala what she will do when the war ends. Jamala answered quickly 'When we will win!'. That answer represents her hope that Ukraine will win this war. And that Ukraine needs to win this war, to prevent that this will happen again in this world.