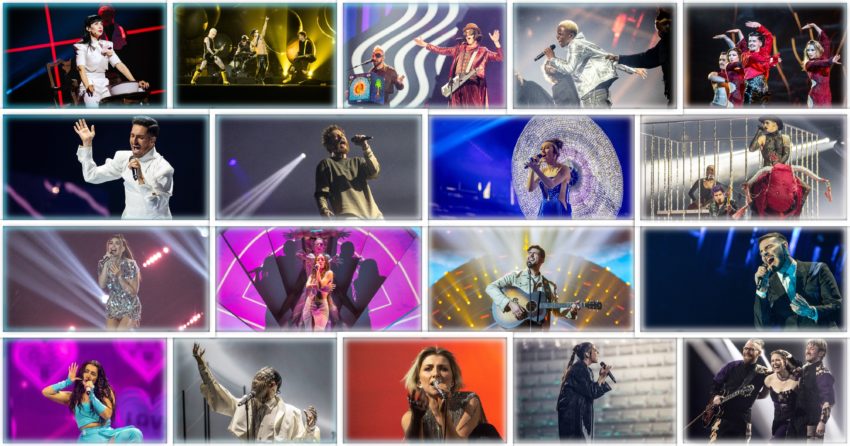 Tomorrow evening, the last ten lucky qualifiers will be announced. Tonight, half of the votes for the second semi-final were cast with the juries submitting their points. Which acts are likely to continue to the final on Saturday?
Last night, we had to say goodbye to 7 acts. Tomorrow evening, another 8 will have to leave the competition before the final. There's only space for 20 of the 35 semi-finalists in the final where they will join the five pre-qualified acts, the socalled Big 5 countries.
The result is made with the combination of 50% televoting and 50% juries. While the TV viewers will be voting based on the live show tomorrow, the juries voted based on the show tonight. It's not televised, but juries as well as press and audience in the arena were able to see the show.
We'll have to wait until after after the final on Saturday for the jury points to be revealed, but we asked people watching the show tonight, who they think will qualify for the final. You find their predictions below.
Country
🇩🇰
C.J.
🇨🇿
J.S.
🇳🇱
V.K.
🇧🇦
E.P.
🇩🇰
T.M.
🇳🇱
W.V.
Finland
X
X
X
X
Israel
X
X
X
X
X
Serbia
X
X
X
X
Azerbaijan
X
X
X
X
Georgia
X
X
Malta
X
San Marino
X
Australia
X
X
X
X
Cyprus
X
X
X
Ireland
X
X
North Macedonia
X
X
X
Estonia
X
X
X
X
X
Romania
X
X
X
X
Poland
X
X
X
X
X
X
Montenegro
X
Belgium
X
X
Sweden
X
X
X
X
X
X
Czech Republic
X
X
X
In this second semi-final three of the five pre-qualified acts are voting too: United Kingdom, Spain and Germany.