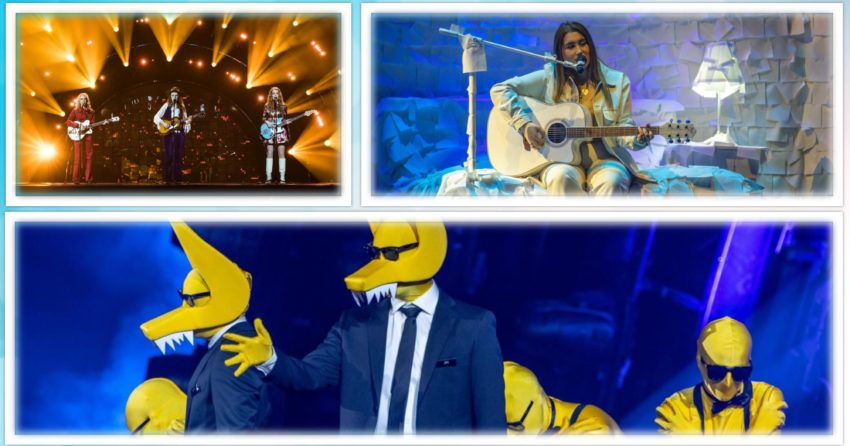 Today, another 10 acts took the stage for their second rehearsal. They had 20 minutes each to fine-tune everything, and make sure they are ready for the live shows. Who looks like a sure qualifier, and who will struggle?
Yesterday we saw 14 acts from semi-final 1 in their second rehearsal. We are now able to close this semi-final with the remaning three acts, and continue with the first 7 from semi-final 2.
The first set of rehearsal a few days ago were closed to press and fans. Only a few seconds from each were released on Tik-Tok. With the second rehearsal today, the curtain was lifted, and we as press were invited to watch it all.
Below you can read our impressions from the rehearsals from Iceland, Norway, Armenia, Finland, Israel, Serbia, Azerbaijan, Georgia, Malta and San Marino.
Iceland: Systur – Með Hækkandi Sól
(Note: Just like yesterday, they had problems turning stream on for online press. Josef is in Turin and his opinion is based on all three run-through, while the rest only got to see the last one).
🇩🇰 Charlotte: As much as I really want to enjoy this, unfortunately I can't. Vocally they sound pretty together, but it's too boring for me. The colourscheme is a bit off too for me, I am missing just a bit more light on this one.
🇬🇷 🇬🇧 Theo: To listen to, one of my favourite songs this year. The subtle, atmospheric sound and velvety vocal delivery of the folk entry conjures up images of Icelandic scenery to me – I love the fact that it sounds so Icelandic. And I also liked what I saw today. Just as for the Icelandic final, the microphones of the three sisters are still arranged in an oblique alignment, which allows for interesting camera shots – sometimes they can appear next to each other, sometimes in front of each other. There is also a very interesting split-screen moment where the two sisters on either side appear to be facing the one in the middle. Other than that, warm golden and orange hues for the lighting and a lot of use of the water feature on the edge of the stage. It worked for me. Not sure whether the rest of Europe will be voting (too subtle, is my fear) but I definitely will be!
🇹🇷 Günec: The three sympathetic sisters got on the stage with their calming song and their calming vocals. I like their confidence while performing. They have used the staging very well with the red concept and the lightning effect. Their message to Ukraine at the end of the performance was a nice gesture. I find he song hypnotising. I personally don't think they're a qualifier, but we'll see.
🇨🇿 Josef: Iceland is something you definitely want to get during the second day of second rehearsals. This rainy morning in Turin and this calming nice guitar ballad is a perfect combination actually. All three sisters looks good even though they don't do any special movement besides their micro-choreography. I like that they are joined on stage by their own brother so it's almost like Kelly Family thing. Iceland also works good with camera angles, lights and small thins on LED floor and/or background. Those who like split screen will enjoy Iceland as in one moment we see all three girls looking at each other thanks to this special effect.
🇬🇧 🇦🇺 William: A great folk pop ballad, sung impeccably by the sisters. The staging is pretty simple, with some great camera effects during the bridge of the song, where their faces are zoomed in on and seem to be looking at each other. It's a well produced staging, even in its simplicity. A personal favourite of mine, yet not sure if it will have enough accessible qualities to win over all demographics watching.
Norway: Subwoolfer – Give That Wolf A Banana
🇩🇰 Charlotte: Yes, Norway! Now, we got this party started. It's quirky, which I usually don't like songs to be, but this is fun and extremely charming, and I can't help myself to be catched by it. I am enjoying this so much, that I forget to look at the camerawork, something which otherwise has my big interest, for the first two run-through. For the third one, I had to get up to do the dance instead. I better make sure that I remember to vote for this one. Norge, 12 poeng 🙂
🇬🇷 🇬🇧 Theo: This is fresh and fun. The vocals are good – especially given the intricate choreography – and, anyway, a lot about the upbeat entry lies with the choreography: suited yellow wolves wearing dark glasses must be one of the things most viewers only gets to see at Eurovision in their lifetime! At the back of the blue-lit stage, there stands elevated an astronaut in his DJ booth (naturally). At key moments, words and phrases from the lyrics appear on the screen. If this is encouragement for the people at home to join in with the singing, I personally can see it happening. Was not sure whether this would work at first, now I think I would be surprised if this did not make it to the final. Norway somehow manages to combine goofy with stylish this year.
🇹🇷 Günec: The wolvez are here…The choreograpy, the costumes, everything is so entertaining. The song is danceable and is likely to capture the audience. The staging with blue and yellow concept matches the costumes. I also like the flashing images of the lyrics. The dancers, the dj, the wolwes, they all seem to have fun on stage which is likely to reflect the audience. Very fun, yet professional. Well done Norway.
🇨🇿 Josef: Norway is a country I don't like at all this year, but it's funny. All is yellow, lights are sometimes also blue, and they have their viral dance present during almost full performance. My biggest problem with this song is that I find it quite stupid, sorry. And then I don't like when there is someone who sings and we don't actually see it's really him who sings. That's my biggest problem with Norway from the very begining of MGP. What's interesting here is only on-screen texts from the lyrics, like grandma or banana etc. In general, this is an entry that will be liked by many and will be in the final for sure, even if I don't agree here.
🇬🇧 🇦🇺 William: Nothing much has changed in the performance of this since Norsk Melodi Grand Prix with the exception of the Spaceman dj, now in a spaceship above the rest of the performers. This is a viral moment if ever we seen one at Eurovision and for that matter alone it will definitely qualify and end up top ten.
Armenia: Rosa Linn – Snap
🇩🇰 Charlotte: Rosa Linn looks so sweet. She sings well too. The performance is actually quite good, and there's some camerashots here, which I totally adore, but… as much as I like so many things here, it doesn't become more than fine background music for me. I enjoy it, but I find myself starting to think about other, irrelevant things. My mind drafts off, and I have to really force myself to look at the performance. What I see, I really do like, but it's the song itself, which unfortunately is just a fine background tune for me.
🇬🇷 🇬🇧 Theo: This is one of the tracks from this year's CD that I listen to very happily. Armenia takes a different presentational approach to the rest of the countries this year. The performance starts in what looks like a bedroom all covered in white sheets of paper stuck on the walls and furniture. To start with, Rosa Linn – all dressed in white – sits on the bed singing with her guitar. She later stands up. To the snap of her fingers, the screen goes black before she starts pulling away some of the sheets, revealing messages on the walls beneath. Clever idea, but, by this point, I am a bit wary as I can recollect past entries that decided not to use the normal stage set up and ended up with a less than satisfactory placing – unless they could pull off a Måns Zelmerlöw of course. But, fear not, towards the end of the performance there is also a round opening revealed under sheets of paper that lets the singer enter the stage proper – complete with the usual lighting in warm orange hues and water feature for some panoramic camera work. The singing is good if a bit restrained for today's rehearsal. A lot of thought has been put into this presentation-wise. I quite like it but a bit undecided as to how well it's going to do.
🇹🇷 Günec: Very different stage from Armenia with white papers all over the walls, the chair and the bed. Rosa Linn's suit and guitar is also white. She rips off the papers to show the phrases The Last One, June 22nd, and Snap and a heart. She tears up the wall and enters the main stage lightened in red. Rosa sang with flawless vocals. I think it's a qualifier.
🇨🇿 Josef: I love how clear Rosa Linn's voice is and how good a performer she is live. Snap is a good song to close the first semi-final as it all feels very calming. This Taylor Swift inspired song is very fresh and modern. The staging looks like a room made out of sticky notes. Once Rosa Linn takes part of these sticky notes down and we see the title of the song – Snap. In the end she pulls down a large part of the "wall" and it shows circle part of the wall where she turns to the audience and stays there untl the end of the performance. Guitar lovers will also get another guitar to their semi-final 1 collection – this time it's white.
🇬🇧 🇦🇺 William: Rosa Linn has a great voice and this country inspired pop ballad is well performed. I enjoy the performance of two halves. She is first seen in a bedroom with paper all over the walls. She reveals writing and symbols related to the song from under the paper, before finally removing a big piece of the wall to stand in a big circle frame for the last minute of the song. It's well done, and a good show closer.
Finland: The Rasmus – Jezebel
🇩🇰 Charlotte: This is one of the many songs, I hadn't heard before the rehearsals started. I clearly missed something, when it comes to Finland. This is quite a good song, and the beginning and the end of the performance is good too, that's also where the camerawork is best. It starts out quite well, but then I am getting annoyed at the leadsinger trying to find his way out of the many ballons while the cameraman, more or less, is unsure what to do. In my opinion, the staging calls for so many great shots, which we unfortunately don't get. So, all in all, a great song, good vocals – and a performance that works for the beginning and the closing of the song.
🇬🇷 🇬🇧 Theo: The opening shot is of The Rasmus lead singer – bare-chested yet wearing a yellow jacket for the time being – holding a yellow balloon that he later releases in the air. Scattered across the stage, there are more balloons – a motif that I think works well. I was a bit undecided when I had first listened to the audio of the song. Subsequently, I would have been happy to embrace its kind of rock eccentricity as 'Jezebel' provides one of the memorable choruses in this year's Eurovision, I think. In fact, the lead singer cleverly turns the microphone to the crowd for the chorus and I hope that the gesture works for them on the night. Only… the vocals today were noticeably strained. That's my main issue with a stage performance that, in general, did not come together as nicely as one would have hoped unfortunately.
🇹🇷 Günec: Are we aware that there's a 90's rock legend on stage. Waooww ☺️. I am amazed at how Lauri still looks this young after all these years. The song Jezebel is a typical rock tune sounding like from the 90's. Since those trends are back I think the song has a chance to jump to the final. Like most of the rock bands, they have massive energy on stage. On the other hand, Lauri was not really confident and relaxed so he couldn't control his vocals. I'm sure he'll get over his excitement and slay the stage next week.
🇨🇿 Josef: Finland is such a great opening act for the second semi-final. All black and yellow just like their lyric video for the song Jezebel. It's how rock (or even a harder pop-rock) should look like and sound like. Lauri is a good performer which helps a lot. The Rasmus are probably the most experienced artists at this year's Eurovision and they know how to work with crowds and how to make a good show.
🇬🇧 🇦🇺 William: As soon as I seen Lauri with that balloon, I thought he was Georgie from IT. After that moment, he run through lots of large black balloons and onto the main stage, where his vocals are just as good as they have been, he's a rocker first and foremost. It's a confident and assured performance. It will qualify, yet I can't see it doing as well as Blind Channel.
Israel: Michael Ben David – I.M
🇩🇰 Charlotte: I have complained about many opining shots at this year's Eurovision. This is not one of those times… Wow, what an opening. Perfect camerawork in the beginning – and it continues. There's so many great shots here, and as a camerafreak, I am enjoying this. This is some of the best camerawork, I have seen so far this year. Unfortunately, I can't say the same thing about the song. It's really not my cup of tea, but Michael is a good performer. I would like to see him again with a stronger song.
🇬🇷 🇬🇧 Theo: I like the exuberance of the Israeli entry this year. Presentation-wise, the concept must have been to combine the exuberance of the song and choreography with a more sober, 'classy' approach for the (white) costumes and stage (predominantly white and red geometric motifs with some exciting mirrors behind Michael Ben David for the intro). In some ways this works and in some it doesn't, I think. A bit undecided whether the approach celebrates not having to conform to any stereotypes style-wise or whether, indeed, it conforms in part to the expectations of a more prudish part of the Eurovision audience. All in all, I would say that, yes, this is a fairly classy presentational take on the song though, perhaps, not as memorable as it could have been. Michael Ben David should be careful to save some voice: the difficult high-pitched notes are delivered competently for the time being but the Eurovision schedule is demanding and they might prove hard to sustain during subsequent performances.
🇹🇷 Günec: Michael is a complete entertainer. He gives his best to perform his song on stage. He is a very good singer with strong vocals. As we can see on stage, he can dance too. The Israeli delegation changed the song arrangement a little, and I like it. White costume looks good on Michael and the dancers. I find the song a danceable, nice summer pop tune with ethnic middle eastern elements. Israel surprised me in a positive way and we'll se what Michael and his teammates will do next week.
🇨🇿 Josef: Israel is pure fun. Michael knows how to sing and how to get the attention he deserves. This is probably the biggest and best usage of the LED floor and truth to be said during Israel's performance you don't even know there is something like a non working kinetic sun. Which is a good sign.
Serbia: Konstrakta – In Corpore Sano
🇩🇰 Charlotte: This is intriguing. As silly as I think it may look, I am also enough curious to keep starring at the screen. I am drawn in, musically as well as performance-wise right from the beginning. I never loose attention to it. Thats rare, and a big accomplishment to the Serbian delegation. I think this entry will sail securely into the final, and do well. It's not one, I would vote for myself, but damn, it's captivating.
🇬🇷 🇬🇧 Theo: Marina Abramović does Eurovision (Art Must Be Beautiful, it would seem). First part of an intended 'triptih' (triptych) project – one might wonder whether the other two parts are intended for subsequent contests. The singer sits on a chair washing her hands (of something?) in a basin. She is in a white uniform (not sure whether a nurse's or a beautician's). Around her, there are men with towels on their shoulders in a way that looks like part of a monk's habit to me. All in the name of performance art. Every so often, English translations of twisted apothegms (/maxims) contained in the song are shown on screen. I hope that Meghan Markle will be watching as there are references to her beautiful hair in the lyrics (then again, it is not about the Duchess of Sussex' hair per se, you see, there are more layers of abstract interpretational depth there) (or, are there?) (we can never be sure) (that's the challenge) (in fact, it's exactly this tensional uncertainty itself that provides an intellectual challenge fecund with insightful possibilities for the mind) (maybe…) Perversely delightful (/delightfully perverse) (!)
🇹🇷 Günec: Most unique entry in years, I can say. Washing your hands on stage is something that has never been done before. The song, in fact tells me nothing although it has a certain message. The dancers are there to hold a towel to Konstrakta. I can't predict anything about this song, we'll see next week.
🇨🇿 Josef: To me, Serbia is almost exactly the same as in the Serbian selection, only on a bigger stage. I still don't like the song, to me it's a little bit catchy, plus points goes for Serbian language for sure but that's probably all. But who would guess that in 2022 we will be cheering to a singer who washes her hands for the whole 3 minutes?
Azerbaijan: Nadir Rustamli – Fade To Black
🇩🇰 Charlotte: Really great voice and a rather good staging too. I am not too impressed by the overall camerawork though. I am constantly in the wish to do it differently. Is there enough time to fix that? I am not sure. Next time we'll see this is for the dress rehearsal for the second semi-final. Will we see this song in the final too? Once again, I am not sure. At the moment, I would tip it to do so, but really, I hope they have time to fix the camerawork as this can be much better.
🇬🇷 🇬🇧 Theo: Wow. It starts with Nadir sitting on steps in the centre of the stage, lit from a rear corner spotlight and shot from a low viewpoint. When the camera frame opens up, we can also see a dancer at the bottom of the stairs. Singer and dancer often mirror each other's movements, which include laying on their backs. At some point, the steps divide into two sets facing each other, with Nadir and his dancer standing on either set. The vocal performance is strong – talking about difficult high notes with Israel, Azerbaijan takes the notion to a whole new height. Again with this entry, Nadir ought to save some voice because, on occasion, he comes close to sounding coarse already. Other than that, Azerbaijan has struck a very good balance staging-wise. Lyrical and (seemingly) understated yet, at the same time, imposing.
🇹🇷 Günec: Nadir is on stage with his incredible voice. The song and the stage is minimal as it can be with Nadir and a male dancer performing along stairs. Lights are used to a minimum level. I love the flowing water effect. Nadir shows his theatrical talent along with his musical talent. The song is mystical and theatrical and very unique in that way. It felt like we were watching a scene from a musical in Broadway. Good luck, bro 🥰
🇨🇿 Josef: Azerbaijan tries to reuse what worked in 2013 with Hold Me – mirroring the singer and dancer. And it probably works also in 2022. Their common choreography on those stairs is quite impressive even though it's minimalistic. I love how during this performance we have the chance to see also the camera views with the water on the edge of stage, it looks magical. And splitting those stairs in the end is also another good efect. And I don't have to mention Nadir's vocal abilities, he's flawless. This is a good performance and probably Azerbaijan will be in the final this year again.
Georgia: Circus Mircus – Lock Me In
🇩🇰 Charlotte: You would not be in doubt that this is a Georgian entry. They usually provide us off-songs similar to nothing else, and this year is no exception. I can't get my head around this one. Sorry, Georgia, but this isn't working for me. It's not too badly performed for what it is, but I will be very surprised if this makes it to the final. Georgia hasn't been in the final since 2016, and while I personally would like them to bring a bit more quality to the contest, I also applause the country for being true to themselves, and not trying to provide us with a Eurovision-pleaser song, just to get a good result.
🇬🇷 🇬🇧 Theo: Time for an offering of progressive rock by Georgia's Mircus Circus. There are goggles and sequin (/studded?) eye patches on show – they make me wonder whether their style might be best described as cyber punk or post-apocalyptic Victoriana (there must be a more accurate fashion term out there that currently eludes me). The stage LEDs are also put to good use. A cute detail I noticed relatively late was that, at some point, the recurrent motif of a singing mouth was shown on the stage floor – in combination with two revolving swirls shown on the backdrop, it turned the whole stage for me into looking like a gigantic singing face. Musically, I find the entry fun. Mircus Circus' sound pleasantly reminds me a little of English pop/rock band Chumbawamba.
🇹🇷 Günec: I was very curious about this entry's staging. Extremely colorful stage as I predicted. The band members dress like Circus artists. Different images of Facebook, Rolling Stone's tongue symbol etc are displayed. However, the song is very poor in my humble opinion and this one did not appeal to me as a whole, sorry.
🇨🇿 Josef: Georgia brings a little bit of steampunk this year and also a little bit of extravaganza. Their singing was quite quiet today, but hopefully it will be better next week. I like how it's colourful and how it uses both LED floor as well as background. It has some good moments but overally it's one big NO from me to Georgia this year.
Malta: Emma Muscat – I Am What I Am
🇩🇰 Charlotte: Finally, once again a song from Malta, which I like, and finally a good up-tempo classic pop song. Six songs into this second semi-final, it was really needed, I think. Emma sings it well, and the staging is good too. Just one thing, in her movements, from time to time, it crosses my mind that it looks like, she needs to go to the bathroom quite quickly. That's a shame as they get quite a lot out of this song. It's no masterpiece, but it's just what we needed right now.
🇬🇷 🇬🇧 Theo: In a year full of quirkiness, the clever thing about Malta might be that a classic Eurovision offerings like this one may actually end up being the entry standing out in the end. Malta is going large with its staging, too, which I love. Emma starts her performance at (and later, on – yes, on) her mirrored (yes, mirrored) piano. The choreography makes full use of the stage space, with Emma and her dancers using the walkway and the camera work making use of panoramic shots, water features, plants present on the periphery of the stage, you name it. It is all done quite nicely though, I think. I like Emma's dress, too – made up of small mirror (naturally) pieces – and, more importantly, the way she moves around the stage. The vocal performance sounds ok (difficult to tell sometimes as our feed is not always perfect). I personally find Malta pleasant.
🇹🇷 Günec: I think Emma is the most beautiful girl in this year's Eurovision. Also she is very talented and has a great voice. She was critisized for her decision to change her song. I like I Am What I Am. It's a song that you can tell is written out of experiences in life. On the other hand, her costume will cause many critisism too as it's been used many times, especially last year. She starts her performance on the piano and later she joins her back vocalists. The stage is mostly golden in color. Not a strong contender to pass the semi final.
🇨🇿 Josef: Malta pumped out all she could from such a song. It's not bad at all, but not great either. It looks a little bit like a school performance, even though a nice one. Emma is very beautiful and that's something that should be mentioned.
San Marino: Achille Lauro – Stripper
🇩🇰 Charlotte: Another of the songs, I hadn't heard before, and admitted, this was not what I expected. I had to check twice that this really was an entry from San Marino. For the first run-through I only heard the music, didn't see it performed, and was chocked when I did. Damn, it's been a while San Marino went this down this road. I love the song, but I would personally have toned down that performance quite a bit. Whatever happened to this being a familyshow? I am getting old, I know, and maybe this is entertainment for entire families now? I will let the viewers judge that.
Will it qualify for the final? I really don't know. Songwise I would love it too. Performance wise less.
🇬🇷 🇬🇧 Theo: From wholesome Emma for Malta to what I can best describe as a Måneskin/Hatari (Iceland 2019) chromosomal crossover – what a juxtaposition! The performance starts with an impression of hands scratching on the backdrop. Achille Lauro shows up from behind it in a see-through sequin bodysuit with long gloves, complete with a cowboy hat, feather boa and little purse, all in matching black of course (think cowboy doing burlesque). There is dry ice, impressions of turning eyes on the stage floor (as if eyes were not rolling already) and two cages at the back of the stage containing Achille's drummer and keyboards (always pertinent to have cages onstage for the occasion). Not sure whether the vocals were always perfect today, but, then again, Achille Lauro oozes with confidence as a performer anyway. There is of course the much talked about rodeo bull machine, too (upholstered in red velvet), on which Achille Lauro sings towards the end. Yet, the more daring gimmick of the performance might actually be the innuendo between the singer and his guitarist. In other words, not family entertainment exactly. People who loved Hatari, will probably like this one, too, I think. As far as I am concerned, the whole thing does work. In its own eccentric way, I find it impactful and iconic.
🇹🇷 Günec: Achille is the ultimate superstar. He looks great on stage with his feminine cowboy costume. He is innovative, courageous and confident. He is in a very good collaboration with his teammates. He uses the stage very carefully. The bull ride at the end is the highlight of the performance. The song is not very Eurovision friendly though, but a good rock'n roll piece. We'll see if Achille will achieve the best placing for San Marino.
🇨🇿 Josef: San Marino tried to go international this year, but actually stayed Italian/Sanmarinese, so the whole buzz around their big international national selection went to nothing. They could then have only these italian invited acts instead and could at least save up some money. Achille Lauro is a good performer, that's for sure. But for me, he's too much provocative and that's something which I don't like. The performance is crazy like these rockier songs usually tend to be, but the overall feeling it left in me is not so positive. I would sum it up in two simple words – too much.
This reflection article is based on the author's own personal experience. Views expressed belongs to him or her, and are to be seen as unrelated to EuroVisionary.com.