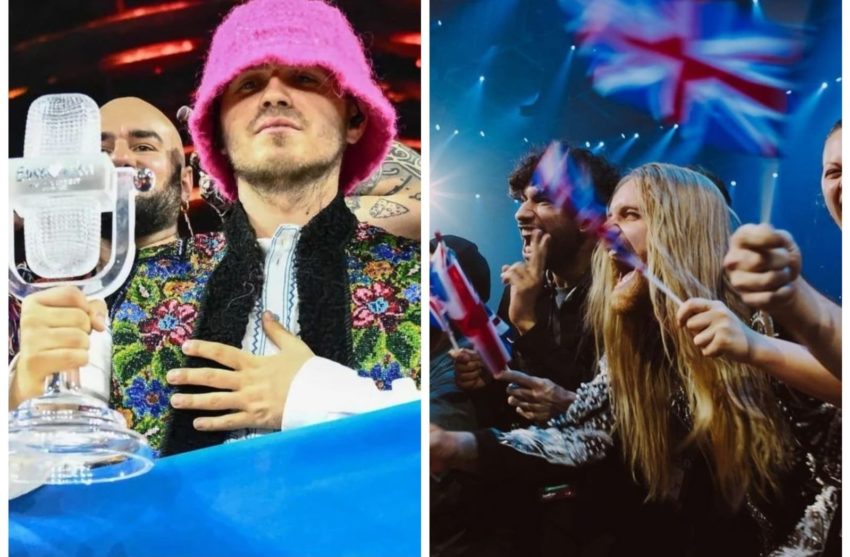 Post Eurovision Depression is almost over for many of us. Time flies and news about Eurovision 2023 preparations are over us. While you might have been away on holiday, we collected the things we already now know about next year's edition.
United Kingdom will host Eurovision 2023
When Kalush Orchestra won Eurovision Song Contest 2022 with their song Stefania, many fans were concerned how Ukraine would host the event under war circumstances. President Zelensky made official statements showing how determined they are to welcome all Eurovision Fans to Ukraine for this big musical event, and they hope to show the big support for Ukraine.
However, on the 25th of July 2022, EBU made their official statement that the United Kingdom will host Eurovision Song Contest 2023. This statement was accepted with great pleasure with some previous UK entrants such as Cheryl Baker and Jay Aston of Bucks Fizz (winners 1981) and Katrina Leskanich of Katrina and The Waves (winners 1997). Sam Ryder (runner up 2022) has made a statement on his Instagram account that it's going to be Ukraine's party and they are inviting them to throw it at their house.
The host city will soon be rebealed.
First artist revelation is from Israel
Young Noa Kirel was chosen by the Israeli broadcaster KAN on the 11th of July 2022 to represent Israel in the Eurovision Song Contest 2023. This makes her the first revealed artist of 2023 Eurovision Song Contest.
Noa is an Israeli actress, TV host and singer born on the 10th of April 2001. She was awarded with the MTV Music Awards for the Best Israeli Act between 2017 and 2020. She has entered the music business at the age of 16 in 2015 with her first single Medabrim and has released many singles since then. She has shot two films in 2016 and 2017, and has participated in numereous TV shows.
Festival di Sanremo 2023
According to RAI the dates and regulations for San Remo 2023 are ready. The Italian National Final will be held in Ariston Theater from the 7th to the 11th of February 2023. Amadeus will host the show. Famous Italian Supermodel Chiara Ferragani and singer Gianni Morandi (Italy 1970) are announced as co-hosts. Including 3 Sanremo Giovani (young singers competition) finalists, 25 participants are already selected and will be announced in due course. The votings will be done by the public from home by televoting, and professional juries from Press Room, TV, Radio and Web. The first two days, the press room, radio, TV and web jury will be voting. Third day votings will be from 50% TV, 50% opinion poll. The fourth night (which will be the cover night) and the fifth night, the voting will be 34% televoting, 33% press room jury and 33% opinion poll.
Benidorm 2023
First national final dates were revealed by the Spanish broadcaster RTVE on the 19th July 2022. According to RTVE, there will be two semi-finals on the 31st of January and 2nd of February 2023. The grand final will be held on the 4th of February 2023 where we will be introduced to the Spanish representative of the Eurovision Song Contest 2023. The voting will be 50% televoting and 50% jury voting. Spanish star Monica Naranjo will be among the hosts. Record producer Nacho Cano will be heading the proffessional jury which includes Sweden's Christer Björkman.
Melodifestivalen 2023
Additionally, one of the most sought after National Selection of Eurovision, Sweden's Melodifestivalen seems to be well underway. We currently know the dates, cities and venues of Melodifestival 2023:
Heat 1: 04.02.2023 – Gothenburg
Heat 2: 11.02.2023 – Linköping Saab Arena
Heat 3: 18.02.2023 – Linköping Sparbanken Lidköping Arena
Heat 4: 25.02.2023 – Malmö Malmö Arena
Semi – final: 04.03.2023 – Örnsköldsvik Hägglunds Arena
Final: 11.03.2023 Stockholm
The tickets will be on sale on https://www.ticketmaster.se/artist/melodifestivalen-biljetter/909837
Confirmed Participant Broadcasters
So far, the following countries have publicly confirmed that they want to take part in the 2023 edition of Eurovision Song Contest:
Albania
Austria
Belgium
Cyprus
Denmark
Finland
Greece
Israel
Lithuania
Netherlands
Norway
Poland
San Marino
Serbia
Sweden
Switzerland
Estonia
It's expected that all participating countries from the 2022 contest will take part once again. It's too early to tell if any previously participating countries will return.