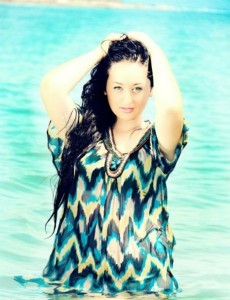 Onanta Spahiu has returned with a brand new song and video.  The song is called Touch Me and the video has a very happy and summer vibe.  Deep System from Romania have produced the song and it is set to be a big summer hit.
Onanta has participated in the 2009 Festivali i Këngës in Albania with the song Dashurise i erdhi vjeshta. She also made a video clip for this upbeat song.
Ernis Cili performed a duet with Onanta at the 2010 Festivali i Këngës with the song Fam.  They also performed this at the Castle Dance Festival in Berat, Albania in 2011.
Onanta released another strong production and video for Nuk te haroj. This video was recorded at the popular sea resort of Vlora in Albania.
The new video for Touch Me is an O S Production.  It is a high quality video and has all the qualities of a big Euro hit.  Onanta has also recorded an Albanian version of this song.  She will perform both versions over at the Hit Fest on TVSH. A big surprise for Eurovision fans is Onanta has also recorded the 2012 Romanian Eurovision song, Zaleilah.  She will also perform this at Hit Fest.
You can see the video for Touch Me below.