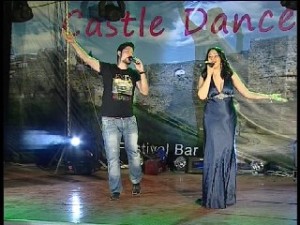 Onanta Spahiu & Ernis Cili tool part in the Castle Dance Festival in Berat, Albania.  They performed their duet, Fam, from the 2010 Festivali i Këngës. This uptempo dance song proved very popular.
Onanta is gaining lots of popularity in Albania and other countries.  She has also participated in Festivali i Këngës in 2009
In 2009 she sang Dashurise i erdhi vjeshta.  Onanta has since recorded an official music video for this song and it has become a popular hit in Albania.
Onanta also took part in the popular song contest Top Fest in Albania this year with the song Me fal.