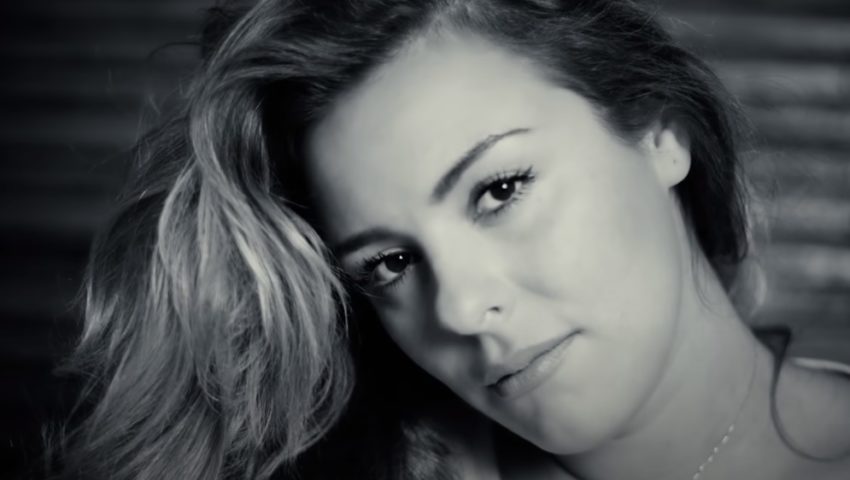 Albanian – Greek artist Anxela Peristeri represented Albania at the 2021 Eurovision Song Contest. Three years before her Eurovision adventure, she released the award-winning song 'Pa Mua'.

Pa Mua reached number 74 in the Albanian charts and won the prize as song of the year of Akademia Kult at the 2019 Kult Awards. Anxhela donated this prize to the victims of the earthquake in Albania in 2019.
Pa Mua is a low tempo ballad compared to her mid-tempo power ballad Karma, that became her 2021 Eurovision Song Contest entry. Kledi Bahiti wrote the music to Pa Mua, while Anxhela herself provided the lyrics.
Pa Mua – opinions from fans
In order to find out what Eurovision fans think of this song from Anxhela Peristeri, we asked our Eurovision Fan Panel. It includes team members as well as fans from all over the world.
🇬🇧 Aaron S. – Anxhela once again shows she has a powerful voice with this song, it does remind me of her Eurovision entry. It is nice and rather enjoyable even though I'm not a huge fan of her style/genre.
🇩🇰 Charlotte J. – I love the intro. The beautiful piano play and the one liner from Anxhela. It sets a mysterious atmosphere, and I am intrigued to hear more. Unfortunately, it doesn't keep up. I am quickly beginning to lose interest. Don't get me wrong, I can hear the qualities in the song, and in her vocal – it's just too boring for me. The last minute, I have lost attention and my mind goes up in all sorts of directions totally forgetting the song.
🇹🇷 Gunec G. – I must confess that I have a thing about ballads, especially ethnic ballads. Anxhela is not only a good singer, she is an extremely good-looking and charismatic artist. This song is one of the best examples of emotional, beautiful Balkan ballads. I especially love the sound of saxophone.
🇲🇹 Luke B. – This is a perfect song to showcase Anxhela's singing capabilities which was certainly one of the best this year. Actually, I prefer this song to her Eurovision entry. It oozes a certain emotional Balkan feel and the use of the violins in the backing track is top-notch! I am already humming to it, and I'm sure you will be too!
🇨🇿 Josef S. – Albanian singers know how to deliver a good power ballad. Albanian lyrics are not missing and Anxhela's strong voice full of emotions is there as well. Actually we can hear some similarities between Pa Mua and Karma, which I don't mind at all as both are really nice songs. I am glad that Albania gave Anxhela her chance to shine at Eurovision. I hope they will stick to this formula, especially when it comes to Albanian language songs.
🇬🇧 Michael O. – Another wonderful singer, but sadly singing another run-of-the-mill ballad. If I bought this I'm afraid I don't think I'd listen to it very much, but it sounds fine to listen to it maybe once or twice.
🇨🇴 🇫🇮 Alvaro S. – I think this is a great song to continue enjoying Anxhela's tremendous voice. Pa Mua is another song that suits perfectly to her talent. Compared to Karma however, I think the whole song would not have the same impact we already saw at Eurovision when we listen an Albanian power ballad, but I have to say that she left the standard very high.
🇷🇴 Mihai D. – Albanians have an exceptional singing school. The singers have clean voices, with generous ambit, doubled by a very good vocal technique and impeccable phrasing. At the risk of repeating myself, let's remember Rona Nishliu, Eugent Bushpepa and Aurela Gace. Anxhela Peristeri is no exception, she fits perfectly in the same category. She has pleasant presence, without anything aggressive, full of feminine charm. This song is romantic, nostalgic, one of an inspired composer, with two ritornellos of oriental influence. Too bad I don't understand the lyrics. A song that you can repeat several times without getting bored for even a second.
🇳🇱 🇩🇰 Wouter V. – I would certainly turn the volume up a notch if I happened to hear this on the radio. It's nice and calm, supported by traditional sounds and easy to listen to. But I won't be adding it to my heavy rotation playlist.
Enjoy Anxhela Peristeri's Pa Mua in the embedded video. Below the video, you can read more about her.
Anxhela Peristeri – a mini biography
Anxhela Peristeri was born on the 24th of March 1986 in Korçë, Albania. She studied violin in high school and following that she continued her education in Jordan Misja Lyceum, an art school in Tirana. After graduating from that school, Peristeri moved to Thessaloniki in Greece with her family. She told in an interview that her paternal grandfather is Greek, but still she considers herself Albanian. In 2001, she participated the Miss Albania beauty pageant in Tirana.
Her first participation to Festivali i Këngës in 2001 (the 40th edition) was not as successful as she expected. She won the first edition of Your Face Sounds Familiar, a highly watched TV talent show, in 2016. She also won the 19th edition of Kënga Magjike with her song E Çmëndur. Following those successes, she released a number of singles including Pa Mua that showed up in the Albanian charts. In 2019, she returned to Kënga Magjike with her song Dikush I Imi and placed third. And in October 2020, she was announced as one of the participants of Festivali i Këngës' 59th edition. She presented her song Karma and passed the semi-final. In the grand final, she was honoured to represent Albania in the Eurovision Song Contest 2021.
In Rotterdam, after passing the second semi-final, she showed up in the grand final stage second in line, received a total of 57 points and became 21st.