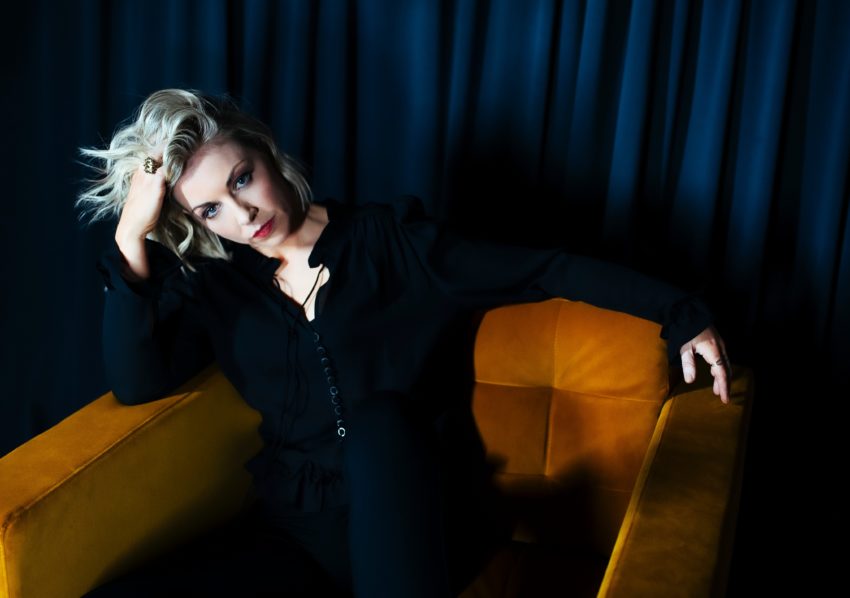 Lesley Roy represented Ireland at the 2021 Eurovision Song Contest. She has more to offer than what we saw on the Eurovision stage – and here we put focus on her song from summer 2020 'Gold'.
It was a dream coming true for Lesley Roy when she was selected to represent Ireland at the 2020 Eurovision Song Contest. Sadly, it was cancelled because of the pandemic. The Irish broadcaster re-selected her for the 2021 contest, and Lesley Roy spent the year writing new songs.
Gold is co-written by Lesley Roy and the producers Alberto Beeck and Ricky Mears. The inspiration of the song came from Japanese art of Kintsug. It's an art that embraces imperfections in object, and that's what the song is about.
Gold – opinions from fans
In order to find out what Eurovision fans think of this song from Lesley Roy, we asked our Eurovision Fan Panel. It includes team members as well as fans from all over the world.
🇩🇰 Charlotte J. – This song confuses me. I do like parts of it, but other parts are just plain weird to me. It's not as strong as the studio version of her 2021 Eurovision entry, which I really liked. She is a good studio singer, but unfortunately, I am yet to see her deliver something good live.
🇳🇱 🇩🇰 Wouter V. – Please, don't fill anybody's heart with gold, that's dangerous! I simply can't figure out what she means metaphorically, so I have to take it disturbingly literal. Apart from the chorus this song is actually quite alright, but not much more than that.
🇬🇧 🇬🇷 Melanie G. – This is a really nice song. I love the lyrics. It's not something I would necessarily usually listen to, but it's pleasant. Lesley is a great singer-songwriter, and I've listened to other stuff too from this talented lady. By all accounts I would give this a thumbs up.
🇩🇰 Liza P. – Gold is a really annoying song. From the beginning I was a bit irritated by Leslie's voice. However, I managed to ignore that. As the song builds up to the chorus, I was expecting a melodic up-tempo chorus. But no. Instead, there was only the word "Gold" followed by some irritating mixed noise. No, thank you. I'm glad this series is over, because it's been a sad selection of songs, that I had to listen to.
🇬🇧 Michael O. – Not sure what to make of this. Lesley tries so hard must just misses the mark so often. This is another good song, if she wrote it she'd do well to get a better singer to record it, and make herself a go-to songwriter, because she's written some really good ones.
🇳🇱 Vica K. – Lesley Roy knows what she does. She is a great songwriter and Gold is a great song. This is the kind of song I would listen if I want to relax. We will hear from Lesley in the future!
🇨🇿 Josef S. – I think that Lesley Roy is a little bit underrated in general, even though her live vocals are not one of the strongest, but she has a good charisma. Gold is a song which sounds the most current if I compare it with her two Eurovision songs. I am glad that I can say she knows how to do a good music. I can imagine listening to Gold more often as it is quite a nice song, well in the studio version.
🇮🇪 John D. – This sounds like any bland west coast of America radio friendly song. There's nothing particularly Irish or interesting about this or Maps. The staging of this I suspect would have been less manic if it was the Irish entry this year. However, I imagine the result would have been the same.
🇳🇱 Jacques H. – Lesley Roy's Eurovision songs weren't the problem, but her stage performance was. Gold is again a pop song that is pleasant to listen to, but the problem at Eurovision lay with a too complicated story to tell on stage and a too weak performance by Lesley. I liked both Story Of My Life and Maps. Let the song do the work. 'Music First', as Duncan called it when he won in 2019. In that respect the video clip of Gold has been kept nice and simple. Keep it that way.
🇮🇹 🇬🇧 Maurizio V. – I really enjoyed Maps and I listen to it quite often. I'm not sure that I'll do the same with Gold. It's quite catchy, it sounds very modern, but it's a bit forgettable. There are so many other songs that have a very similar instrumental and structure. It's a good song, don't get me wrong, but I have the feeling I've listened to so many similar songs in 2020 summer. Good effort, but I still prefer Maps.
Enjoy Lesley Roy's Gold in the embedded video. Below the video, you can read more about her.
Lesley Roy – a mini biography
When Lesley Roy was 19 she moved to New York to start her music career. One year later she signed a record deal with Sony and started writing her 13-track album Unbeautiful. Two years later in 2008 her album was released. In the beginning, it was successful and reached number five in the charts. Overnight, her record deal was gone because of the financial crisis at the time. After that, Lesley started to focus on writing songs for others. Among others, she co-wrote songs for Katy Perry, Adam Lambert, Medina and Miss Montreal.
In 2020, she was selected to represent Ireland with her song The Story of My Life. After the cancellation of the Eurovision Song Contest, she was re-selected and represented Ireland with the song Maps. Unfortunately, she finished last in her semi-final and as such, didn't reach the final.