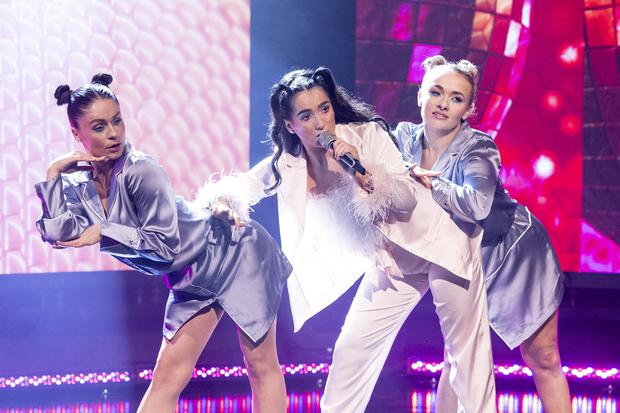 Recently, we saw the return of The Late Late Show Eurosong special. A competition that has not been held since 2015, Brooke Scullion emerged as the winner after a close run voting segment. Although, has Ireland made the right decision?
Ireland is the most successful country in Eurovision history, with 7 wins, although the last of these was over a quarter of a century ago, and since then their fortune at the contest has been turbulent to say the least. Last year they had high hopes with Lesley Roy's pop rock track Maps, which ultimately finished last in it's semifinal.  Although Lesley has been commended on her innovative staging of the entry, yet after 6 years of internal selections, 2022 saw the return of RTE staging a national final in the Capital, Dublin.
Six entries where released over the week beginning the 17th January and Friday night Brook Scullion, 23 from Derry/Londonderry, won the right to represent the Emerald Isle at this years contest in Turin, Italy.
Since RTE decided to start internal selections in 2016, they have only had one entry to make the grand final of Eurovision, with Ryan O'Shaughnessy and his entry Together, the decision to return to a national final format of some description was warmly recieved. Although The Late Late Show setting is somewhat of a controversial choice as there is too much similarity to what was not successful in its last iteration. 
What must be acknowledged is that for most following Ireland's Eurovision process this year, is that RTE have provided the public with some potential Eurovision entries, that actually stand a chance of being competitive in May and I for one do believe there are a couple that I could see myself voting for.
Also Ireland have been accused of living in a time bubble when it comes to Eurovision, with the majority of their entries always being fit for purpose a decade previous to their inception. This has made a lot of the fan base crave for something modern/contemporary to bring them into line with what Eurovision audiences enjoy today.
The Entries
Patrick O'Sullivan – One Night, One Kiss, One Promise  4th Place – 22 Points
Patrick is a great singer and that is undeniable, yet the song is somewhat dated and to an extent, a dated performance as well. Not Eurovision ready at all, and Patrick while having good stage presence is performing the song in a way that will come across amateurish. He has shown his talent in "The Last Singer Standing", I don't think this would have been a Eurovision entry with the ability to push through any semi final. Although, I don't want to upset Aunty Maureen, she was the star of the show tonight, I think she will be happy with her nephews final result and a respectable score.
     2.  Janet Grogan – Ashes of Yesterday  3rd Place – 24 Points
Janet Grogan is a performer, I remember fondly from her time on X Factor UK. Her voice is incredible and she never falters, as a singer she is the safe bet to deliver a great vocal everytime.  Ashes of Yesterday is a great gospel track and no denying an ear-worm, Janet performs it with so much ease and conviction. Although my problem with the song is, it doesn't progress as much as I like and becomes very linear. It would bring a decent result for Ireland, and I could see it make the final, yet there may be another entry that would make that task easier. A great final result for Janet and I really do hope she tries again in the future, Europe deserves to hear a voice like Janet's, with the right song to showcase it.
     3. Brendan Murray – Real Love  6th Place – 12 Points
Brendan is back talking about Real Love, and of course he is no stranger to the Eurovision stage having represented Ireland in Kyiv, 2017.  His voice was good tonight, but could have been better, he seemed a little off key at times (yet this is the RTE studios, if you know, you know). The song itself, is just not dynamic enough for me personally, we haven't had many songs like this at Eurovision, so it's hard to tell how it would do, but I can't see it capturing peoples imagination enough to pick up the phone to vote if it went to the contest. It was unsurprising that it didn't resonate with the International jury or the voting public, but still commend him for a good performance and sportsmanship. 
     4. Miles Graham – Yeah We're Gonna Get Out Of It  2nd Place – 24 Points
Miles Graham is a charismatic performer and the song is inoffensive and a little too juvenile for me personally. It is in the same vein of Macklemore, with the addition of childlike backing vocals, which takes me back to Daz Sampson (UK 2006). The song has no real stand out moment to leave an impression with people, although it was the first song with a bit of noticeable stage production, so it definitely gets props for that. This above all songs tonight surpised me with how well it done in all parts of the voting, yet still fell short of the ultimate prize.
     5. Rachel Goode – I'm Loving Me  5th Place – 16 Points
Welcome to the 80s, this is definitely a throw back, but this is not vintage, it's absolutely dated. Rachel is a great singer, although the performance at times felt slightly karaoke/pub singer-ish more for her stage presence than vocal ability. This is just not a song that will do well at Eurovision, written by the team behind Poland 2021, it would have met a similar outcome and stayed in the semifinal. It would be great to see Rachel back, as a classically trained Opera singer, that would be an interesting way for her to return, opera when done well, can go far at Eurovision (Australia 2019, Estonia 2018), I look forward to seeing where she goes from here.
     6. Brooke Scullion – That's Rich  1st Place – 28 Points 
Modern, contemporary pop by a performer who is no stranger to a big stage (runner-up on The Voice UK). This is where Ireland need to be going. This is happy, boppy and almost ready for Eurovision, the performance is fresh and youthful. No doubt this was my favourite of the six entries before tonight and her charisma and live performance cemented that for me. This has the ability (with some minor production changes) to be a chart hit across Europe and do well at the contest.  Without doubt this is the entry which has the most potential to get out of the semi finals and reach the left hand side of the score-board. I can imagine that a big portion of the Irish fan base will be happy after this result, and for good reason.  It is what many have been crying out for for years now, and I do hope it brings a result the Irish can be proud of. The international Jury and Irish Public defitinely agree that this was the entry of the night, I don't know what the Studio Jury thought when they awarded this 4 points, this song even with a bad performance would still be worthy of more, yet its strength shone through and won over in the end.
Detailed Voting Results
| | | | | | | | |
| --- | --- | --- | --- | --- | --- | --- | --- |
| Draw | Artist | Song | Studio Jury | International Jury | Televote | Total | Place |
| 1 | Patrick O'Sullivan | One Night, One Kiss, One Promise | 6 | 10 | 6 | 22 | 4 |
| 2 | Janet Grogan | Ashes of Yesterday | 12 | 8 | 4 | 24 | 3 |
| 3 | Brendan Murray  | Real Love | 8 | 2 | 2 | 12 | 6 |
| 4 | Miles Graham | We're Gonna Get Out of This | 10 | 6 | 8 | 24 | 2 |
| 5 | Rachel Goode | I'm Loving You | 2 | 4 | 10 | 16 | 5 |
| 6 | Brooke Scullion | That's Rich  | 4 | 12 | 12 | 28 | 1 |
Live Performance
Brooke Scullion will follow in fellow Derry/Londonderry singer Dana and try to bring back the Eurovision crown to the Emerald Isle for the first time since 1996. Below you can watch her National Final performance.
What do you think, will Brooke break Ireland's streak of bad luck?
This reflection article is based on the author's own personal experience. Views expressed belongs to him or her, and are to be seen as unrelated to EuroVisionary.com.