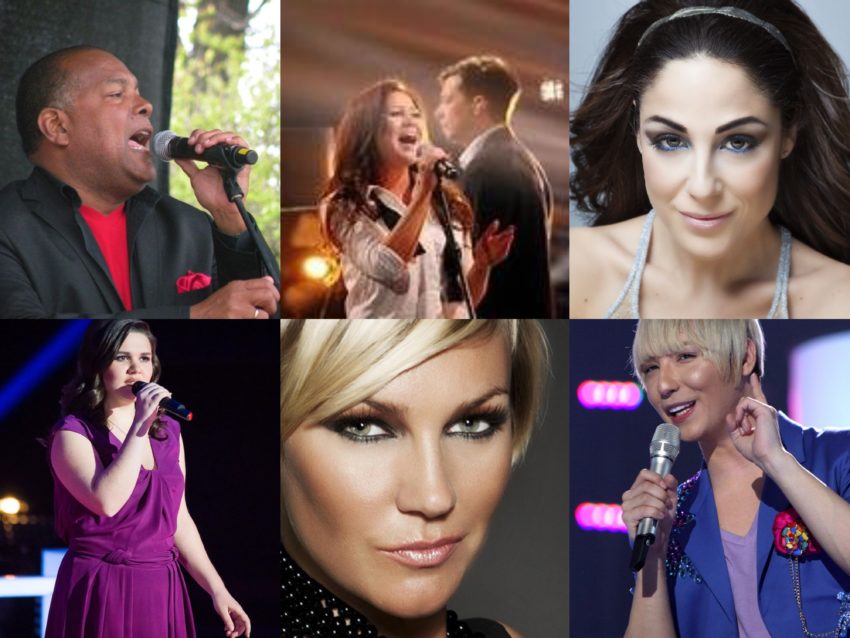 The Eurovision juries from around Europe and Australia have been revealed by each individual country. These juries make up 50% of the final results, which decided the winner of the Eurovision Song Contest 2021.
If your favourite did well with the public, but suffered because of the jury, the guilty are now revealed. If however they bumped up one that didn't so well with the rest of the public, this is who you can thank.
Several past Eurovision entrants were on their countries panels, including Ira Losco for Malta, Stig and Elina from Estonia, Kate Ryan from Belgium and winner Dave Benton from Estonia.
You can see the full list below, with past Eurovision entrants in bold.
 Albania
Aurel Thellimi – singer
Kastriot Tusha – singer
Kejsi Tola (2009 representative)
Rozana Radi – singer
Sokol Marsi – record producer
 Australia
Ash London – Australian radio and television personality
Brooke Boney – Australian journalist and television personality
Jack Vidgen – Australian singer
Kamahl – Malaysian–Australian singer and entertainer
Millie Millgate – entertainment manager
 Austria
Drew Sarich – American stage actor
Norbert Schneider – singer
PAENDA (representative 2019)
Peter Pansky – musician
Virginia Ernst – actress
 Azerbaijan
Atari Jafarova
Fuad Alishov
Sevda Alakbarzada – musician
Vagif Gerayzada – musician
Zamig Huseynov
 Belgium
Kate Ryan (representative 2006)
Lady Linn – Belgian jazz singer
Pommelien Thijs – Belgian actress
Stefaan Fernande – musician
Yves Ruth – creative director
 Bulgaria
Christina Yankova Mateeva
Katya from duet Riton= singer
Krassimir Nikolov Gyulmezov – singer
Milka Koleva Miteva
Suti
 Croatia
Denis Dumančić – singer
Luka Nižetić – Croatian pop singer
Monika Lelas Habanek
Nika Turković – Croatian singer
Tonka
 Cyprus
 Andreas
Christiana Mitella – CyBc employee
Marilena Charalambidou – voice actor
Tasos Tryfonas – TV presenter
Alexandros Taramountas – TV presenter
 Czech Republic
Boris Carloff – Czech musician and record producer
Debbi – German-Czech singer
Elis Mraz – singer
Miro Žbirka – Slovak pop singer and composer
Tonya Graves – American-Czech singer and actress
 Denmark
Jonas Schroeder
Kill J – Danish singer-songwriter
Lise Cabble – co-writer of winner 2013, Only Teadrops
Peter Düring – singer
Tanne Amanda Balcells – (representative 2020)
 Estonia
Birgit Sarrap (representative 2013)
Dave Benton (winner 2001)
Elina Born (representative 2015)
Karl-Ander Reismann – singer
Stig Rästa (representative 2015)
 Finland
Amie Borgar –  head of music at Svenska Yle
Jussi – operatic singer
Mirva
Samuli
Tommi
 France
Adrien Kaiser
Gilbert Marcellus
Géraldine Allouche – vocal coach
Kahina kimoune
Loic Parent
 Georgia
David Evgenidze – musician
Helen Kalandadze – Georgian television presenter and singer
Nodiko (representative 2013)
Sopho Toroshelidze (represenative 2011)
Zaza Orashvili (representative 2018)
 Germany
Constantin Zöller – late night host
Ivy Quainoo – German singer
Janin Ullmann – German television presenter and actress
Matthias Harman
Uwe Kanthak – producer
 Greece
Adam Tsarouchis – singer
Athena Konstantinou – public figure
Fotis Sergoulopoulos – actor
Ioannis Vasilopoulos – actor
Xenia Ghali – Greek singer
 Iceland
Gudrun Gunnars
Matti Matt (representative 2011)
Oddny Sturludottir – councillor
Regina
Snorri Helgason – Icelandic musician
 Ireland
Ben Pyne – songwriter
Fidelma Kelly – wedding singer
Karl Broderick – songwriter
Louise Bruton – journalist
Luan Parle – musician
 Israel
Avia Farchi
Noy Aloosh – Israeli musician
Ohad Hitman – singer, songwriter
Roni Superstar – pop singer
Yossi Hersonski –
 Italy
Emanuele Lombardini – author
Giusy Cascio – journalist
Gregorio Matteo
Katia Riccardi
Stefano Mannucci – author
 Latvia
Guna Zučika
Kaspars Zemītis – Latvian guitarist
Magnuss Eriņš – radio personality
PATRISHA – Latvian pop singer and song-writer
Valts Pūce – composer
 Lithuania
.Darius.Uzkuraitis – musicologist.
Bjelle – musician
Giedrė – musician
Jievaras Jasinskis –  trombone player
Rafailas Karpis – opera singer
 Malta
Annaliz Azzopardi – producer
Ira Losco (representative 2002,2016)
Kevin Abela  – musical director
Michela (representative 2019)
Sigmund Mifsud – Maltese musician
 Moldova
Constantin Moscovici – singer
Dumitru Mitu – Romanian footballer
Ion Catar – musician
Marina Djundiet (representative 2018 – DoReDos)
Nelly Ciobanu (representative 2009)
 North Macedonia
Darko Tasev
Erhan Shukri – violinist
Ile Spasev – music producer
Lara Ivanova – singer
Robert Bilbilov – music producer
 Norway
Aleksander Walmann (representative 2017)
Anna-Lisa Kumoji – actress
Kate Gulbrandsen (representative 1987)
Rolf Lennart Stensø – conductor
VILDE – Classical violinist
 Poland
Anna Zaczek-Biderman – singer
CLEO (representative 2014)
Michal Michalik
Norbi – Polish singer, TV and radio presenter
Piotr Winnicki
 Portugal
Dino D'Santiago – musician
Dora (representative 1986,1988)
João Reis Moreira – actor
Marta Carvalho – actress
Pedro Penim – Portuguese actor
 Romania
DJ Andy – disc jockey
Ilinca (representative 2017)
Liviu Teodorescu – singer
Luminita Anghel (representative 2005)
Razvan de la ZU – radio personality
 Russia
Alla Sigalova – Russian ballet dancer
Dina Garipova (representative 2013)
Leonid Gutkin – musician
Leonid Rudenko – Russian musician
Yulia Volkova (representative 2003 t.a.t.u)
 San Marino
Antonio Cecchetti – musician
Elisa Manzaroli – actress
Fabrizio Raggi – actor
Jimmy JDKA – hip hop artist
Marilia Reffi – musician
 Serbia
Ekstra Nena (Yugoslavia representative 1992)
Ivana Peters – Serbian singer
Milan Stanković (representative 2010)
Slobodan Markovi
Tijana (representative 2017)
 Slovenia
Amaya (representative 2011)
Bojan Cvjetićanin
Boštjan Grabnar – songwriter
Nuša Derenda (representative 2001)
Raay (representative 2015)
 Spain
Antonio Hueso – actor
David – singer, songwriter
Maria Peláe – singer
Nerea – singer
Samantha – singer
 Sweden
Björn Kjellman – Swedish actor and singer
Emelie Fjällström – singer
Nanne Grönvall (representative 1996 One More Time)
Omar Rudberg – Swedish singer
Tina Mehrafzoon – radio host
 Switzerland
Chiara Dubey – singer, composer and violinist
Georg Schlunegger – musician
Lisa Oribasi – singer
Rico Fischer
Sophie de Quay – singer
 The Netherlands
Brainpower – Dutch rapper
Giovanca – Dutch singer and model
Jessica van Amerongen – producer
LAKSHMI – singer
Leo Blokhuis – Dutch television presenter and presenter
 Ukraine
Alloise – singer
ILLARIA – singer
Igor Kondratiuk – Ukrainian TV presenter
Oleksandr Ponomarov (representative 2003)
alyona alyona – Ukrainian rapper
 United Kingdom
Aisha Jawando – plays Tina Turner's sister in Tina Turner musical
Michelle Gayle- Eastenders actress, singer of hit song, Sweetness
Nicki Chapman= Pop Idol Judge, hostess
Ross Gautreau- A and R for BMG
Tom Aspaul – singer/ songwriter