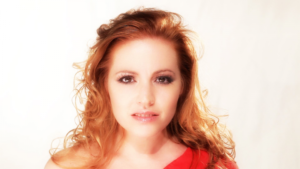 Since their debut, micronation San Marino have tried and tried, and tried again but failed to make the final of the Eurovision Song Contest. They're hoping to change that this year with the entry Maybe with singer Valentina Monetta representing them for a third consecutive year.
You have to admire San Marino for trying. They have attempted to qualify from their respective semi final at the Eurovision Song Contest on no fewer than four consecutive occasions. They came oh so close last year, just missing out on a spot in the final by coming eleventh in their semi final. As the popular addage goes, all good things come in threes, and so the tiny land locked country is hoping that by choosing their very own Valetina Monetta for a third consecutive year, Eurovision nation, their dreams will come true.
The song:
The song has been floating around the internet since yesterday, but was removed this afternoon as it wasn't allowed to be published before this evening. Even the coming Eurovision host broadcaster, Danish DR, has been showing the video illegally for two days. They also removed it this afternoon.
San Marino's 2014 entry is titled Maybe. It is as the title reveals in English, but an Italian version will be available as well as a dance-club version.  It is composed and produced by Ralph Siegel, with lyrics by Mauro Balestri for both the English and the Italian version. The song itself bears a slight resemblance to last year's entry with its piano heavy entry, but there is a slightly darker, more melancholic edge to this year's entry, less camp, but just as dramatic.
The artist:
2014 will see Valentina Monetta return to the Eurovision stage for a third consecutive year, so by now she more or less has secured herself a season ticket. She first came to the attention of fans in the 2012 edition of the contest, but has enjoyed a lengthy musical career prior to her Eurovision debut. She took her first tentaive steps back in 1995, when she fronted the group Tiberio. She then went on to be involved in a number of musical projects, putting her self taught piano skills to good use. Valentina took part in the Italian edition of the TV singing competition Popstars. Besides singing pop, she is also an extremely accomplished jazz performer.
But it wasn't until seven years later, in 2008, that she would have her first brush with Eurovision. She submitted the entry Se non ci sei tu, but wasn't selected by broadcaster SMRTV. It would take her a further four years to make her Eurovision dream come true in 2012, but since them has more than made up for any previous dissappointment she may have felt. In 2012, she took the Ralph Siegel penned The Facebook Song (Uh-oh, uh-oh) to Baku, but prior to participation was forced to change the title in compliance with EBU guidelines. The Social Network Song (Uh-oh, uh-oh) ended up in fourteenth place in its semi, their best placing to date. The following year, SMRTV decided to stick with the same Siegel/Monetta formula and so Crisalide (Vola) came to represent them at the 2013 contest. A huge fan favourite with the song, Valentina yet again failed to make the grand final, but bettered her 2012 result by ending in eleventh place. Her first album La storia di Valentina Monetta appeared shortly after the contest.
Her second as yet untitled album is due for release later in the year. A lead single, L'amore verrà has already been released, back in October last year.
The show:
The San Marino entry was presented this evening in a show broadcast at 21:10 CET on SMRTV as well on a stream via the official site Eurovision.tv. 
A video message from last year's winner Emmelie de Forest was shown. She told the story about how she just a year ago lived in a small village in Denmark and went on to become the winner of the of last year's Eurovision Song Contest. In other words, if she can do it, then a small country such as San Marino should be able to make a go of it also.  
The seemingly unfathomable reasons as to why San Marino failed to qualify last year were discussed and analysed in depth. Eurovision followers from around Europe were presented via a video connection where they mentioned things such as the running order, the melody not being memborable enough for three minutes and also the fact that they think San Marino has had a bad stretch of luck ending up in semi-finals alongside many sure qualifiers, something they fear will also be the case this year. 
A brief summary of the Eurovision history was shown. From 1956 to 2013 in video and speech in just two minutes! They used even longer to present composer Ralph Siegel's Eurovision pedigree, but that also featured a visit to the arena in Harrogate where Ralph achieved his only victory, for Germany in 1982. They mayor of Harrogate invited Ralph to come back. 
San Marino at the Eurovision Song Contest:
One of the smallest yet oldest countries not only in Europe but the world, San Marino waited until 2008 before making its debut at the Eurovision Song Contest. They did so with the soft rock entry Complice (Accomplice) performed by the Italian-San Marinese band Miodio. Sadly, they failed to make an impact, staying in their semi final. Following the disappointment, they were absent from the contest for the next two years, but made a return in 2011 with Senit and the soulful ballad Stand By, but again failed to qualify. Enter Valentina Monetta. She first took part for her country in 2012 with The Social Network Song (Uh-oh, uh-oh) again missing out on a spot in the final. She came back for more the following year, with the song Crisalide (Vola) written by the same songwriter they'd employed the previous year, namely Ralph Siegel, who has one Eurovision winning entry to his name. Valentina narrowly missed out on a spot in the final, coming eleventh in her semi with a major fan favourite. 2014 will mark the fifth entry at Eurovision for San Marino.
You might also like to read:
The video of San Marino's 2014 Eurovision entry can be seen below – in full. In tonight's show only the beginning was heard as the signal probably was cut off too early.