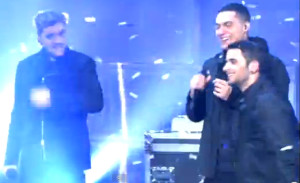 'Eurosong 2014 – a MAD show' was not just intended as another national final, but also as a celebration of Greece's 40th anniversary in the Eurovision Song Contest. The event culminated with Freaky Fortune feat. RiksyKidd getting the ticket to represent their country at the 59th Eurovision Song Contest.
Eurosong 2014 – a MAD show took place tonight in Athens' Acro Music Hall.  Produced by interim state broadcaster HPRT and commercial music network MAD TV, the Greek national final was presented by actor Giorgos Kapountzidis, who also wrote the show's script, and popular singer Despina Vandi whereas star Eurovision choreographer Fokas Evangelinos (Greece 2005, 2009; Ukraine 2008; Russia 2008; Azerbaijan 2013 among others) was in charge of direction. Emphasis was given to celebrating the 40th anniversary of Greece entering the Eurovision Song Contest with performances by many past entrants. The four participating entries of this year's Greek final were produced by sister labels Panik and Platinum Records. 
The songs (you can find more information on the participants in our Get To Know article):
1. Krystallia – Petalouda Stin Athina (Butterfly in Athens) (music: Nikos Antypas, lyrics: Aris Davarakis) 
The stage is lit in blue with white clouds against a blue sky on the background monitor and the stage floor is covered in dry ice. Krystallia and her two female violinists are  dressed in white. The singer is wearing a white sleeveless dress. The song is a mid tempo pop ballad which in parts tries to sound epic. After an initial walkthrough centrestage, Krystallia remains quite static throughout, concentrating on her vocal performance instead.  She sings well and looks fairly relaxed on stage getting a bit too focused when trying to hit the high notes pehaps. Krystallia and her team appear to have attempted a classy presentation which indeed leaves a pleasant impression. 
2. Freaky Fortune feat. RiskyKidd – Rise Up (music: Freaky Fortune, lyrics: Freaky Fortune and RiskyKidd)
Freaky Fortune feat. RiskyKidd are considered one of the two favourites for tonight. Dark blue lighting and geometric motifs on the background monitor set the stage atmosphere. The songs starts with a retro brass 'vintage' sound and rap by RiskyKidd before breaking into the chorus and dance beats with a 90's dance essence about them. Risky Kidd performs confidently, Nikolas might be a little affected by his recent illness, but they both jump about on stage while Theofilos stays playing on his deck in the background. The young musicians are perhaps not the most experienced of performers (again this impression might have something to do with Nikolas' recent illness) but the song is quite catchy and their sound is fresh and contemporary. 
3. Kostas Martakis – Kanenas De Me Stamata (No one is Stopping Me) (music & lyrics: Ilias Kozas) 
This is the other favourite for tonight. The performance starts with an electric guitar player while the stage is lit in red/orangey tones. The song can be described as a Balkan rock number; it has quite an impressive start but gets a bit repetitive as the tune goes on. Martakis himself is in rolled up sleeves, light grey trousers and matching waistcoat complete with a thin black tie. Martakis starts a tiny bit shaky but commands the stage well; he occasionally interacts with his five musicians on stage, a drummer, two trumpeters and two electric guitar players. 
4. Mark Angelo feat. Josephine – Dancing Night (music & lyrics: Mark F. Angelo, Thomas Karlsson, Fast Lane, Josephine Wendel, Melina Makris)
The song starts with Josephine being covered by her dancers who have their backs to the camera and a disco ball impression on the background monitor. The stage is again lit predominantly in blue with the occasional detail in pink. The song is a contemporary dance number that grows on you even if it perhaps lacks an instant oomph. Josephine looks delightful in her multicoloured mini dress, but she is occasionally off key vocally. She and her dancers give an enthusiastic performance.
The show:
Just before the opening titles, there is surprise archive footage of first ever Greek participant Marinella just before flying to Brighton to represent Greece in the 1974 Eurovision Song contest as well as a short clip of the singer's Eurovision performace in her iconic striped shirt.
The show starts with a rendition of the 1974 song itself, Ligo, Krasi, Ligo Thalassa Kai To Agori Mou (Some wine, some sea and my boyfriend) sung by one of the two presenters for tonight, singer Despina Vandi in her white lacey long dress.  Despina is soon joined by sidekick  presenter Giorgos Kapountzidis in his black shiny costume who breaks straight into song with another past Greek Eurovision entry, 1987's Bang. A joint rendition of 1980 entry Auto-stop (Hitchhike), followed by 1996's Emeis Forame Ton Heimona Anoixiatika (We Wear Spring Clothes in Winter) and Greece's only Eurovision winner so far, Helena Paparizou's 2005 hit My Number One. The presenters then greet the audience. Making a reference to the recent sudden organizational changes in the corportation, they jokingly appear to be uncertain as to what is the current name for the Greek state broadcaster finally settling for… "state television". There is also a welcome to the international audience in English and an appeal, due to Cyprus not entering this year's contest, that extra vote contribution would be… much appreciated. Giorgos and Despina then present the members fo the professional jury (see below for more details).
The celebration carries on with Kalomira in her golden mini dress taking to the stage for a remix version of her 2008 entry Secret Combination; she is soon joined by Albanian born artist Claydee. They give a competent performance and provide a good opening to the 40th anniversary special performances. After a commercial break,  the presenters' banter carries on as they wonder how old they were and what they were doing at the time when different songs participated in Eurovision. They then introduce pop group Melisses (Greek NF 2010) and Paschalis, Mariana, Robert and Bessy (Greece 1977) for an updated version of the latter's 1977 entry Mathima Solfege (Solfege Lesson).  Oringinal footage of Greek entries from 1974 to 1995 follows. A now brunette Sophia Vossou, joined by young pop singer Demy, then takes to the stage to perform a dance version of her 1991 entry Anixi (Spring). There is no Eurosong 2014 entry in sight yet and it starts to feel as if the renditions of past entries are dragging on a bit. There follows original footage of Greek entries between 1997 and 2013 before a performance by Kaiti Garbi and pop group Vegas of the former's 1993 entry Ellada, Hora Tou Fotos (Greece, Country of Light); Vegas introduce this rendition with rap and Kaiti is wearing a much more modest green dress compared to her stylistic choice back in 1993. There follows a cut to backstage to talk to Melisses, Demy, Claydee and Vegas and then back to the last of the 40th year celebratory renditions of the evening: Elpida's 1979 cult entry Socrates in a duet with Georgian-born pop singer Tamta (Greek NF 2007).
After another commercial break – some fans may have noticed Sakis Rouvas (Greece 2004 & 2009) advertising crispy bread nibbles at some point –  and just over an hour into the programme, the show's competition section finally kicks off marked by a dress change for Despina, who is now in a low cut blue silk dress. The songs are introduced by short clips with the participating artists talking about their entry against a solid white background. After all songs have been presented, there is another cut to backstage for a chat with all of the 'veteran' Eurovision entrants who performed earlier on stage. Kaiti Garbi commented that the secret to success relies on having faith in what you are doing whereas Kalomira and Sophia Vossou agreed that being true to yourself is paramount. After a short recap of the participating songs, televoting opens.
There follows a performance of last year's Greek entry, Alcolhol Is Free, complete with an extended baglamas (that's the small traditional string instrument) solo by Agathon. Koza Mostra are as energetic and charismatic as ever proving that their good placing in last year's Eurovision was by no means coincidental. The band's lead singer, Ilias Kozas, doubles as a songwriter for Kostas Martakis' entry this year; he is sporting new tattoo work on his right arm and seems to really enjoy himself on stage. After a mini explosion of Balkan, rock and ska influences all thrown into the mix, short clips of some of this years Eurovision entries are shown in succession: entries from Hungary, the UK, Switzerland, Israel, Romania, Ireland, Ukraine, Lithuania, Belarus, FYR Macedonia, Poland, Spain, Latvia, Albania, Finland, Malta, France and Estonia. The show proceeds with Despina Vandi giving a well-worked performance of her song Hano Esena (I am Losing You) by well known Eurovision composer and Eurosong 2014 jury member Nikos Kontopoulos (Greece 2009 and Azerbaijan 2013 among others). The performace comes complete with a sensual choreography and would have made a good national final entry itself. A last rendition of the competing songs for the benefit of televoters is shown after that before yet another tribute to past Greek entries: this time young musicians Stelios Legakis and Melina Mammas, playing their guitars, give an accoustic medley of Die For You, Everything and Shake It (Greece 2001, 2006 and 2004 respectively), It probably does not sound terribly exciting in writing, but Stelios and Melina are actually rather good!
A further dress change for Despina, this time in a white lace robe over a black lace undergarment (it appears lace is the thing as far as Despina is concerned this year) and a further commercial break later, there is a suprise video message from this year's Maltese entrants, Firelight, complete with an accoustic rendition of their song Coming Home. A last backstage link is all about the participants themselves this time. Martakis and Krystallia agree in their wish for the favourite entry to win, whichever that might be. It's now result time apparently and one would expect the announcement of the winner, but wait… in another suprise video, Greece's only Eurovision winner, Helena Paparizou, describes her experience from her two Eurovision participations and reminisces about her childhood Eurovision memories (Clown, the 1988 Greek Eurovision entry, is one of Helena's very first Eurovision memories apparently).
The veteran Eurovision participants of the night, sans Kalomira for some reason, are back on stage – this must signify an important development in the show (surely)! Indeed, the results are handed over from person to person (Despina being the last) before the big announcement everyone has been waiting for so long is made: Freaky Fortune feat, Risky Kidd and their entry Rise Up is the night's winner. Fan expectations have thus been met and the young group takes to the stage: it has to be noted that they come across with much more confidence and enthusiasm during their second performace of Rise Up.
One would think that the show is now over –  not quite. The night comes to a sweet closure with last year's winner, Emmelie De Forest, wishing the Greek winner good luck and inviting everyone to 'join them' in Copenhagen and the 59th Eurovision Song Contest this May. 
The voting:
The voting was made up of  50% televoting and 50% jury vote
The professional jury was made up of: composer Dimitris Kontopoulos (Greece 2009, Azerbaijan 2013 et al), singer Elpida (Greece1979), presenter/radio producer Themis Georgantas, HPRT PR Chief Areti Kalesakis and MAD TV PR managerReggina Kouris.
Freaky Fortune feat. RiskyKidd and Rise Up were declared the winners; there was no full result given on the night.
Greece at the Eurovision Song Contest:
Greece entered the Eurovision Song Contest in 1974 sending one of its most loved singers, Marinella. Marinella only achieved a modest 11th place in Brighton, but later Greek entries performed a bit better: Mathima Solphege (Solphege Lesson) (5th place in 1977) remained for years to come the best achieving and most memorable entry for the Greek audience. There was a steady decline of the contest's popularity in the country throughout the 80's and 90's; another fifth place in 1992 with Kleopatra's Olou Tou Kosmou I Elpida (All The World's Hope) went largely unnoticed. There were exceptions to this: both Sophia Vossou's 1991 Anixi (Spring) as well as Kaiti Garbi with Ellada, Hora Tou Fotos (Greece, Country of Light) got publicity due to the popularity of the singers, the former becoming something of a Eurovision anthem, the latter remembered largely for Kaiti's relaxed stage performance and daring dress. Things changed dramatically in 2001 and Antique ranking third that year in Copenhagen with Die For You. However, interest in Eurovision really took off in 2004 when Sakis Rouvas, at the peak of his career, agreed to represent the country in Istanbul. Very high viewing figures both for the Eurovision Song Contest itself as well as the national finals attracted the interest of artists who wanted to get media exposure. This resulted in Greece becoming one of the most successful countries in Eurovision in the 2000's. In 2005, Greece achieved its only Eurovision victory to date with Helena Paparizou and her winner entry My Number One.
Since 2004 and the introduction of semi-finals, Greece has managed to qualify in every Eurovision Grand Final. The country has so far consistently done better with televoters rather that professional juries, which were re-introduced with a 50% contribution in 2009. Indeed, in 2012, the first time in nine years that Greece did not make it to the top ten of the Eurovision Final, Eleutheria Eleutheriou and her entry Aphrodisiac still ranked 9th despite ending up in 17th place overall. Last year, there was a return to the top ten with Koza Mostra feat. Agathon and Alcohol is Free scoring a highly respectable 6th place. It remains to be seen whether this year's entry, the first not to have been organized by the now closed former national broadcaster ERT, will manage to measure up to Greece's great track record in Eurovision in the last fifteen years or so.
You can see Freaky Fortune feat. RiskyKidd performing in Eurosong 2014 – a MAD show as well as them being announced as winners of the show in the videos below.
You may also want to read: