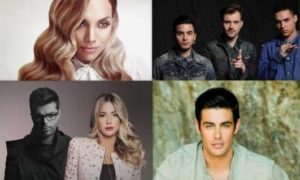 Many hurdles had to be overcome for the Greek national final to go ahead. Nevertheless, 'Eurosong 2014 – a MAD show' is here! As the four acts are putting the final touches to the presentation of their entries, you can now get to know the participating artists a little better before tonight's show.
What with
the shock closure of long running state broadcaster ERT and its intended
replacement not yet fully operational, it is a relief that an interim
broadcaster, Hellenic Public Radio Television, managed to put together a
Eurovision national final. Following last year's arrangement, HPRT is aided in
the organization of the event by commercial music network MAD TV and sister
record companies Platinum and Panik Records to whom all of the artists in the
following line-up belong. So, in alphabetical order, the four acts of Eurosong
2014 – a MAD show are as follows:
Freaky Fortune feat. RiskyKidd
Song title: Rise Up
Music: Freaky Fortune
Lyrics: Freaky Fortune and Risky Kidd
Freaky Fortune is made up of Nikolas Raptakis and Theofilos Pousbouris, who describe themselv es as a 'dance project'; their cover of Katy Perry's Part of Me won a contest held by popular American blog Perez Hilton. The duo had already started working on Rise Up when they thought of giving London-raised rapper RiskyKidd a phone-call asking him if he would be interested to get involved in the project. RiskyKidd agreed and all parties were really pleased with the result. During a recent interview, the young artists implied that they have a surprise up their sleeve in regards to the song's presentation for the Greek final. The track itself is topping most (unofficial) popularity polls on the internet and it comes second in view numbers on the official youtube channel of MAD TV. There was some concern yesterday when it was reported that Nikolas missed the show's dress rehearsal as he was feeling unwell; there were assurances however that he will be able to perform tonight.
Mark Angelo feat. Josephine
Song title: Dancing Night
Music & Lyrics: Mark F. Angelo, Thomas Karlsson, Fast Lane, Josephine Wendel, Melina Makris
Mark Angelo is an Electro/House musician. From the initial presentation of the song however, the media spotlight has been on Josephine who is a newcomer to the Greek music industry. The young singer is also known as a presenter for MAD TV, one of the national final's major collaborators. Josephine, who casts Loreen's 2012 Euphoria as one of her favourite Eurovision winners, seemed really pleased with her rehearsals and her chances to win during a recent TV link. When asked if she has any lucky charms for the final, the young singer revealed that she will be wearing a little cross round her neck given to her by her boyfriend. Josephine also revealed that she was delighted when she was told that her mum, a U.S. resident, would be sharing the same flight to Athens with 2008 Eurovision entrant Kalomira who will be performing in the show.
Krystallia
Song title: Petalouda Stin Athina (Butterfly in Athens)
Music: Nikos Antypas
Lyrics: Aris Davarakis
Krystallia became known to the Greek public as the lead singer of award winning Dance group OtherView and has been frequently commented on her stylistic choices when it comes to fashion. Her first solo single, Kimolia (Chalk) was released in 2013. It has to be noted that both of the song's creators are two of the most respected names in Greek music. Krystallia herself revealed that it had not crossed her mind to represent Greece in Eurovision until Platinum Records mentioned that Nikos Antypas and Aris Davarakis would be involved in the project. The singer disclosed that Petalouda Stin Athina was the very first music track she listened to from the line-up presented to her and that she got enchanted by the lyrics written for the song. When asked for the ultimate Eurovision performer, Krystallia revealed that she is always impressed by Helena Paparizou's radiance on stage claiming that it is as if Helena "has swallowed a spotlight".

Kostas Martakis
Song title: Kanenas De Me Stamata (No one is Stopping Me)
Music & Lyrics: Ilias Kozas (Koza Mostra)
Kostas Martakis is the best known name of this year's line-up. His voice, amiable character as well as good looks (certified by a past E! Entertainment Sexiest Men in the World list apparently) have made him very popular with the Greek public and an obvious choice for Eurovision. Indeed, Martakis has entered the Greek final in the past: in 2008 he finished second to Kalomira and her catchy Secret Combination. The artist revealed recently that he has been approached to take part in the Greek final every year since, but that he refused as he did not feel the right song had come his way; not until he decided to collaborate with Ilias Kozas, lead singer of 2013 Greek entrants Koza Mostra, that is. Martakis liked the group's Balkan rock sound; after listening to different songs, he reckoned he had found the right entry for the final when Ilias Kozas played a track that he had initially intended for himself. Like Krystallia, Martakis put great emphasis on the Greek lyrics of the song he jokes he 'nicked' from Kozas. The song currently has the highest number of user views on youtube, but that must also have to do with Martakis' popularity. 
Eurosong 2014 – a MAD show will take place at 22:00 CET tonight. The show will be streamed live by HPRT – you can access its live webtv page here. Eurovision.tv will also provide a webstream.
You can see again the four entries that will compete tonight for a chance to represent Greece in Copenhagen this May in the videos below.
You may also want to read:
Eurosong 2014: Axel Hirsoux and Bandits are the final two qualifiers in Belgium
Still high viewing figures for Dansk Melodi Grand Prix 2014
Greece: 'Eurosong 2014 – a MAD show' entries presented