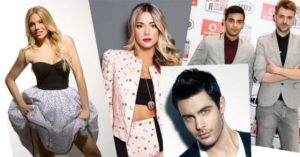 The four songs of Eurosong 2014 – a MAD show, the Greek selection for the 59th Eurovision Song Contest, were presented earlier today. A hip hop track, a pop duet, a ballad and song with folk Balcan influences will compete for the chance to represent Greece in Copenhagen this May.
The songs were first presented by interim Greek broadcaster Hellenic Public Radio Television during the morning Epikairotita ('Current Affairs') program. +++
The four entries of Eurosong 2014 – a MAD show will be available for viewing on the youtube channel of Greek music commercial channel MAD TV. Their details are as follows:
Rise Up by Freaky Fortune feat. RiskyKidd (music: Freaky Fortune; lyrics: Freaky Fortune, RiskyKidd; Panik Records). This is a dance/hip hop track sung in English.
Dancing Night by Mark Angelo feat. Josephine (music/lyrics: Mark F. Angelo, Thomas Karlsson, Fast Lane, Josephine Wendel, Melina Makris; Panik Records). Described as a 'dynamic pop track' and sung in English, the entry's creators include Melina Makris of popular Greek pop group Vegas as well as Swedish songwriter Thomas Karlsson.
Petalouda stin Athina ('Butterfly in Athens') by Krystallia (music: Nikos Antypas; lyrics: Aris Davarakis; Platinum Records). Often described as a trend-setter, Krystallia used to be the lead singer of dance group Otherview; yet her entry for Eurosong 2014 is a ballad sung in Greek.
Kanenas De ME Stamata ('No one is Stopping Me') by Kostas Martakis (music/lyrics: Ilias Kozas). Not one, but stars are involved in this entry. Kostas Martakis is arguably the best known contestant in this year's Greek selection and this will be his second attempt to represent Greece in the Eurovision Song Contest (Martakis had come second in the 2008 Greek final). Ilias Kozas, on the other hand, isthe lead singer of Koza Mostra, the Eurovision entrants for Greece last year.
Eurosong 2014 –  a MAD show will take place on 17th March at 20:00 CET. This will be the 40th anniversary since Greece first entered the Eurovision Song Contest in Brighton in 1974 and the show's creators intend it as a celebration of Greece's participation in Eurovision as well as this year's Greek selection for Copenhagen: apart from Koza Mostra and Agathon (Greece 2013), there will be performances by Elpida (Greece 1979 & Cyprus 1986), Sophia Vossou (Greece 1991), Kaiti Garbi (Greece 1993), Kalomira (Greece 2018) and Paschalis, Marianna, Robert and Bessy (Greece 1977) all in surprise collaborations with contemporary artists.
The event will be televised by HPRT as well as be broadcast online. EuroVisionary will be keeping you updated.
You might also like to read:  
You can see what you think of the four songs making up this year's Greek selection in the videos below: