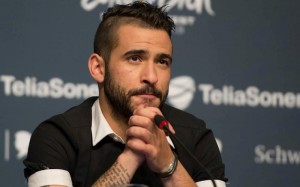 It has been rumoured for some time that the date of the Greek selection for Eurovision 2014 had moved to 11th March. Despite no official announcement on the website of the Greek national broadcaster, TV listings sent to the press include an entry for the Greek national final on Tuesday 11th March at 21:00 local time (20:00 CET).
As expected, the interim Greek state broadcaster, Hellenic Public Radio Television, will follow the same format as last year in regards to the organization of the event. Indeed, it appears that an agreement with commercial music network MAD TV, label Panik Records and its imprint, Platinum Records, has been finalised.
As previously presented by Eurovisionary, the four acts that will compete for the chance to represent Greece in Copenhagen this May are as follows:
– Freaky Fortune feat. RiskyKidd (Panik Records)
– Mark Angelo feat. Josephine (Panik Records)
– Krystallia (Platinum Records)
– Kostas Martakis (Platinum Records)
Kostas Martakis' entry is reported to have been written by Ilias Kozas (pictured), lead singer of Greek 2013 Eurovision entrants, Koza Mostra. All four entries will be presented to the public on Wednesday the 5th of March.
The show will take place at Athens' Acro Music Hall. Last year's presenters, actor/screen writer Giorgos Kapoutzidis and popular singer Despina Vandi are expected to resume their roles. This will also be the 40th anniversary of Greece first entering the Eurovision Song Contest; Koza Mostra (Greece 2013), Kalomira (Greece 2008), Helena Paparizou (Greece 2005 & 2001), Elpida (Cyprus 1986 & Greece 1979), Bessy Argyraki (Greece 1977) and Greece' s first ever Eurovision entrant Marinella (1974) are all said to be appearing on the show, either as performers or guests.
The event will be televised by state broadcaster HPRT/NERIT and is also expected to be broadcast on their website. Eurovisionary will be keeping you updated!
You may also want to read: