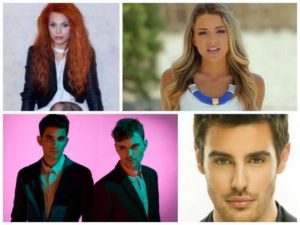 It appears that the Greek national will go ahead after all. According to the latest reports, the event will be called 'Eurosong 2014 – a MAD show' and four acts were leaked as its line-up. After fears to the contrary, Greek participation in Eurovision 2014 now looks secure!
Due to organizational delays with the new Greek state broadcaster NERIT, expected to launch in March, Greek participation in the forthcoming Eurovision Song Contest looked anything but certain. However, according to reports in the last couple of days, representatives of the state broadcaster, commercial music channel MAD TV as well as label Panik Records have come to an agreement in regards to the Greek national final. MAD TV and Panik Records had also taken the responsibility of organizing the Greek final and covering the costs of the singers respectively last year.
The four acts for Eurosong 2014 – a MAD show are reported as follows:
Kostas Martakis – arguably the best known act of the line-up, Martakis had also tried to represent Greece in Eurovision in  2008 when he finished second to Kalomoira who, with her song Secret Combination, went on to represent the country in that year's contest in Belgrade. Later in the same year, Martakis was the opening act of Jennifer Lopez' concert in Athens and was listed among the top 25 sexiest men in the world by American network E! Entertainment. His musical achievements include platinum and gold records. Martakis has also taken part in the Greek versions of celebrity reality shows Dancing with the Stars (2011) and Your Face Sounds Familiar (2013) where he finished second and fifth respectively.
Krystalia – the artist
started her professional career in 2006 singing as a support act for, of all
people, Marinella, Greece's first ever Eurovision entrant in Brighton back in
1974. Krystallia became known as the singer of dance group OtherView as well as
a style icon. In 2012, OtherView won the Best Dance Video category in the
annual MAD Video Music Awards, a well-established event for the Greek pop
scene. Since late 2012, Krystallia has been pursuing a solo career and, in
2013, she released her first single, Kimolia (Chalk). Along with Kostas
Martakis (see above) and Mando (Greece 2003) she appeared in interactive reality
TV series Your Face Sounds Familiar finishing in third place.
Mark Angelo feat. Josephine – Mark Angelo is an Electro/House musician. Josephine is a newcomer to the Greek music industry; signed to Panik Records, Josephine is also a presenter for fellow national final collaborator MAD TV. 
Freaky Fortune feat. Riskykidd –  Freaky Fortune, consisting of Nikolas Raptakis and Theofilos Pouzbouris, describe themselves as a 'dance project'; their cover version of Katy Perry's Part of Me won a relevant contest held by popular American blog Perez Hilton. Riskykidd is an Athens based rapper who grew up in London and is currently signed to Panik Records.
The songs of each act are understood to have been selected already and scheduled to be presented to the public one week before the national final. The event is expected to be televised as well as broadcast online by NERIT and its provisional date is 4th March. Just like last year, the likely presenters are actor/script writer Giorgos Kapoutzidis and popular pop singer Despina Vandi. Koza Mostra and Agathon Iakovidis (Greece 2013) are some of the artists rumoured to appear on the show whereas, this being the 40th anniversary since Greece first entered the Eurovision Song Contest, Marinella (Greece 1974) is also understood to have been approached for a guest appearance.
See what you think of the acts above by watching examples of their music in the following videos.
You may also want to read: