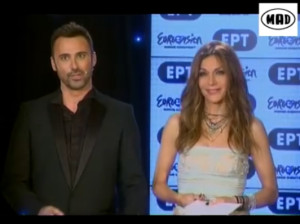 The way things are at the moment, it seems that Tuesday 4th March appears to be the provisional date for the Greek national final. However, according to reports today, Greek participation in the 59th Eurovision Song Contest remains anything but secure; this is because a proper replacement for former state broadcaster ERT is still not in place.
After the closure of the country's state broadcaster last June, there was concern amongst fans as to whether Greece would be represented in Eurovision 2014. It later appeared that Greek participation had been secured; indeed, Greece has been drawn to appear in the second semi-final in Copenhagen on 8th May and there were even rumours of possible participants for a four-candidate national final scheduled for February.
However, Greek lifestyle TV show Meletise To reported today that, although 4th March is the
provisional later date for the 2014 Greek Final, Greek
participation in Copenhagen is still riddled with obstacles. The main problem lies in the fact that NERIT (New Hellenic Radio, Internet and Television), the proper successor to ERT expected to fully launch in early March, is still not fully operational. Until this happens, the officials of  the present transitional broadcaster HPRT are reluctant to sign an agreement in regards to the broadcasting rights of the Greek national final to commercial music channel MAD TV, which organised the event in 2013 and was expected to take up the task of organising the Greek final again this year.
2014 will mark the 40th anniversary since Greece first participated in Eurovision; it remains to be seen whether the country will manage to overcome the difficulties reported today and be represented in Copenhagen this May.
You may also want to read:
A Dal 2014: Second Hungarian heat: Get to know the participants
Maria Yaremchuk and Swiss entrant will be guests at the Maltese selection