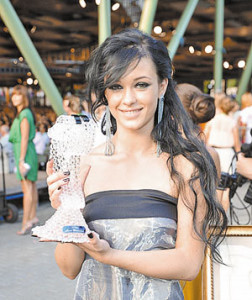 Ukranian Eurovision representative Maria Yaremchuk and the Swiss winner to be determined this coming Saturday will be guests at the Maltese selection to take place on 7th and 8th of February according to a press statement from the Maltese broadcaster PBS.
Maltese national broadcaster, PBS announced that Ukranian hopeful Maria Yaremchuk and the Swiss hopeful that will win this Saturday's national final will be guests at the Maltese selection.
Maria Yaremchuk is specially invited to feature in the Maltese semi-final to take place on Friday 7th February. She is expected to promote her entry Tick Tock which was selected in a national final show held last month. On Saturday 8th February, when Malta will decide upon its representative for the forthcoming Eurovision Song Contest, the Swiss hopeful will appear in the interval act.
The Swiss representative will be decided this Saturday during Die Grosse Entscheidungsshow 2014. This will be the second year in a row that the Swiss entrant will appear in the Maltese selection. Last year two members of the group Takasa performed the 2013 Swiss entry You and Me during the semi-final show of the Maltese selection.
Last week PBS revealed the running order for the semi-final show in which twenty acts will battle for fourteen final spots. In the final a mixture of jury and public vote will decide who will represent Malta in the second semi-final of the Eurovision Song Contest on 8th May. You can watch the 2014 Ukranian entry performed by Maria Yaremchuk in the clip below.
You might also like to read: