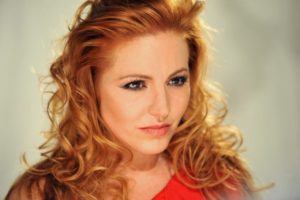 In an interview published earlier today, Sammarinese artist Valentina Monetta revealed that her song for the 2014 Eurovision Song Contest, held in Copenhagen, will be presented on the 14th of March. It will her third Eurovision entry in a row.
Talking to German blog Prinz, Valentina Monetta revealed that three songs in different musical styles and languages (English and Italian) have been shortlisted at this stage. She also confirmed that there is indeed a song titled Sensibilità although, despite rumours to the contrary, it has not already been selected as the 2014 Sammarinese entry yet. It appears that the final decision will be made jointly by the artist herself and collaborator Ralph Siegel, a Eurovision veteran, over twenty compositions of whom have competed in the contest in the past (including Ein Biβchen Frieden, Germany's first ever win in 1982).
Valentina herself has already entered the Eurovision Song Contest twice. In 2012 and 2013, she achieved San Marino's best ever Eurovision results year on year. In 2013 in particular, San Marino narrowly missed getting further than the semi-finals with Monetta's Crisalide (Vola): 'To be honest, to me it is still incredible and unbelievable. I have no explanation for it', were the artist's comment when asked to explain why the song failed to live up to pre-contest expectations of San Marino qualifying for the Eurovision Grand Final for the first time in its four-time participation history.
Commenting on why she decided to enter the contest again, Monetta added: 'It may sound crazy, but I feel that my home country of San Marino still has an immense trust and faith in me. This gives me a lot of strength and love and encouraged me to give it a third try'. When she appears in Copenhagen in May, she will be the fourth singer in the history of the contest to compete in three consecutive years. Lys Assia (Switzerland) and  Corry Brokken (the Netherlands) both competed in 1956, 1957 and 1958 whereas Udo Jürgens (Austria) competed in 1964, 1965 and 1966. All three artists managed to win Eurovision: Assia with her first attempt (1956), Brokken with her second (1957) and Jürgens with his third (1966). Will it be third time lucky for Valentina, too?
You can watch Valentina's recent single release, L'Amore Verrà, as well as her previous Eurovisions entries, 2012's The Social Network Song (OH OH – Uh – OH OH) and 2013's Crisalide (Vola), in the following videos.
You may also want to read:
Names of first Belgian candidates revealed
Dansk Melodi Grand Prix 2014 participants presented today
Emma sings La Mia Città for Italy in Copenhagen
Links