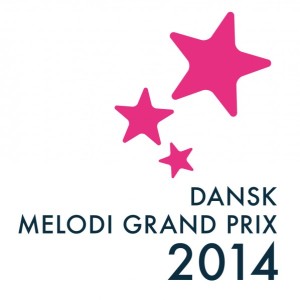 With Denmark hosting this year's Eurovision Song Contest a lot of extra attention will naturally flow towards their already popular national final. Today the singers and songwriters behind the 10 competing songs were published included quite some well known names.
The national final in Denmark, Dansk Melodi Grand Prix, is usually offering a good mix of well known established names and young new comers. The fact that the winner will represent his/her/their country on homefield made no exception to that tradition. 
The ten participating acts are – in random order:
Songtitle: Your Lies
Artist: Rebekka Thornbech
Songwriters: Danne Attlerud, Gustav Eurén, Niclas Arn
Songtitle: It Hurts (Wildcard)
Artist: Anna David
Songwriters: Anna David, Lasse Lindorff, Kim Nowak-Zorde, Jeremy Huffleman, Marli Harwood, Michael Harwood, Nick Keynes.
Songtitle: Right By Your Side
Artist: GlamboyP
Songwriters: Mathias Kallenberger, Andreas Berlin, Jasmine Anderson
Songtitle: She's the One
Artist: Danni Elmo
Songwriters: Engelina, Kenneth Nicolaisen , Søren Vestergaard, Marcus Linnet
Songtitle: Wanna be Loved (Wildcard)
Artists: Michael Rune feat. Natascha Bessez
Songwriters: Lars Halvor Jensen, Martin Larsson, Luke Madden, Lemare Obika
Songtitle: I Choose U
Artist: Bryan Rice
Songwriters: Bryan Rice, Lars Halvor Jensen, Johannes Jørgensen, Shanna Crooks
Songtitle: Cliché Love Song
Artist: Basim
Songwriters: Lasse Lindorff, Kim Nowak-Zorde, Daniel Fält, Basim
Songtitle: Vi finder hjem
Artist: Emilie Moldow
Songwriters: Engelina, Ole Brodersen, Kasper Larsen, Basim
Songtitle: Before You Forget Me (Wildcard)
Artist: Nadia Malm
Songwriter: Nadia Malm
Songtitle: Feeling the You (Wildcard)
Artist: SONNY
Songwriters: SONNY, Frederik Tao Nordsøe Schjoldan, Thomas Lumpkins
The line-up of singers includes two former participants; Danni Elmo (2006 and 2007) and Bryan Rice who came second in 2010, but has also taken part as songwriter to others. In this line-up names like Anna David, Nadia Malm, Basim and SONNY will ring quite a bell at many Danes, the first one also at people abroad. 
What is interesting to notice is that Basim is in it with a double chance to win it, as aside from singing one of the songs himself, he is also songwriter on Emilie Moldow's entry.  
The Danish final take place on the 8th of March, which is quite a bit later than the usual January. At a press conference on the 17th of February the press can meet the participants and hear snippets from the ten entries. 
You might also like to read: 
Norwegian candidates for MGP 2014 presented today
Copenhagen plans for Eurovision 2014 further developed
Louise Wolff and Jacob Riising to host Dansk Melodi Grand Prix 2014