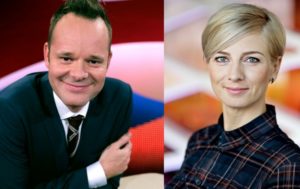 Danish broadcaster today announced the two hosts that will guide the viewers through the national selection Dansk Melodi Grand Prix on the 8th of March. The two very experienced hosts Louise Wolff and Jacob Riising have gotten the task. 
It didn't come as any big surprise that DR has chosen Louise Wolff and Jacob Riising to host Dansk Melodi Grand Prix 2014. They are both quite experienced when it comes to family entertainment programmes like a national final.
Louise Wolff hosted the Danish final in 2012 and 2013. The first time, where the show was held in Aalborg, together with Emil Thorup. Last year in Boxen, Herning, she had two females next to her; Sofie Lassen-Kahlke and Lise Rønne.
Jacob Riising comes from DMG, the Danish junior show. He has hosted it a total of five times (2005, 2008, 2009, 2012 and 2013) and once also the Nordic Junior show, that was in 2008. 
The 2014 Dansk Melodi Grand Prix will be held in Odense, in the middle of the country, on Saturday the 8th of March. A week later the same arena will host the Danish junior final. The participants for Melodi Grand Prix are yet to be presented, but the other day a Danish tabloid magazine, Se & Hør, claimed danser and singer Sonny Fredie-Pedersen to have been given a wildcard by DR. Whether that holds to be true or not, time will tell. 
You might also like to read: 
– Does the Junior Eurovision Song Contest have a future?
– Malta: Ira Losco & Gianluca as possible hosts for national selection