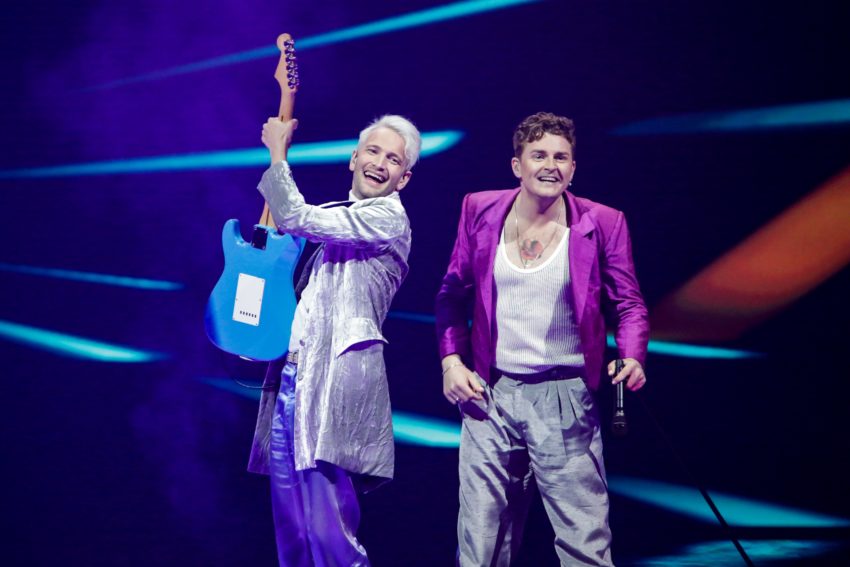 Fyr og Flamme represented Denmark at the 2021 Eurovision Song Contest. Their first heat 'Menneskeforbruger' from last summer became a massive hit in Denmark. With this one, the band secured themselves a big fanbase.

The story about Fyr og Flamme started several years ago when Laurits Emanuel and Jesper Groth met, and yet it just started at the end of the summer 2020 when they released their first single Menneskeforbruger which translates to maneater. Just like their other songs, Menneskeforbruger is written by Laurits Emanuel.
Fyr og Flamme had read the market just right. There's a big interest in the 1970's and 80's vibes with catchy songs everyone can sing a long to. Menneskeforbruger topped the charts, and it became a big radio hit. The slogan, the band uses 'Teenage idols your parents can understand' is spot on. They are popular with the younger generation and their parents. TV viewers across Europe did understand it too as they placed them and their Eurovision entry 7th in the semi-final. Unfortunately, the juries didn't – and they pulled the combine result down to an 11th place, just outside the ten qualifiers.
Menneskeforbruger – opinions from fans
In order to find out what Eurovision fans think of this song from Fyr og Flamme, we asked our Eurovision Fan Panel. It includes team members as well as fans from all over the world.
🇬🇧 Steve P. – As someone who believes the 80s was by far the best era musically, I loved the song these boys travelled to Rotterdam with. Their failure to qualify for the final will forever remain a mystery. This particular song starts off as if it's introducing a murder mystery, leaving me intrigued as to what direction it was going to take. How relieved I was when the familiar 80s vibe I love soon came to the fore and refused to go away. I shall have to download this; one listen isn't enough!
🇩🇰 Charlotte J. – I really love this one. It's catchy, and I can't help but singing a long to the chorus. This is my childhood's music. I am pretty much taken straight back to the 1980s where Laban and Kirsten & Søren (Hot Eyes) filled my mind, and my cassette player. Growing up with this music, it's so nice to have it back again. I have a lot of respect for these guys, and I really hope they enjoy this journey they are on now. I am with them as long as this journey lasts – and next time, a woman treats Jesper as bad as he sings about in this song, I am ready with a hug.
🇦🇺 Craig M. – I enjoy listening to other songs from Eurovision artists, and this song is really wonderful. In the YouTube video, it looked like he was really feeling when he was singing, so I looked up the English lyrics, and wow!! Whoever this song is about is not a nice person – playing with his heart, getting their claws into another man, leading him on, and wasting his time. The song translates to "Maneater" in English, and the lyrics are just incredible. I love this song WAY more than their Eurovision entry.
🇬🇷 🇬🇧 Theo V. – I listen to Danish radio from time to time and this really stood out. I had hoped that they would get to represent Denmark at Eurovision. However, Menneskeforbruger has an edgier 1980s idiosyncrasy compared to the jolliness of Øve Os På Hinanden. In this sense, a song more like the former might have been a better choice for this year's Eurovision. In any case, I personally really like Fyr og Flamme and hope they will try again like they have 'threatened' they will!
🇳🇱 Vica K. – I like this song. It is really catchy just like Øve Os På Hinanden. But they are still different and don't sound the same. I like when artist can do that. And Danish is a beautiful language to listen to. I do prefer Øve Os På Hinanden because it is more cheerful. But I can listen to this song on repeat.
🇨🇴 🇫🇮 Alvaro S. – Fyr og Flamme keep the same visual identity that the European audience get to know in Rotterdam. After watching this music video one may think this was really an old videotape from an unknown band from the 80s. Would this be a successful entry in Eurovision? I really doubt it. I mean, their song was more accessible to the general audience than this song and still did not do well with the jury.
🇩🇰 Liza P. – When I listen to Menneskeforbruger, I think of early Italian 80'ies pop – like Dolce Vita by Ryan Paris. I think that the verse is a bit weak, but the chorus is good. However, I don't think that it is nearly as good as the Eurovision entry. Maybe because Øve Os På Hinanden is more festive and sounds better produced.
However, I love how they have re-vamped the 80'ies sound, and I hope there will be much more in the future.
🇧🇦 🇷🇸 Miljan T. – Believe it or not, but I actually have this on my Spotify list. One day, I asked the app to suggest similar songs to their Eurovision entry, and among other things, this one came up. I fell in love with it the same instant – together with some songs by bands like Laban, who obviously were an inspiration for them. Expectedly, this sounds like straight from the 80s, but with better production. The first line of the chorus sounds a bit like You Bring On The Sun by Londonbeat (from 1992, but let's call that an epilogue for the 80s), but that's nothing bad, on the contrary. Fyr & Flamme give their homage to the great melodies of our childhood memories and summer in a much simpler time.
🇬🇧 Michael O. – This is slightly less annoying than their Eurovision entry, and they seem to be taking this song a little More seriously. There was lots of music like this around in the seventies, and it wouldn't have done well back then. If they want to pay tribute to the eighties they need to try to be a little less tacky.
🇩🇪 Andrew G. – As a child of the 80s. I am loving Fyr & Flamme. I find Menneskeforbruger sounds like classy 80s pop track. And just as brilliant as the Pet Shop Boys or Erasure in their heyday. Love the old school arrangement and that they sing in Danish. Due to their win in DMGP (The Danish national final), I have delved into their music catalogue. And will keep up with what they have up their sleeves. One of my highlights of Eurovision 2021 will always be Fyr & Flamme. Brings back Eurovision vibes from the 80s and 90s.
🇳🇱 🇩🇰 Wouter V. – They really went all-in on the 80s vibe for both the song and the music video. It sounds and looks in every way like something you could expect to see on a Danish equivalent of MTV in 1986. The song is catchy and fun, but I'm not a fan. It's too mild to my taste, I'm missing an edge.
🇨🇿 Josef S. – First, let me thank Charlotte for choosing this song. Even though I am not a fan of this Danish duo, I really like this song. Much more than their Eurovision entry which I still find a little bit annoying. This one is even musically not only a usual retro song, but the melody is quite interesting, so I enjoy it a lot. Thank you! 👍
Enjoy Fyr og Flamme's Menneskeforbruger in the embedded video. Below the video, you can read more about them.
Fyr og Flamme – a mini biography
A musician and an actor with the same idea about catchy music with vibes back to the 1970s and '80's, and an appeal that spreads to several generations, that's Fyr og Flamme.
This duo consist of musician Laurits Emanuel and actor Jesper Groth on vocal. In the summer 2020, they broke through with their debut single Menneskeforbruger, which was quickly followed by Kamæleon. Both became hits. When they won Dansk Melodi Grand Prix 2021 with the song Øve Os På Hinanden, they had another hit on their CV. In fact, that song became the first Danish Eurovision entry since 2012 to top the charts before the Eurovision Song Contest.
Laurits released a solo album six years ago, and Jesper is a well known actor known from among others the TV series Sygeplejeskolen.
At the 2021 Eurovision Song Contest, they finished 11th in the semi-final, and as such just outside the list of the 10 qualifiers. Had it been televoting only, they would have qualified as they placed them 7th.