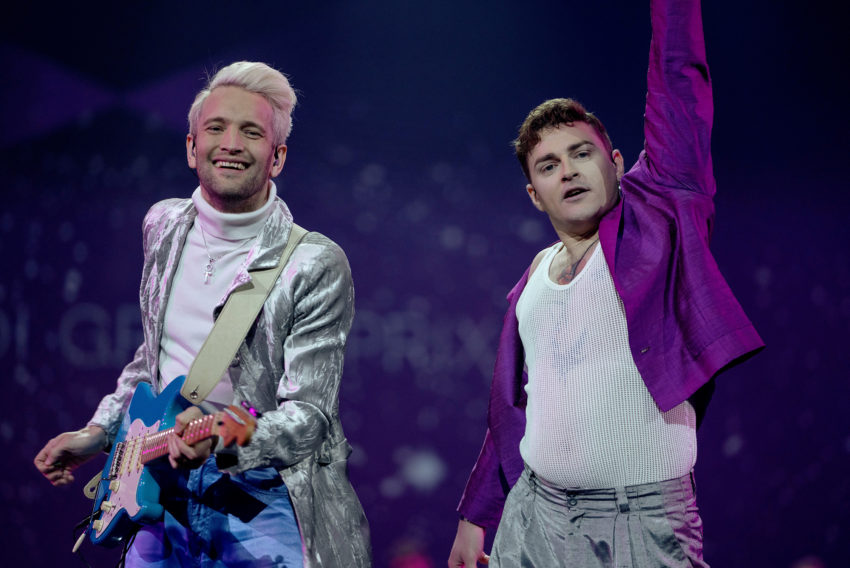 This year's Danish entry 'Øve Os På Hinanden' by Fyr & Flamme is popular in their home country. It tops the Danish single chart, and that's quite unusual for Melodi Grand Prix winners to do so.
Do you remember Soluna Samay's Should've Known Better from 2012? It finished 23rd at the Eurovision Song Contest. Since then Denmark have scored much better results at Eurovision, but none of the entries afterwards have reached the absolute top position on the single chart before Eurovision. Emmelie de Forest's 2013 Eurovison winner did reach the first position too, but it wasn't until after Eurovision.
Just like one was getting use to Denmark selecting entries that would not become hits in their own country, Fyr & Flamme changed that. Their Melodi Grand Prix winner – and Eurovision 2021 entry – Øve Os På Hinanden is topping the Danish single top 40 now. The band consisting of Jesper Groth and Laurits Emanuel is popular in Denmark. Their two previous singles Menneskeforbruger and Kamæleon also became big hits in the country. As such, it wasn't really a surprise that they won the Dansk Melodi Grand Prix with the catchy 1980s pop song, which title translates to 'Practice on each other'.
Below you can see a list of how the recent Danish Eurovision entries did in the chart in their home country.
Dansk Melodi Grand Prix winners on the single chart
2020: Ben & Tan – Yes topped as #30
2019: Leonora – Love Is Forever topped as #16
2018: Rasmussen – Higher Ground topped as #9
2017: Anja – Where I Am didn't reach the single top 40
2016: Lighthouse X – Soldiers Of Love topped as #12
2015: Anti Social Media – The Way You Are topped as #38
2014: Basim –Cliché Love Song topped as #2
2013: Emmelie de Forest – Only Teardrops topped as #1 – but not until after she won Eurovision
2012: Soluna Samay – Should've Known Better topped as #1
2011: A Friend In London – New Tomorrow topped as #2
Fyr & Flamme will be the first Danish act to sing entirely in Danish at the Eurovision Song Contest since 1997. They will compete in the second semi-final. Currently, the bookmakers do not believe they will qualify for the final. But let's wait and see. Anyone in the mood for a good party with clear musical hints to the 1980s will find joy in Øve Os På Hinanden.
In the videos below you can first watch our winner interview with Fyr & Flamme from the day after the Danish final. After that, you find their performance from the Dansk Melodi Grand Prix.
This is the performance of Øve Os På Hinanden which made Fyr & Flamme victorious in the Danish final. Can they prove the bookmakers wrong and deliver a surprise at the 2021 Eurovision Song Contest?
Source for historical chart positions: DR.dk