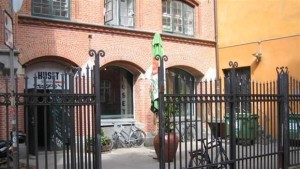 The location for Euroclub was already known, and now DR has also announced where Euro Fan Café will be held. More details about the shuttle boat has also been presented, and as such it is clear that Copenhagen is well on the way to be ready to host this year's Eurovision Song Contest.
Today the Danish broadcaster, DR, revealed that Huset KBH will be hosting Euro Fan Café, which will function as a get together place for people during the two Eurovision Song Contest weeks. It has several stages and as such is ideal for all sorts of events taking place at the same time. It is located 200 meters from Euro Fan Mile which will start at Rådhuspladsen and end at Refshaleøen where this year's Eurovision arena, B & W hallerne, are located.
Previously it was announced that the Euro Club, where the press, the special accreditated fans and the participants meet to relaxe with music and drinks, will be held at the nightclub Vega. There is aproximately three kilometres between Vega and Huset KBH, as it is a bit further away from the downtown centre of Copenhagen.
At a press conference held on the 2nd of September 2013 the plans regarding Copenhagen as host city was announced. One of the ideas presented here was the shuttle boat, and DR also announced today that there will be boats sailing between Nyhavn and Refshaleøen up to and after all the three live shows and also the dress rehearsals. This is mainly targeted towards the audience so that fewer of them will take the car to B & W hallerne. There are also plans of expanding the existing waterline 9A, which ends at Operaen, to Refshaleøen. If that will be in function for the two Eurovision weeks it can benefit the press and delegations staying close to the water.
You might also want to read:
Eurovision 2014: Allocation draw result  
Further details regarding Eurovision 2014 revealed at press conference – From September 2013