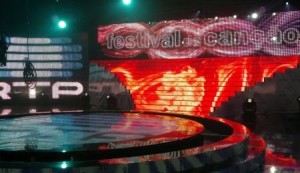 The Portuguese broadcaster RTP has confirmed this afternoon the names of the ten artists and their song titles for the upcoming national selection, Festival da Canção. Among them there are some familiar faces such as Rui Andrade, Catarina Pereira and Carla Ribero.
The authors who had been invited by RTP to submit their songs had the responsibility of choosing the artists they wanted to perform their potential entries. Their names were announced a few days ago but today it has been reported that there are some small changes between the previously confirmed names with Tiago Dias being replaced by Hélder Godinho and Vítor Antunes by Miguel Ferrador.
Among the artists announced today we find some well-known names such as Rui Andrade who has participated in the Portuguese national selection back in 2011 and 2012 finishing third on both occasions and Catarina Pereira who was the runner-up of the Festival da Canção four years ago and now she is back to the national selection with a song composed by the same authors of her entry from 2010, Canta Por Mim. Another candidate, Carla Ribero, has already performed on a Eurovision stage since she was one of the backing singers for Filipa Sousa in Baku.
This afternoon the draw to determine the running order of the semi-final has also taken place. Below you can see the names of the ten hopefuls and the titles of their songs listed in running order:
1. Catarina Pereira – Mea Culpa (It's my fault) (T: Carlos Coelho / M: Andrej Babic)
2. Ivo Lucas – Eu Vou (I go) (T & M: João Só)
3. Zana – Nas Asas Da Sorte (On the wings of luck) (T: Paulo Abreu Lima / M: Jan Van Dijck)
4. Carla Ribeiro – Mais Para Dar (More to give) (T: Marina Ferraz / M: Hélder Godinho)
5. Ricardo Afonso – Emoção (Emotions) (T: Ricardo Afonso / M: Ricardo Afonso, Luis Fernando and Rui Fingers)
6. Rui Andrade – Ao Teo Encontro (Meeting you) (T: Rui Andrade / M: Marc Paelinck)
7. Lara Afonso – O Teu Segredo (Your secret) (T & M: João Matos and Miguel Ferrador)
8. Raquel Guerra – Sonhos Roubados (Stolen dreams) (T: Nuno Marques da Silva / M: Nuno Feist)
9. Madalena Trabuco – Coração de Filigrana Heart of filigree) (T & M: TóZé Santos)
10. Suzy – Quero Ser Tua ( I want to be yours) (T & M: Emanuel)
The ten candidates will participate at the semi-final to be held on the
8th of March. Only half of them will proceed to the big final which
will take place a week later on the 15th of March.
You might also like to read: