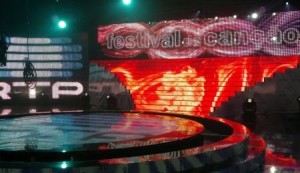 The Portuguese broadcaster RTP has revealed the names of the ten composers invited to write the ten entries that will participate at the upcoming Festival Da Canção. Among them are several known names whose songs have represented different countries in recent editions of the Eurovision Song Contest.
Portugal has unveiled more details about their national selection by announcing the names of the authors who have been invited to pen songs for this year's Festival Da Canção that, as we reported, will consist of two shows, a semi-final, which will be held on the 8th of March, and a final a week later, on the 15th of March. Both live shows will take place at the historic venue Convento do Beato in Lisbon.
Among them one can find some familiar names from previous Portuguese selections such Emanuel, the author of Dança Comigo (2007) or Jan Van Dijck who wrote Há Sempre Alguém in 1990.
The experienced Andrej Babic has also received an invitation from RTP. He is the author of some Eurovision entries like Više Nisam Tvoja (Croatia 2003), Call Me (Bosnia and Herzegovina 2005) or Cvet Z Juga and Love Symphony (Slovenia 2007 and 2009). He is also responsible for memorable Portuguese entries such as Senhora Do Mar (2008) or Vida Minha (2012).
Another well-known composer is Marc Paelinck whose songs have been performed on the Eurovision stage in 2004 for Belgium (1 Life), in 2009 for Malta (What If We) and more recently, at the latest Eurovision Song Contest, in 2013, for Belarus (Solayoh).
Below you can see the complete list of the authors:
Marc Paelinck
Emanuel
Jan Van Dijck
Nuno Feist
Andrej Babic
Tózé Santos
João Matos/Vítor Antunes
Ricardo Afonso/Luis Fernando/Rui Fingers
Tiago Pais Dias
João Só
Now, each composer must find an artist to perform their songs in a bid to represent Portugal at the 2014 Eurovision Song Contest.
You might also like to read: