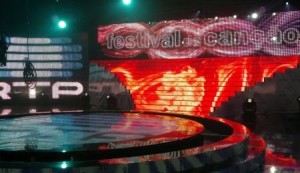 The traditional Portuguese selection show Festival da Canção is back, but it has been slightly revamped. There won't be jurors, the audience will be solely responsible for choosing the winner, and it will run over two evenings on the 8th and the 15th of March.
After a year's break, as we reported, Portugal returns to the Eurovision Song Contest and today it was announced that the next Portuguese representative will be picked, out of tradition, through the Festival da Canção. But there are some pretty significant changes.
The Portuguese broadcaster RTP has revealed that this year's edition of the Festival da Canção will consist of two shows: a semi final to be held on the 8th of March and a final, which will take place a week later, on the 15th of March. Both shows will be a tribute to the Eurovision Song Contest on the 50th anniversary of the first participation of the country.
Another new feature is the elimination of the jurors. The final choice of the act that will represent Portugal in Copenhagen will be entirely up to the Portuguese audience by televoting. Ten songs will compete in the semi final and only five of them, those that receive the most votes from the audience, will proceed to the final show. The televoting will be open during the week between the semi and the final and the audience will be able to vote for their favourites among the remaining five finalist acts.
RTP has also called to all the composers and authors interested to submit their songs. The selection process is open to foreign composers, but all the songs must be sung in Portuguese language. The authors of the songs will be able to choose the artist they want to perform their songs.
You might also like to read: