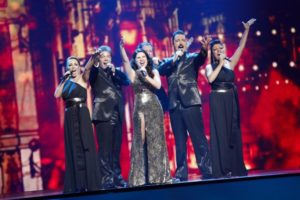 RTP has confirmed that Portugal will take part at the forthcoming Eurovision Song Contest after taking a break last year due to financial reasons. By the end of the month it will be decided whether the broadcaster will organize a national final or if they will select the artist and the song internally.
Today, and after several rumors that have been surfacing in recent weeks, it has been confirmed one of the most awaited news for the fans of the Eurovision Song Contest: Portugal's national broadcaster RTP has announced its comeback. The news came through their official website where they stated that José Poiares, Head of Delegation of RTP and responsible for the project, had confirmed that the Portuguese participation was guaranteed.
RTP decided not to participate in Malmö because of financial difficulties, but happily the Portuguese broadcaster will be able to participate at next year's competition.
The news have been also announced on Twitter by Eurovision Executive Producer Jon Ola Sand who stated: "We usually keep quiet until January but just want to share our excitement about confirmation from Portugal for Eurovision 2014!"
Portugal debuted at the Eurovision Song Contest in 1964 having participated a total of 45 times. It has never won the competition with never even breaking into the Top, 5 achieving its best placing in 1996 with Lucia Moniz who ended sixth on the scoreboard. The last time that Portugal participated at the Eurovision Song Contest was back in 2012 with Filipa Sousa and her entry Vida Minha. She did not manage to get through to the final finishing in thirteenth place at the second semi-final.
You can watch her performance in our 3D video below. If you don't yet have the suitable equipment this can easily be turned off in the player for regular 2D viewing.
You may also like to read: