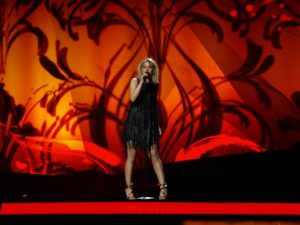 The French broadcaster has abandoned the idea of choosing the Eurovision representative internally and they have decided that the audience must be involved in all phases of the selection process. A Eurovision fan will be among the experts that will make the selection in the first stage and a national final will be held where the audience has the final say.
The French selection for the 2014 Eurovision Song Contest is on its way. The broadcaster France 3 has today revealed some details about how will be the selection process to pick their representative for Copenhagen and there are many changes compared to recent years.
On November 26th, an expert committee consisting of music professionals will have the responsibility to choose three songs out of all the entries submitted for the selection. One of the novelties is that a viewer of the French broadcaster French 3 or either a listener of France Bleu will be able to be a part of this selection committee that will be in charge of choosing the three best acts among all the candidates seeking election. Those interested in joining the team and eager to represent the French audience in the first stage of the selection process all they have to do is answer correctly a series of three questions related to the Eurovision Song Contest which will be published on France 3 Eurovision website. The lucky one will be determined through a random drawing among all those having answered correctly the questionnaire.
These three pre-selected acts will be performed live at the national final where they will fight to get the French ticket to Copenhagen. The exact date of the televised national final is not known yet, but it has been announced that the final choice will be made during the show called Les Chansons d'Abord which is aired every Sunday and which is hosted by Natasha St-Pier, the Canadian singer who represented France in 2001, when the Eurovision Song Contest was also held in Copenhagen, with the song Je N'ai Que Mon Âme.
After many years, French viewers will have a say and the opportunity to vote for their favourite act to become the French Eurovision entrant for 2014. The final decision will be on the hands of the audience who will be able
to vote during this special programme for their favourite song.
The last time that France held a national final to select their Eurovision representative was back in 2007 when they picked Les Fatals Picards with the song L'amour À La Française.
In 2013, Amandine Bourgeois represented France with her song L'enfer Et Moi. You can watch her performance in our 3D video below. If you don't yet have the suitable equipment this can easily be turned off in the player for regular 2D viewing.
You might also like to read: