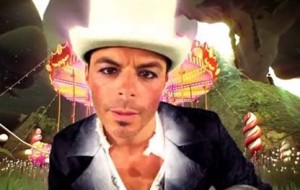 Singer, dancer and actor, Nuno Resende, who represented Belgium at the 2005 Eurovision Song Contest with Le Grand Soir, will be part of the cast in a new musical. Pinocchio will be premiered at the Théâtre de Paris on the 19th of October. After that, it will go on tour throughout France.
After finishing 3rd in the popular talent show The Voice in France earlier this year, Nuno Resende has had a busy summer touring France in a series of concerts along with the other finalists of the competition and he has also performed in many festivals.
Now, Nuno is back to the musical shows where he has been working in recent years as he has previously starred in other shows including Romeo and Juliet, Beauty and the Beast, Aladdin and Grease among many others. This time, Nuno will be playing the role of Maître Grigri, better known
as Jiminy Cricket, who is the comical and wise partner who accompanies
Pinocchio on his adventures after having been appointed by the Blue
Fairy to serve as Pinocchio's conscience.
The musical of Pinocchio is based on the Disney film which itself was based on the book by Carlo Collodi and it tells the story of an old wood-carver named Geppetto who carves a wooden puppet named Pinocchio who is brought to live by the Blue Fairy who tells him that the puppet can become a real child if he proves himself to be brave, truthful and unselfish. Thus begins the puppet's adventure to become a real boy which involves many encounters with a host of characters.
The show has a great cast consisting of nine artists, singers, actors and dancers who come together to make the audience enjoy with the adventures of the little wooden puppet who tries to become a real boy. It is an exciting, fun and educational musical show filled with large doses of comedy, laughter and emotions.
After a series of performances in Paris, the musical will go on tour. You can check out the tour schedule below:
From October 19th to November 3th: Le Théâtre de Paris, Paris
December 7th: Limoges
December 8th: Bordeaux
December 15th: Chambéry
From December 21st to December 31st: Le Théâtre de Paris, Paris
January 26th: Dijon
January 29th: Vinci
February 2nd: Saint-Etienne
February 5th: Lille
February 8th: Montbéliard
February 9th: Mâcon
February 15th: Aix-en-Provence
February 16th: La Grande Motte
February 23rd: Compiègne
In the video below you can watch a teaser of the show.
You might also like to read: