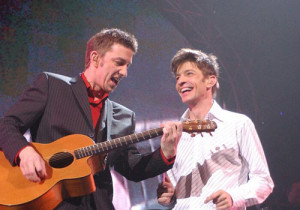 Clouseau experienced a European breakthrough with the huge hit Close Encounters following a 16th placing for Belgium at the 1991 contest with Geef Het Op. The group went from strength to strength in their home country, but things came to a rather abrupt stop in 2009. Now the duo are back, much to the delight of fans.
The three musketeers suddenly became a duo with the departure of Bob Savenberg back in 1996. Their popularity wasn't affected however, as brothers Kris and Koen Wauters kept on dishing up the hits. The duo also enjoyed considerable success in the neighbouring Netherlands, but in 2009, an announcement was made that Clouseau were to take an indefinite break following the tour De Laatste Ronde the same year.
The many fans of the duo were certainly delighted to learn that the twosome are back in full force, with both a new single and a new album. The single Vliegtuig (Airplane) was released today, and is the first single release in three years, following their hit Gek Op You (Crazy for You) back in 2010. Vliegtuig is the lead single from their latest album, the self titled Clouseau, which has been scheduled for release on the 22nd of November.
On speaking to Belgian daily Het Laatste Nieuws, the brothers stated that "We can't wait to go on tour again" and they describe their new single Vliegtuig as "a brand new direction for Clouseau, and a song that once you've got to know it, there's no escape." But fans shouldn't worry, as the rest of their album is packed with songs featuring their trademark sound. Clouseau, who had sizeable hits with the likes of Daar Gaat Ze (There She Goes), Passie (Passion) and Zie Me Graag (Tell Me) told of how they "wanted to do something completely different, but in the end we finally decided to stick to what we do best."
Whether their latest album release will involve some kind of PR stunt like their last one, Zij aan Zij (Side by Side) back in 2009, remains to be seen. Their last release involved the brothers travelling the length and breadth of Belgium by train to promote the album – not an easy task, by any means.  Until the release of their newest album, you can enjoy Vliegtuig in the meantime below.
You might also like to read: