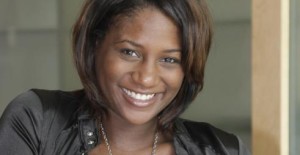 Two time Dutch Eurovision entrant Edsilia Rombley gave birth to her second daughter last week and is now planning on taking things easy to enjoy motherhood before her tour kicks off in March next year.
Dutch artist Edsilia Rombley is probably feeling just like her 2007 entry On Top of The World, following the birth of her second daughter last week. The little girl has been given the name Aisa-Lynn Rosa Oosterhuis and both mother and daughter are doing fine. Father of the little girl and music producer Tjeerd Oosterhuis was also recently at an press conference where an announcement was made of a very special concert, scheduled to take place on the 15th of February. The Ziggo Dome in Amsterdam will be the venue for the spectacle and an evening filled with soul and rhythm is in store as some of the most popular names of the Dutch entertainment industry pool their talents. Edsilia Rombley will be joined on stage by another former Dutch Eurovision participant, Glennis Grace, alongside singers Trijntje Oosterhuis and Berget Lewis as well as Dutch saxophone sensation Candy Dulfer. Anyone remember her global hit from 1989 Lily Was Here? The collective will sing under the name Ladies of Soul, serving an irresistible string of soul classics, accompanied by a huge live band.
Edsilia has also scheduled a tour for early 2014 under the name Sweet Soul Music, the title of her last studio album released back in April. The tour will consist of nine dates in total, kicking off on the 18th of March in IJsselstein and coming to a close on the 9th of May in Amersfoort. The complete list of tour dates is as follows:
19.03.14 Fulcotheater, IJsselstein
22.03.14 Agora Theater, Lelystad
27.03.14 Theater Het Kruispunt, Barendrecht
28.03.14 Fidei Et Arti, Oudenbosch
19.04.14 Schouwburg de Kampanje, Den Helder
01.05.14 Stadsgehoorzaal Vlaardingen, Vlaardingen
03.05.14 Parktheater, Eindhoven
05.05.14 De Kleine Komedie, Amsterdam
09.05.14 De Flint, Amerfoort
Tickets are on sale and cost between €10,00 and €26,00, depending on the category and can be purchased by clicking on the name of each venue on Edsilia's website.
You might also like to read: