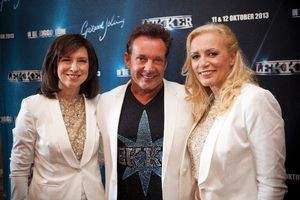 Sisters Alice and Caren had enjoyed a lengthy career before representing their native Netherlands at the 1990 Eurovision Song Contest but by the mid nineties the group had split as the result of a bitter court battle. The sisters seem to have buried the hatchet, as it was recently revealed that they are to reform in the autumn.
Sisters Alice May and Caren Wood, otherwise known as the duo Maywood enjoyed immense success in the Netherlands in the late seventies and early eighties. They scored massive hits such as the number one single Late At Night, followed by others such as Give Me Back My Love, Rio and Star. Their commercial success failed to translate into success on the scoreboard, when they represented the Netherlands with Ik Wil Alles Met Je Delen, trailing in to a fifteenth place in Zagreb. Their disappointing result may well have been the writing on the wall for the duo, as a few years later, Maywood was history.
Both Alice and Caren attempted to launch solo careers, failing miserably. At one point, there was a faint glimmer of hope that the sisters would reunite, but that was quickly extinguished when both sisters were embroiled in a court case in 1996, whereby Alice was awarded the sole right to use the former Maywood name. Caren refused to accept the verdict, but was forced to do so in 1999, following another bitter round in the courtroom, providing column after column of tabloid fodder in the press.
In 2004, fans' hopes were raised once again, when it was announced in that the sisters were to perform together again, but any attempts at reconciliation were quashed, when Alice decided to look for another singer to take Caren's place in Maywood. But now, all the bad blood between the two seems to have been put aside, with the recent announcement that Caren and Alice are to perform during the Gerard Joling concert Lekker, scheduled to take place at the Ziggo Dome on the 11th and 12th of October. Maywood are just one of a number of guest artists scheduled to make an appearance, the names of which are yet to be confirmed.
You might also like to read: