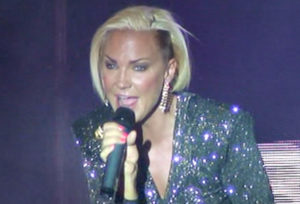 Last week the Pride Week took place in Spain. On this occasion many events which involved a large number of artists related to the Eurovision Song Contest were held. Among them were Paloma San Basilio who gave the opening speech and Kate Ryan who performed some of her greatest hits.
The Madrid Pride event has become a major date in Spanish calendars. This year, the pride week ran from the 3rd to 7th July and the heart of Madrid was full of events filling the city with a fantastic party atmosphere.
Paloma San Basilio, who represented Spain at the 1985 Eurovision Song Contest, gave the opening speech at the popular Chueca square. She is now immersed in her farewell tour and she took the opportunity to thank her fans for all the support has received along her more than forty-year career. In her emotional speech she said that "everyone should be free to decide which shoes you want to use to walk through life" and she sang a piece of her song called Juntos.
Right after Paloma's speech, Chenoa took the stage. She is well known for participating at the first edition of the talent show Operación Triunfo and she was also one of the backing singers for Rosa at the 2002 Eurovision Song Contest. She presented her new single entitled Quinta Dimensión / Life's An Equation and announced the release of her new album in September.
On Thursday, musical events moved to Callao square and among the artists there were some known faces from the Spanish national selections such as Malena Gracia who was among the candidates to represent Spain at the Eurovision Song Contest for three consecutive years in 2008, 2009 and 2010 and Rebeca who participated in the national selection in 2007 and 2008 being one of the authors of the song I Love You Mi Vida performed by the boy band D'Nash at the 2007 Eurovision.
Friday was probably the big day in terms of musical events and quite a lot of the artists who took the stage were well known for the Eurovision fans that abounded in Callao square. The show started at 8pm and the first act was Salva Ortega who was among the finalists to represent Spain in 2009 with the song Lujuria. He performed three songs from his new album entitled Solos Tú Y Yo and a version of Jon Secada's hit Otro Día Más Sin Verte. Next artists on stage were Aridian and Roko who performed each their own versions of Loreen's winning song Euphoria. Another one of the artists to perform was Paco Arrojo, who reached the semifinal round of Misión Eurovisión in 2007. He performed some great versions of some popular songs but the peak of his performance arrived when he sang his new single titled Eso Es Amar, an emotional ballad composed for him by David Bisbal (who was one of the candidates to represent Spain at Eurovision in 2002 and also one of Rosa's backing singers). Another familiar face was Javi Mota who presented his candidacy to represent Spain in 2010 with Amarte Hoy and who sang the first single of his new album, María, and two versions of well-known hits from Mecano and Camilo Sesto.
Shortly after these performances it was time for the choice of this year's Mr Gay Spain and it was more than a beauty contest. It was a great show which featured the performance of Belgium's Kate Ryan. She sang live some of her dance hits such as Libertine, Babacar, Voyage Voyage, Désenchantée or Ella Elle L'a, her new single Light In The Dark and also her 2006 Eurovision entry Je T'adore.
Below you can find videos from the performances of Kate Ryan, Salva Ortega, Javi Molta and Paco Arrojo: