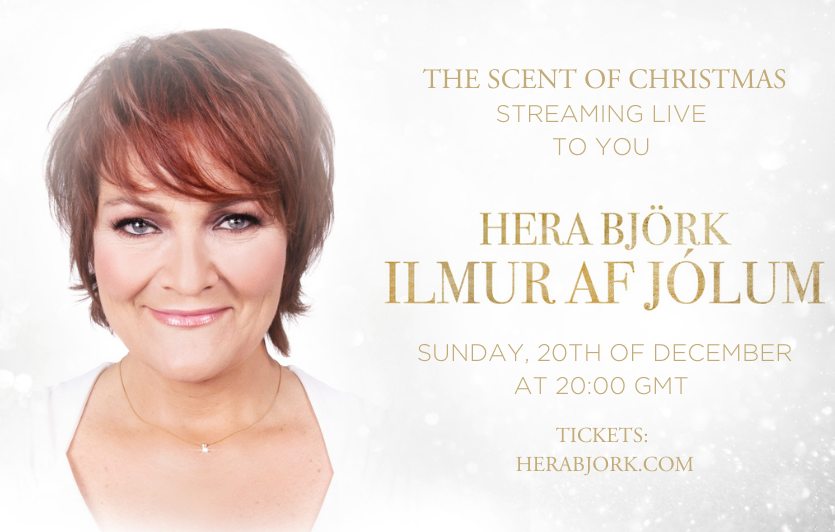 Icelandic Eurovision star Hera Björk is ready with a special Christmas presents to her fans. A cancelled concert in the capital of Iceland led to tonight's online Christmas concert. Fans around the world will now be able to attend.
Former Icelandic representative Hera Björk is facing the same as many artists: cancelled events.Her planned 20th anniversary Christmas Concert The Scent of Christmas in Hallgrímskirkja in Reykjavik was sadly cancelled due to Covid-19 pandemic.
This mishap led Hera, who did not want to disappoint her fans, to organise an online concert instead. The concert will take place tonight on 20:00 Icelandic time (21:00 CET). The concert is scheduled to last two hours and tickets are available at a good price (€16 / £14 / $19)
I very much look forward to stream and spread THE SCENT OF CHRISTMAS your way and I sincerely hope you will be able to take a moment in time and enjoy with me and my crew, apart yet together.

I absolutely wanted to let you know about this online event because so many of you have been utterly amazing in sending me and my family greetings and love throughout this epidemic. With this invitation I want to send some of it right back to you and hope you will be able to join me here on the Internet for an hour of holiday spirit and love….the Icelandic way!

Hera Björk in a press release
Who is Hera Björk
Hera Björk was born on the 29th of March 1972 in Rejkjavik Iceland. Internationally, she is mostly known for her participation in the Eurovision Song Contest in 2010 as the Icelandic representative with the song Je Ne Sais Quoi. 
She started making music at a very young age, and won her first singing competition at the age of 16 in 1988. She played in various musicals like The Rocky Horror Show, Evita, Little Shop of Horrors and Kiss Me Kate.
Her first Eurovision attempt came in 2007 where she competed in the Icelandic national final. In 2009, she took part in the Danish national final Melodi Grand Prix where she placed second with the fan favourite entry Someday. It might not make it to Eurovision, but it did win the OGAE Second Chance Contest 2009. The following year, she then finally made it for Iceland. A comeback was tried in 2019 where she participated once again in the Icelandic national selection with the power ballad, co – written by herself, Moving On. 
Besides her own entries, she has served as vocal coach and backing vocalist for the Icelandic Eurovision participants in 2008, 2009 and 2015.