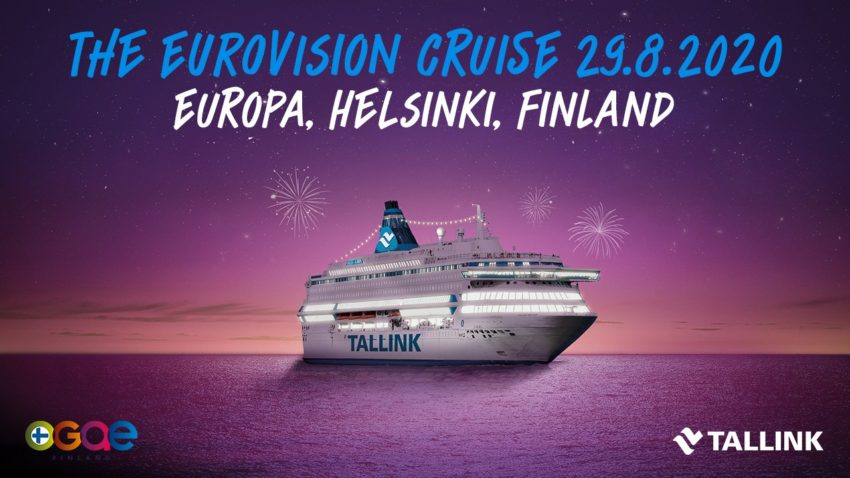 The Eurovision Cruise is sailing again from Helsinki to Tallinn. The eleventh edition of the Eurovision Cruise is taking place now. For weeks the event was in doubt because of the ongoing Covid-19 pandemic. Nevertheless, fans all over Europe will tonight enjoy a Eurovision inspired party and a concert with Eurovision fan favourite artists from Finland.
The Eurovision Cruise became one of the most awaited events for Eurovision fans. The event is organised by OGAE Finland. However, for weeks it was uncertain whether this year's cruise could go ahead or not. Fortunately, the show will go on, although restrictions are still in place during the event to prevent the spread of Coronavirus. For instance, the participants ought to observe sanitary measures including keeping a safe distance between each other during the whole cruise. The classic fan photo session with the Eurovision contestants will not take place this year because of the current circumstances.
Tonight, at 18:30 we will be onboard of Tallink m/s Silja Europa reunited with fans from all over Europe. Unfortunately, not all fans will make it. There are still travelling restrictions from and to Finland which affected Eurovision fans who had bought their tickets for the event but were not able to travel. For those who could could make it before the cruise departs however, the pre-party will start way earlier.
Eurovision Cruise Schedule
The official Eurovision Cruise pre-party took place in Helsinki in the Hercules club at 10 PM. Today, from 11 to 16 a second pre-party will take place. DJ Weneri will host the event playing Eurovision music.
The main events of the Eurovision Cruise will take place at the Starlight nightclub. The fans can start warming up from 19:15 to 21:15 with a Eurovision karaoke. However, the Eurovision Cruise concert will not start until 21. This is the headline for the 2020 Eurovision Cruise:
Catharina Zülhke: She participated in this year's Finnish national final, UMK with her song Eternity.
Erika Vikman: Erika Vikman came in second place at the 2020 UMK with her song Cicciolina. Her song will represent Finland at the 2020 OGAE Second Chance contest.
Saara Aalto: Saara Aalto represented Finland at the Eurovision Song Contest 2018 with the song Monsters.
The Eurovision concert will end at 00:30, but for those who want to continue enjoying the night, the Eurovision Disco party will continue until next morning at 06.00.
Eurovision fans will be able to spend a few hours in Tallinn, Estonia before the cruise departs back to Helsinki at 12:30 PM Sunday.