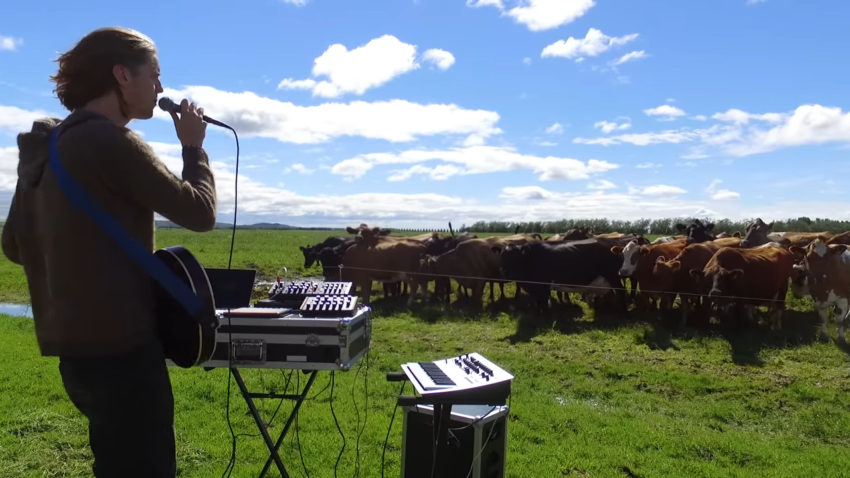 Daði Freyr and his band Gagnamagnið represented Iceland at the 2021 Eurovision Song Contest. He has been active for years releasing songs in both Icelandic and English. Today, we take a closer look at one of those in his native language.
In 2018, Daði Freyr Pétursson released the song Skiptir Ekki Máli. The title of the song translates to 'Doesn't matter'. It's the eight and last track on the album with the title '& Co' which came out in 2019.
This song from Daði Freyr is true to the original style we know from the Icelandic musician. The video is no exception either. When he performs a concert for the cows, you are wondering if he is serious or joking – and that's what makes him so original.
Skiptir Dkki Máli – opinions from fans
In order to find out what Eurovision fans think of this song from Daði Freyr, we asked our Eurovision Fan Panel. It includes team members as well as fans from all over the world.
🇩🇰 Liza P. – I think the cows liked the song more than I did. The sound is very recognizable and as such the song is fine, but I still prefer the 2020 entry. The lyrics for Think About Things is simply brilliant. 10 Years is also fine – but Skiptir Ekki Máli doesn't really take on the same way. And not because it's in Icelandic, because I love the Icelandic language. And I love Daði's approach to every song and how he introduces them. This is just a weaker song compared to some of the others.
🇮🇹 🇬🇧 Maurizio V. – I love Daði Freyr, I love his voice, his sound, his style… basically everything! This song is no exception: it incorporates some electronic sounds that remind me of 90s video games. Definitely going to add this to my playlist. Such a bop!
🇩🇪 Pascal W. – I love everything about Daði. His voice has a really nice tone and his music is always simple and very fun without sounding amateurish. This song is no exception. The acapella intro and being sung in Icelandic gives the song a very different vibe. I really like it.
🇩🇰 Charlotte J. – I like this one. I like the Icelandic language, the intro and the chorus. It's not his best work, but I do enjoy it. This video is quite enjoyable too. I prefer this to his 2021 entry 10 Years, but I prefer what should have been Iceland's first win in 2020 Think About Things. I have opened my eyes to Daði Freyr and is curious as to what comes next.
🇨🇿 Josef S. – I originally wasn't a fan of Daði Freyr, but it somehow changed few weeks after he won Söngvakeppnin 2020 with Think About Things. I then find the charm in Daði's unique voice and his retro-funky style. And I love how his songs are really entertaining, such as this one. The Icelandic language is always nice to hear. I hope we'll get more songs in Icelandic at Eurovision.
🇳🇱 🇩🇰 Wouter V. – It wasn't until I really started to listen to the lyrics of Thinking About Things that I started to like his 2020 song. The same again for 10 Years. Daði Freyr style of music is intriguing, but it doesn't quite have that instant appeal effect on me. To some extent unfortunately for Skiptir Ekki Máli, I really don't understand any Icelandic, so the lyrics don't lift things song to me like his English language material does. But the video is really, really awesome.
🇬🇧 Michael O. – While his music is quite enjoyable, sometimes you can get too much of a good thing. The machine altered voice is starting to get old and this isn't anywhere near as good as his two Eurovision attempts. I probably won't listen to this song ever again.
🇹🇷 Gunec G. – Nice organic life views is the highlight of the video which I really liked. Daði's typical electric disco sound with a cappella vocals is worth listening to. The song is not very different from his two Eurovision songs.
🇳🇱 Jacques H. – I find I'm a bit done with Daði Freyr. It's getting a bit too much of the same and I don't hear any more surprises. Skiptir Ekki Máli is also too much of a monotonous dullness. I just don't want to hear them any more with this style. Re-invent yourself and create something completely new. Wow me!!
Enjoy Daði Freyr's Skiptir Ekki Máli in the embedded video. Below the video, you can read more about him.
Daði Freyr – a mini biography
Born in the Icelandic capital Reykjavík, grew up in Denmark and now lives in Berlin, Germany, Daði Freyr Pétursson is Icelandic, but with mindset inspired from different times in his life, in different countries.
2017 was probably the first time, Eurovision fans got familiar with Daði. He finished second in the Icelandic national selection with the song Is This Love?. Three years later, he returned – and this time to be crowned the winner. Think About Things not only became a hit on Iceland, it was one of the top favourites to win the 2020 Eurovision Song Contest. Unfortunately, the contest was cancelled due to the Pandemic situation. An alternative voting, Eurostream, was held. The song won that – and it's likely, that Coronavirus prevented Iceland from getting it's very first Eurovision win.
Daði Freyr and his band Gagnamagnið were internally selected to represent Iceland at the 2021 Eurovision Song Contest. With the song 10 Years, they finished fourth in the final.
Music came naturally to Daði. His father was a bongo player, and Daði studied piano and bass guitar, alongside practising the drums. In 2011, he started the band RetRoBot, and in 2012, he was selected as Best Electronic Musician of The Year.
Among Eurovision fans, Daði Freyr is much loved for his many cover versions of former Eurovision entries – in various languages.