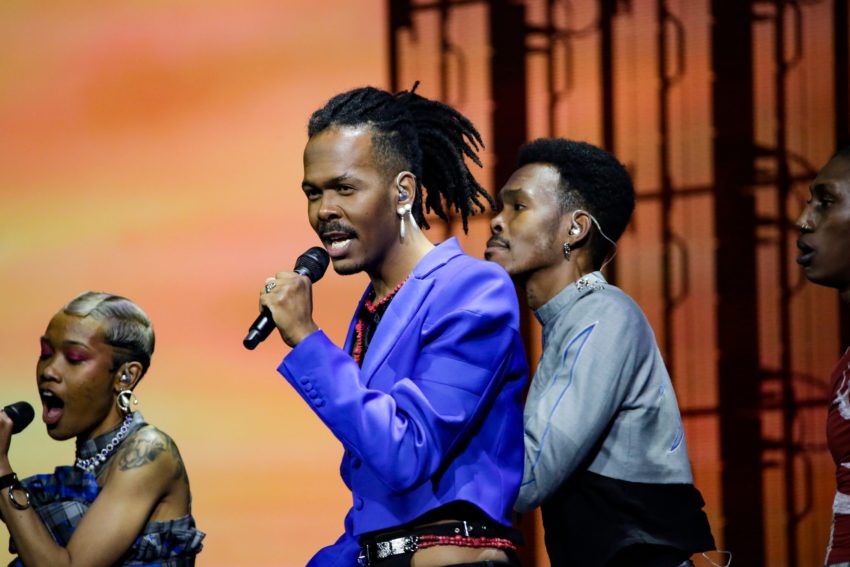 Jeangu Macrooy represented The Netherlands at the 2021 Eurovision Song Contest with 'Birth of a new Age'. But his career in music started, together with his twin brother, a full decade earlier.
Dance WIth Me was released as single in 2018, and both part of his third solo album, Horizon, and the theme song of Dutch film Niemand In De Stad. The lyrics were written by Macrooy himself, while the song is arranged by the same team who worked with him for most of the album. On this team of seven, we find both Jeangu and Pieter Perquin (Perquisite). The latter also worked on Birth Of A New Age.
Despite having released music since 2013, none if his singles made it onto any charts in The Netherlands, until he was selected for Eurovision in 2020. The soulful Dance With Me is no exception to that. The lyrics are simple; he wants to dance with somebody, feel the heat with somebody. And he's apparently had plenty of practice – with an unintended hint to Denmark's 2021 Eurovision song, because he's confident about it too.
Dance With Me – opinions from fans
In order to find out what Eurovision fans think of this song from Jeangu Macrooy, we asked our Eurovision Fan Panel. It includes team members as well as fans from all over the world.
🇨🇿 Josef S. – I didn't know much of Jeangu's music before Eurovision, but I loved Grow and Birth of a New Age not so much. But Dance With Me sounds really good. It's catchy and the groove in it is really strong, I can imagine dancing on such a song in the EuroClub, if there would be any. More of such music from Jeangu please.
🇺🇸 🇬🇧: Mhairi O. – It's very catchy. I imagine it would be very good live I would definitely add this to a summer playlist.
🇳🇱 Vica K. – This song is good. It is very catchy. I would have loved if he had a song like this at Eurovision.
🇸🇪 Jill R. – This is not my kind of music. I didn't like Jeangu's songs in ESC 2020 or 2021 either. But at least he tried to add some African flavour in Birth Of A New Age, which I can appreciate. He shouldn't have toned it down so much though. Dance With Me is pretty boring, and forgettable, but the 70s groove works as background music. Jeangu's voice is nice, but nothing that stands out. Even though this video clearly is based on a movie, some parts should have been cut out. I don't appreciate close-ups of girls bums. It is quite sexist and unnecessary in a music video.
🇳🇱 🇩🇰 Wouter V. – This song shows that music doesn't have to be complicated. As a matter of fact, Dance With me is quite the opposite. It's a simple song, with a simple melody and even simpler lyrics. And in all that simplicity, Jeangu and the other songwriters managed to include some soul, jazz, big-band, pop and lots of joy into the song. I can listen to this all night long.
🇹🇷 Günec G. – I like the 70s style of this song. Jeangu's afro 70s style in the video goes well with the melody. Nice one.
🇪🇸 Mária P. – In my opinion Dance With Me is a nice song, but a bit repetitive. I liked Jeangu's entries in Eurovision 2020 and 2021 better, but being realistic I know that many people didn't like them, so probably Dance With Me would have got a better placing, at least not in bottom 5. Jeangu has a nice voice.
🇨🇴 🇫🇮 Alvaro S. – All I can say is that Jeangu is a very talented multifaceted artist. From Grow to Birth of A New Age we saw a different picture and the same happens with this song. The song is enjoyable and the music video with these stories on the background was interesting. I don't know if it is based on a tv series, but it was nice to watch also. And I would say yes to Jeangu's invitation to dance :3
🇳🇱 Eric O. – Jeangu Macrooy's repertoire is quite interesting, with different kinds of musical styles, but always with a personal message. I haven't really listened to many of his songs, but the ones I have heard sound pretty good. And that includes this one! It's funky, catchy and easy to listen to. But I do prefer Jeangu's Eurovision entries, basically because of the fact that I've listened to them more.
🇩🇰 Charlotte J. – This is nice. It's catchy, and it's easy to recognise Jeangue's style in it. It's missing the vibes which I had from his Eurovision entry, but it's still a nice song, and I enjoy it.
🇬🇧 Michael O. – This song shows how versatile Jeangu is. This is a great seventies like soul number, with a good enough beat for tapping your feet. A new star in the making.
🇮🇪 Paul K. – If only he had done a song like this, maybe the dreaded nil point from the televote would have been avoided. It's a great feel good song and the retro vibes from it are amazing. This is something that I would definitely vibe to, and now I will start listening to him more.
Enjoy Jeangu Macrooy's Dance With me in the embedded video. Below the video, you can read more about him.
Jeangu Macrooy – a mini biography
Eurovision fans first got to know Jeangu Macrooy through is song Grow when he was selected for the, sadly cancelled, 2020 Eurovision Song Contest. At that time, he was already a well established name in the Dutch music industry – though without any big chart successes. He is perhaps best known for his appearances on festivals, and in the talkshow DWDD, a TV programme that has frequently been used to announce the Dutch Eurovision hopeful. Macrooy's Birth Of A New Age reached a 23rd place, with 11 points from the juries and none from the televote, at the 2021 Eurovision Song Contest.
He had his first attempt at launching a career in music at the age of 18, when he formed the band Between Towers together with his twin brother Xillian in 2011. They released one album, Stars On My Radio, in 2013.
The first serious steps towards a break-through were taken when he moved from Paramaribo in Surname to Enschede, The Netherlands and continued his music studies there. Jeangu bonded with guest lecturer, and producer, Perquisite. Soon after the two met, Macrooy signed a record deal with Perquisite's label, released his first EP and single and gained national recognition.
Jeangu Macrooy released his first solo album in 2017, which entered the album charts. He also scored his first #1 single in Suriname with High On You from the same album. His second album, Horizon, was released two years later, during a sold-out concert in Paradiso.