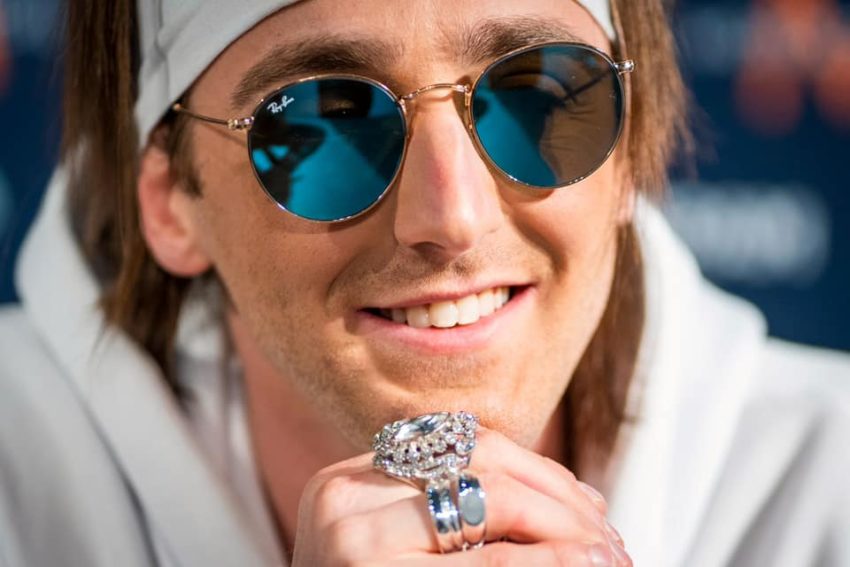 TIX represented Norway at the 2021 Eurovision Song Contest. He has been an established and much loved part of the Norwegian music scene for years. He is flamboyant and stands out in fur coats and sunglasses.

Most of us remember April and May 2020 well. Eurovision Song Contest had been cancelled. Lockdown had become the new normal. A situation, we are just now, a year later, slowly finding our way out of. It was that time, Norwegian singer TIX released the song Karantene. The title translates to quarantine, and the song deals with being stuck at home, being bored with Netflix and games, no summer holiday, and all you have to do is wash your hands.
TIX had already had two number-one hits in Norway. Karantene became the third of its kind. He was a household name and the Norwegians loved the flamboyant singer. What he didn't know at that time, was that he, exactly one year later would face a big international audience on a couple of hundred million TV viewers.
Karantene – opinions from fans
In order to find out what Eurovision fans think of this song from TIX, we asked our Eurovision Fan Panel. It includes team members as well as fans from all over the world.
🇩🇰 Charlotte J. – I wasn't a big fan of Fallen Angel, his 2021 Eurovision entry. When selecting acts for this series of articles, I however put my hands on Norway before anyone could say anything. I did that because I wanted to find out what's the fuss about TIX? How come he is such a big star in my neighbouring Norway? When going through his other songs, I discovered this one – and a few more, which I also like. Karantene describes very well how we, probably, all felt at that time. And then it's catchy, and easy to sing a long to. This song, I can relate to – and because of that, I am now beginning to relate to TIX as well.
🇲🇹 Christopher D. – I really enjoyed listening to this song as I got to know another side of TIX as an artist. In Eurovision, we saw him sing his heart out in recounting his life story and the song was more of a dramatic ballad. On the other hand I now know that TIX is able to deliver a summery kind of fun BOP, and he delivered it really well. Pity I could not understand the words! Kudos to TIX.
🇨🇴 🇫🇮 Alvaro S. – The song is about a simple but relatable topic, and it is the type of song that one can easily enjoy in the background. I prefer this song over the 'larger than life' Tix that we saw on stage at Eurovision.
🇹🇷 Gunec G. – I love this. Very refreshing and positive. This one is so good to watch while starting off your day. I think this one is much better than Fallen Angel.
🇳🇱 🇩🇰 Wouter V. – I don't think I'll ever be a TIX fan, I don't like his voice very much, I neither like the style of Karantene nor Fallen Angel and to be honest I'm not all that keen on the Norwegian language either. But this song is so annoyingly catchy that the part of my brain that responds to that and just wants to hear it again totally wins over the rest that's screaming NO!. And the video is just awesome in every single way.
🇩🇰 Tina M. – I didn't know TIX before Eurovision, but I'm so happy that diversity still thrives. The quarantine song describes very well the situation we all are in, or have been in. I could not help it, but I was smiling and in the end started to sing along. It's a happy and funny song and a super good video. A song that is now stuck in my head. 7/10.
🇬🇧 Michael O. – This song is similar to Norwegian entries from the seventies and therefore not really good. His even more recent songs show a lot of improvement. This is not one of his best.
🇳🇱 Vica K. – This song puts a smile on my face. Everyone can relate to this song because it is about quarantine. I don't speak Norwegian, but the people in the video clip portrays what he is singing. I already knew what the song is about without understanding what he is singing. The video clip is hilarious and the song is catchy. I will totally listen and watch this more often.
🇨🇿 Josef S. – I still think that Norwegian suits TIX much better than English. The Norwegian version of Fallen Angel sounded better than the English one. And so, Karantene is much more likeable than Fallen Angel. It is little bit more uptempo and has some happy and positive vibes unlike the sad ballad he brought to Eurovision. Oh, and Karantene actually sounds quite modern and not like from 2000-ish. So definitely a better song than his Norwegian 2021 Eurovision entry.
🇳🇱 Jacques H. – When asked to say something about 'this other song' by Tix, I was thinking 'what again was his contest song?' I had completely forgotten Fallen Angel and had to play it again on YouTube. I guess it says all about my feelings about his participation during the latter Eurovision Song Contest. It is rather transient music, too easily to forget. Karantene is no exception unfortunately. But, I must admit, I prefer this song. It is enjoyable and feels like a summer breeze at the edge of a swimming pool while I sip a cocktail.
🇳🇴 Steinar M. – I find it a catchy song with simple, but well written lyrics about corona.
Enjoy TIX's Karantene in the embedded video. Below the video, you can read more about him.
TIX – a mini biography
Behind the artist name TIX, we find Andreas Andresen Haukeland born in 1993 in Bærum, close to the capital Oslo. He took the name TIX as he, due to his Tourettes Syndrome, has involuntarily tics. Andreas was bullied in school, but discovered that through music, he finds rest, and something he can control.
The career started with so-called 'russ-songs'. These are a kind of electronic dance music with lyrics often being sexist and controversial. His first album released in 2016; Dømt Og Berømt was with that kind of music. In 2018, he changed music style, and released his first singles Shotgun and Håber Nissen Har Råd. Both went 5th at the Norwegian single chart. Inspired by this more serious style, his music became more and more personal. Jeg Vil Ikke Leve (I don't want to live) became his first number 1 hit. Since then, more has followed, and he now a fully established top artist in Norway with a large fan base.
He represented Norway at the 2021 Eurovision Song Contest with the song Fallen Angel. This is the English version of the song Ut Av Mørket with which he had won the Norwegian national selection; Melodi Grand Prix. During the Eurovision Song Contest in Rotterdam, a romance started between him and Azerbaijan's Efendi. Was it a PR stunt or was it real, as TIX claims. Time will tell if we ever find out.
Aside from singing his own songs, Andreas Haukeland has also produced music for other artists such as Flor Rida (who appeared as a featuring act on Senhit's San Marino Eurovision entry from 2021). He has taken part in Paradise Hotel and also been a judge on the talent show Idol.