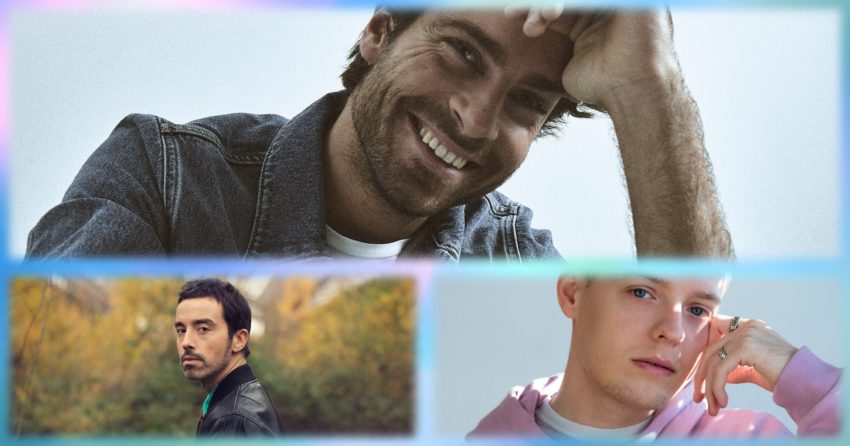 With Italy and France taking the top 2 slots this year, and Germany not doing so well, what has become of the 2020 acts who should have represented their country last year, but did not return in 2021. We check up on Diodato, Tom Leeb and Ben Dolic.
Due to different reasons, three of last year's big 5 acts, did not return to Eurovision 2021. That doesn't mean they have been sitting back and taking it easy. Diodato, Tom Leeb and Ben Dolic have all been getting on with their careers. Here's what they've been up to.
Diodato
We will never know if Diodato could have been the act to return the trophy to Italy with Fai Rumore.  He certainly would have stood a good chance. His album, which featured his Eurovision song, Che Vita Meravigliosa went on to be awarded a gold disc in Italy. The title track was featured in the film, La dea fortuna.  It won Diodato, the David di Donatello award for best song in a film. The David di Donatello awards are the Italian version of the Oscars. Diodato must have enjoyed writing for the films, as he has now just recorded the theme tune to the new Netflix film, Il Divin Codini. The film is about footballer Robert Baggio. The song is called, L'uomo dietro il Campione the man behind the champion.
Tom Leeb
Also, very much involved in film, is 2020 French act, Tom Leeb. It is debatable whether Tom would have achieved the second place of Barbara Pravi's Voila. Nevertheless, Tom re-released his album Recollection, just after  when last year's contest should have been held. He added the 2020 French entry, Mon alliée (The Best in Me) as a bounds track. Later in the year he released his second album, Silver Lining.
As well as singing, Tom has been busy starring in three films, C'est la vie, Pourris gâtés and the recent Netflix release, 8, Rue de L'Humanité. As well as that he appears in the current weekly French TV show, Plan B.
Ben Dolic
Finally, many say Ben Dolic may have bettered Jendrik's 25th position, with his 2020 entry Violent Thing. For a while it looked as if Ben may have returned for Germany in 2021, but the Slovenian born singer, never heard from them, and indeed has had no communication with them since the cancelled contest last year. During the summer, Ben attended several songwriting camps, which often produce Eurovision entries. Ben has now, finally released a follow-up to his Eurovision entry, called Stuck In My Mind, which you can listen to below.