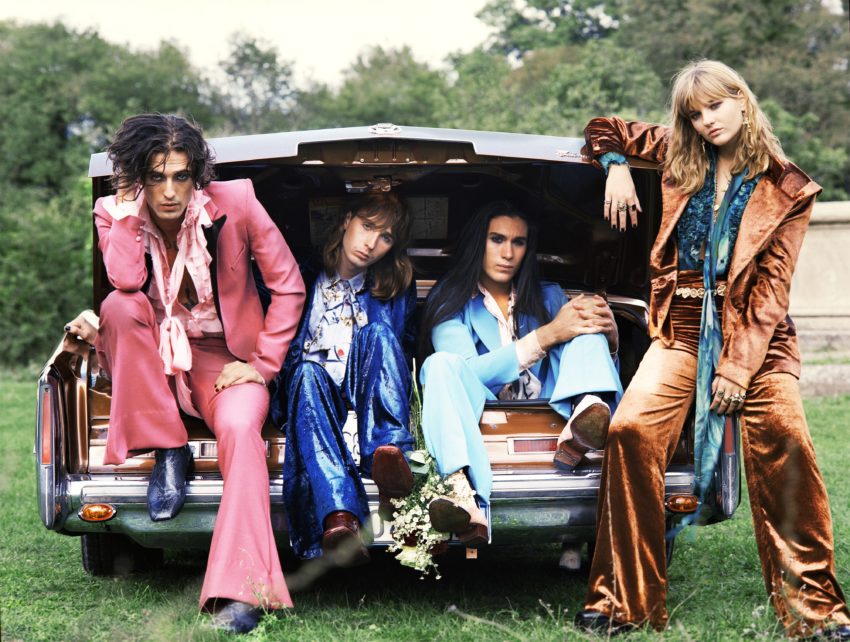 Måneskin represented Italy at the 2021 Eurovision Song Contest. They brought Italy their first win since 1990, but the young band has more to offer. To day, we take at look at how it all began with the single 'Chosen' from 2017.
The band Måneskin was formed in 2016. In 2017, they took part in the talent show X-Factor in Italy, and finished second. The same year, they released their first single, Chosen. The song is in English, and over the years, the band have recorded songs in both English and Italian.
Chosen was released as a single in November 2017 under Sony Music. It reached second place on the Italian single chart. An EP released a month later, carrying the song, went platinum.
Chosen – opinions from fans
In order to find out what Eurovision fans think of this song from Måneskin, we asked our Eurovision Fan Panel. It includes team members as well as fans from all over the world.
🇮🇹 🇬🇧 Maurizio V. – I think it's a bop! I was bouncing my head around as I was listening to the song, and I was singing along at "follow me, follow me now!". The song is catchy and, I think, less angry-sounding than Zitti e Buoni. I'd definitely add it to my favourite songs.
🇳🇴 Steinar M. – First of all, I was VERY happy with Måneskin winning the Eurovision Song Contest 🙂 Finally a rock song won again. A BIG victory for rock. And 1 of 6 times, I think the best song won! 🙂 But as for this…..I doubt it would have won ESC. A bit of reggae, rap and indie. Lacks the energy and rocky feel of their ESC- winner, and it's not as catchy.
🇩🇰 Charlotte J. – This is a bit softer than their Eurovision entry, and as such probably also easier for more to relate to. I still hear the Måneskin sound, so I don't see it as a compromise in any way. It's nice to hear them in English. For me, it works – a lot better than Zitti e Buoni. Had this been a Eurovision entry, I don't think it would have won though. I do prefer it though.
🇬🇧 Michael O. – As a debut single, you can tell this band has potential. The structure of the song is a little repetitive, but it's good enough to listen to all the way through. A little quieter than their Eurovision mega hit.
🇳🇱 🇩🇰 Wouter V. – These guys know music about as much as their inability to pronounce the Danish name of their band, or the English language. That said, I actually prefer that one can easily mistake the lyrics for being Italian, ignore them, and just listen to the music and melodies. Måneskin's debut single is a bit too soft and pop-like to my taste, but it's not bad at all. Most of their newer songs are better though.
🇮🇪 John D. – An interesting video. The song loses something in translation I suspect, but it has a good beat throughout. I don't think this would have won Sanremo or Eurovision, but it shows their diversity, or lack of.
🇹🇷 Gunec G. – Those guys were born to be superstars, no doubt about it. The good thing about them is that they can sing ballad and uptempo songs equally good. I have listened to Chosen for the first time. It's a good radio tune. However, I have to say that it doesn't have the charisma of Zitti e Buoni. And let me add, I love their Torna a Casa and Coraline very much.
🇩🇰 Liza P. – Well, Chosen basically sounds like its version 1.0 of Zitti e buoni in English. Slower beat but the same rhythm. I find it difficult to understand, what he is singing in English.
I definitely prefer the Eurovision song, not that I'm much of a rock type, but I do like Gianna Nannini and her music, and sometimes I surprise myself when I fall for a rock number. So I think Måneskin should stick to singing in Italian and a little more beat. Chosen is not a good attempt.
🇨🇿 Josef S. – Well as I am not into those very hard rock songs, therefore I wasn't a big fan of Zitti e buoni, I quite like Chosen, as it is a softer song, but that doesn't mean it's not good. I actually like it a lot. Even though I prefer Måneskin singing in Italian, even in English it sounds pretty good. Why not, thanks for choosing this interesting song, but I can imagine that they wouldn't win with this, so maybe it's good they went less mainstream for Eurovision.
Enjoy Måneskin's Chosen in the embedded video. Below the video, you can read more about them.
Måneskin – a mini biography
The four band members Damiano David, Victoria De Angelis, Thomas Raggi and Ethan Torchio met when attending the same high school in Rome, Italy. They shared the love for rock music, and decided to form a band. The name Måneskin was chosen as De Angelis, who is half Danish, listed various Danish words. The word means Moonlight, and that became the band name, despite the letter Å not being easy to pronounce in Italian, or English for that matter.
In 2017, Måneskin took part in X-Factor in Italy. The finished second, but for the band, this was just the beginning. Their debut single Chosen was performed in that show, and released first as a single in November 2017, and in December as part of an EP that sold to platinum status. Chosen itself went second on the Italian chart. A few months later, in March 2018, Måneskin's first single in the Italian language, Morirò Da Re, was released. It was followed by the second single Torna A Casa and their debut album Il Ballo Della Vita in October the same year. At the same time as the debut album, the band released a documentary to introduce themselves, 'This Is Måneskin'.
Over the years, the band have released material in both Italian and English. They won Sanremo 2021, and with that the right to represent Italy at the Eurovision Song Contest 2021. With the song Zitti E Buoni, they won Eurovision, and as such became known to a much larger international audience. In relation to their victory, Måneskin faced rumours that lead singer Damiano had taken cocaine during the live broadcast. He insisted on a drug test to prove his innocent, and that came back negative.