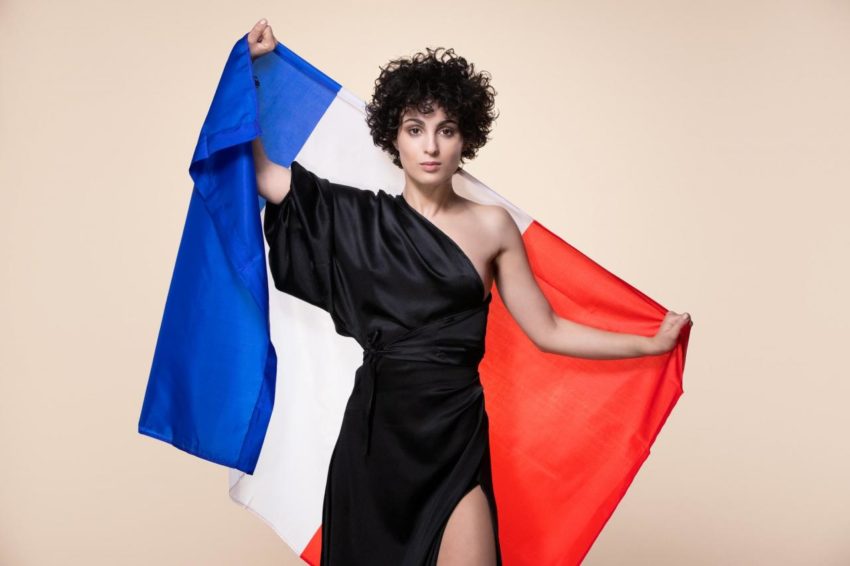 Barbara Pravi represented France at the 2021 Eurovision Song Contest, placing second. Her song 'Prière aux rêves' is her most streamed song from her latest EP 'Les prières', an intimate and luminous musical project.
'Prière aux rêves' is a soft, enchanted and passionate lament where the singer shows a bit of her sensuality by addressing her lover. On an Instagram post, the chanteuse explained that she chose to release the EP on 8th March, International Women's Day, to show "what freedom and strength mean" to her with "6 songs, 6 prayers made alone, 6 texts that have the taste of independence, calmness, escapism and tenderness".
This very personal musical project shows us her place of meditation, like a little sun-kissed garden. Pravi experiments outside the traditional codes, both retro and modern, yet remaining true to herself. She was involved and every single aspect of the album, from recording backing vocals and rhythmic clapping, to even drawing the cover with her own hands.
Prière aux rêves – opinions from fans
To find out what Eurovision fans think of this song from Barbara Pravi, we asked our Eurovision Fan Panel. It includes team members as well as fans from all over the world.
Charlotte J. — This is not as strong as her Eurovision entry. Halfway into it, I am unfortunately getting bored with it. Don't get me wrong, it's not a bad song, it's just not my taste. I lack the edge Voilà had. That edge, which I love so much from Edith Piaf, is, unfortunately, missing here.
🇦🇺 Michael R. — Barbara is such a talented singer and songwriter. I was instantly hooked by this song. It is almost a combination of some Christine & The Queens' slower more melancholic tunes and Barbara's typical Variété Français style. My only complaint is that the song wasn't longer. 2:18 is far too short for something of this standard.
Michael O. — This isn't quite as instant as Voilà, but still very French. As a stand-alone track, it's not too bad, but I'm bored before it ends. I hope she'll have a bit more versatility on an album.
Gunec G, — I love Barbara's misty, melancholic and melancholic voice. Prière aux rêves is no exception to her style. I love the simple, soothing sound of the piano and Barbara. I even think that this is better than Voilà.
Wouter V. – Barbara could have sent this to Eurovision, and she would still have got a second place. Or perhaps a victory, who knows. If it scored any lower than Voilà, it would only be because the message in the song is less complex.
Josef S. — Barbara is a French chanson princess, she proved her songwriting qualities with 2019 and 2020 JESC entries and now almost won ESC. Her album 'Les prières' is absolutely amazing, I don't recall when I enjoyed something so much and from the very beginning until the end. Prière aux rêves is really nice, but if I should recommend my favourite out of the whole album it is Prière au printemps, that's  really unique and magical. Bravo, Barbara!
Paul G. — I love her voice it gives me chills. I can hear distinct sounds typical of Edith Piaf. I would definitely purchase a CD if one was released.
🇧🇷 Amir B. — It's very similar to Voilá. I don't like it, but I don't dislike it either. It's an OK song. Maybe I'm the only person who doesn't like Voilá, but this song is OK for me. It's definitely recognizable as a song by Barbara Pravi.
Maurizio V. — I love the tenderness and the melancholy of this song. It makes me think of some sort of pillow-talk between two lovers. Barbara is always able to wear her emotions on her sleeve and I really felt the message of this song. It's more monotonous than Voilà, but I still like it. I can see this song being performed in a more intimate space rather in an arena.
Enjoy Barbara Pravi's Prière aux rêves in the embedded video. Below the video, you can read more about her.
Artist name – a mini biography
Barbara Pravi was born on 10 April 1993 in Paris. She began studying law before changing her mind and considering an artistic career. She started writing and composing ('Amour impoli'), while working as a waitress to earn her independence.
In 2015, she started her career under the label Capitol Records, which offered her to sign her first contract. In November 2016, she made a name for herself with the cast of the musical 'Un été 44', performing the song Seulement connu de Dieu.
One year later, she went solo and released her first self-titled EP, supported by the single Pas grandir. Barbara Pravi opened for the Florent Pagny's tour between late 2017 and early 2018.
In 2020, Barbra Pravi released her second EP, Reviens pour l'hiver, which she composed and for which she collaborated with several singerss including Stan Neff and Vladimir Pariente.
At the same time, she also co-wrote the lyrics of the songs presented at the Junior Eurovision Song Contest in 2019 (Bim Bam Toi) and in 2020 (J'imagine). In 2020, she took part in the selections for the 2021 Eurovision Song Contest for France. On 30 January 2021, she won the first place in the show Eurovision France, c'est vous qui décidez!
On 22 May 2021, Barbara Pravi represented France, with the title Voilà, at the Eurovision 2021 contest in Rotterdam and won second place behind Italy.