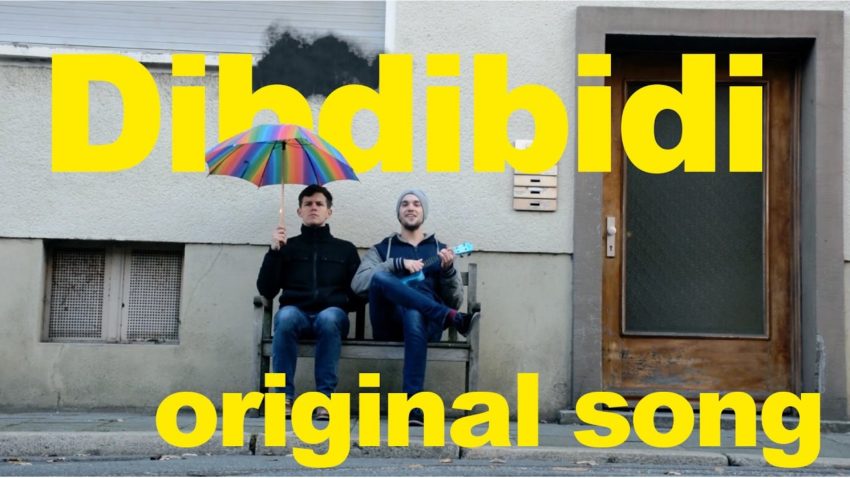 Jendrik represented Germany at the 2021 Eurovision Song Contest. Besides his Eurovision entry 'I Don't Feel Hate', he released only one original song – 'Dibdibidi'. That however, is also quite entertaining.
Jendrik wrote Dibdibidi on his own and also accompany himself on his ukulele, an instrument that is undoubtedly tied with him. He wrote it in 2016, and did not release any other song until 2021 when he was representing Germany at the Eurovision Song Contest.
What is interesting is that after Jendrik was announced as German representative at Eurovision 2021, the number of views on YouTube of Dibdibidi rapidly went up, at least twenty times higher than before the announcement, all within a few days only.
Dibdibidi – opinions from fans
In order to find out what Eurovision fans think of this song from Jendrik, we asked our Eurovision Fan Panel. It includes team members as well as fans from all over the world.
🇬🇧 Steve P. – I Don't Feel Hate is a very ironic title because I feel nothing but hate when I hear it, so I really wasn't looking forward to listening to another of Jendrik's songs! However, as I opened the video link, I also opened my mind. It's a very simple and jolly ditty, and I think you have to be in a certain mood to appreciate it fully. If you are, you'll love it and your mood will improve. If you're not, you might find it slightly irritating.
🇩🇰 Charlotte J. – The video is quite cool. You get the impression that this is quite the real Jendrik we see, that he's true to himself. As with his Eurovision entry, I'm not impressed by the music. This is fine background music, not something I would seek myself, but did really enjoy the video which made me laugh.
🇹🇷 Gunec G. – I love this tap dance and ukulele thing. I find Jendrik adorable. And this song has a better melody than I Don't Feel Hate. But still I think, I Don't Feel Hate deserved much better.
🇳🇱 🇩🇰 Wouter V. – Gosh this is so much fun! But behind the silliness there actually is a good piece of music, and indeed a great voice. I love it.
🇮🇹 🇬🇧 Maurizio V. – I love Jendrik, he's such a cutie to me! He's got such an adorable (yet somehow slightly annoying) energy to himself. This song is also adorable. I love the way it gradually builds from the middle to the end. Definitely prefer this song to his Eurovision entry.
🇨🇿 Josef Š. – I simply admire Jendrik for the way how he does everything he does. The positive energy in both of his songs is so good. I loved I Don't Feel Hate and I also love the catchy Dibdibidi, even though it is more simple, but it doesn't mean it's something worse. I love the happy ukulele style of songs that makes you dance almost immediately. Oh, and some plus points go to his tapping skills.
🇬🇧 Michael O. – This doesn't start off too well, I guess just a guy with his ukulele. Had I been the one sitting on the bench, I'd have moved away long before it starts to get a little better towards the end. Nowhere near as much fun as his Eurovision entry.
🇧🇪 Enis H. – I love this song. Its cute and exactly what Jendrik always does. Trying to make people smile. And this song certainly makes me smile.
🇺🇸 🇬🇧 Mhairi O. – I like Jendrik as a person, but I'm just not a huge fan of his music. I think that it's nice that he tries to be positive with the song and I like that he uses the ukulele in this as well.
🇳🇱 Vica K. – I like this song. It is different then I Don´t Feel Hate. But there also some things the same. The ukulele is in it and a tap part. And of course the energy that Jendrik has. I loved his song for Eurovision, mainly because it was different, and it made me smile. This song did the same. I am curious what we will hear in the future from Jendrik.
Enjoy Jendrik's Dibdibidi in the embedded video. Below the video, you can read more about him.
Jendrik – a mini biography
Jendrik, full name Jendrik Sigwart, was born in 1994 in Hamburg, Germany as the second oldest out of four siblings. From his childhood, Jendrik played piano and violin and after high school, he focused on musical theatre studies in Osnabrück. That was the time when Jendrik started playing the ukulele, and he uses it to play his own songs.
Still, during his musical theatre studies in Osnabrück, Jendrik appeared in a number of musicals, including My Fair Lady, Hairspray, or Peter Pan. In 2016, he released his first single Dibdibidi and in 2021 Jendrik represented Germany at Eurovision in Rotterdam. He sang I Don't Feel Hate in the grand final and ended on 25th place with 3 points only. Those points all came from the juries, while the televote gave Jendrik 0 points, together with the United Kingdom, Spain, and the Netherlands.